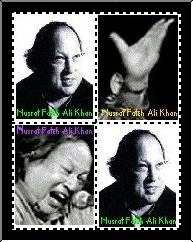 NUSRAT FATEH ALI KHAN
by Alexander Josef Hirka, 1997
Block of 4, multicoloured cyberstamps, 130 x 197, 24-bit RGB
(From a full sheet of 25, utilizing 4 images with different coloured text.)

A.J. Hirka, aka Alex Igloo, issued these
commemorative cyberstamps to celebrate the life of
Qawwali singer Nusrat Fateh Ali Khan (1948-1997).
Permanent Collection
Gift of the Artist
---
Copyright © 1998 Jas W Felter, all rights reserved.