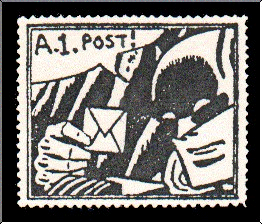 JUMPING PHILATELY BATMAN!
by Michael Leigh, 1988
aka A.1. Waste Paper Co. Ltd.
Single artistamp, 3.4 x 4cm.
From a full sheet (11 x 8.5") of 24.
Issued to commemorate Inter-Dada '88
with the inscription
"To Anna Banana and all at Inter-Dada 88 with best wishes from Michael & Hazel."
Permanent Collection
Gift of the Artist
---
Copyright ©2000 Jas W Felter, all rights reserved.