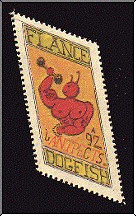 ANTPEX FLANCE ISSUE
by Robert Charles Rudine, 1992
One of two multicoloured ungummed perforated artistamps, 6 x 3.5cm each.
(from a full 'souvenir' sheet of 24, signed, numbered 41/50)

Robbie, aka Dogfish is a prolific creator of artistamps as well as
the TUI-TUI Ambassador to the world.
He lives in Tui-Tui surrounded by Seattle, Washington.

Permanent Collection
Gift of the Artist
---
Copyright © 1997 Jas W Felter, all rights reserved.