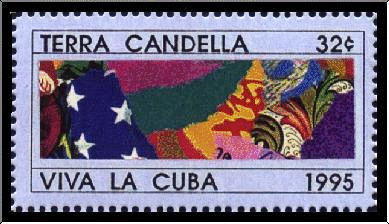 VIVA LA CUBA
by Harley, 1995
Multicoloured photocopy print.
Ungummed, perforated.
Full sheet of 18 (23.9 x 19.5cm)
with eighteen variations, 2.8 x 5.3cm each.
Signed and dated.

Harley is a painter with his own Local Post:
TERRA CANDELLA.
He lives and works in Guerneville, North of San Francisco.
Permanent Collection
Gift of the Artist
---
Copyright © 1997 Jas W Felter, all rights reserved.