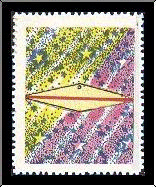 SPACE
by Patricia Tavenner, 1988-93
Single multicoloured perforated artistamp, 4.2 x 3.4cm.
(from a full 8.5 x 11" sheet with 9 artistamp images and
three attached artistamps, signed and numbered 25/80)

Patricia Tavenner, aka Mail Queen,
is a professional artist, MFA, psychic, astrologer, and healer.
She integrates these disciplines in her art. Patricia lives in Oakland, CA.
Permanent Collection
Gift of the Artist
---
Copyright © 1997 Jas W Felter, all rights reserved.