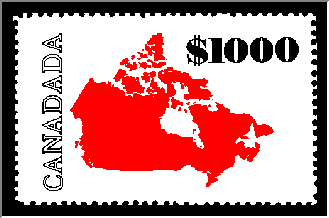 CANADADA $1000
by Edwin Varney, 1976
Single black & red on white gummed perforated artiststamp: 3.2 x 5cm.
Issued by Intermedia on the 1st International Stamp Edition collective sheet (21.8 x 28cm).
Offset print, numbered a/p, signed and dated.

Ed Varney is the founding director of the Museo Internaçionale de Neu Art and publishes artistamps for the Museo as well as the Republic du Mondo (Mondopost) and International Post. He has been creating his own and publishing other artist's stamps since 1974.
Permanent Collection
Gift of Intermedia
---
Copyright © 1995 Jas W Felter, all rights reserved.