Oral History Excerpts
JEANNE PYATT LOUPASSAKIS is one of three children born to Melvin and Hazel (Stewart) Pyatt. She was raised at #424 Samptown Road, a house purchased in 1924 from Melvin's aunt Lizabeth Sturgis, a Civil War widow and herself a Pyatt of old Samptown.
"We didn't have any facilities. We didn't have any running water when we first moved there. We had a pump that used to freeze in the winter. I can remember going out and getting hot water to thaw it out. When we first moved there it was a least several months before we had water. My father would go down to one of the Randolph's house on Norway Extension, cut through the woods, and bring water for us. But we didn't have inside facilities until I was a senior in high school. That was the spring of 1938. That was a little hard. I remember those days very well. Of course it was during the depression, and we were part of the people who got their stamps to eat by or get clothes by. I can remember going over to Borough Hall -- this was just before I graduated from high school -- going to get substance to put toward the food when we went, I should say, I went. My mother and father weren't too happy about their situation, so I got to take care of the rest of us."



MARIE SANTORO, daughter of Vincent and Philomena Santoro, is a native South Plainfielder. Her father is thought to be the Borough's first barber. Marie lived at #173 Front Street for 83 years.
"In the center of town Tony DeAndrea managed the A&P, Lippitts had the bar on the corner [of So. Plainfield Ave. and Front St.], and Gene Fenton ran the American [grocery] Store. Thornton's used to have a hotel and ice cream parlor where the VFW is now. My sister and her friend used to go every Sunday and get an ice cream soda. Pop and I used to go every Sunday night to the movie theater. That's when they used to give out free dishes. Fifteen, twenty, a quarter admission. I remember the weddings upstairs at the Sons of Italy. The kids would be asleep on the wooden chairs. My uncle Patsey used to take us up to Hadley Airport every Sunday afternoon."



CARMELLA DELNEGRO PISANIELLO was born in South Plainfield, and at one time lived next door to the large and imposing circa 1808 farmhouse on Montrose Avenue with her husband and daugher Donna. Donna remembers the old house that was originally owned by Issac Boice in the 1800s.
"Mrs. Steengrafe's driveway WAS Montrose Avenue. I remember one time when I was small, maybe five years old, the caretaker and Mrs. Steengrafe took us into the home. That home! I'll never forget it. The beautiful winding staircase, the velvet drapes and the beautiful red carpeting that went up the stairs. The wallpaper was all red, too. It was beautiful. It was gorgeous! After that we never saw her any more [Elsa Steengrafe would have been in her nineties at this time], but the caretaker still came. And the lilac bushes that she had. He used to tell my dad to just go pick the flowers. And my dad would pick beautiful bouquets of all different color lilacs. This was the early 50s. I'll always remember those beautiful old cars pulling up in that circular driveway and that beautiful old staircase."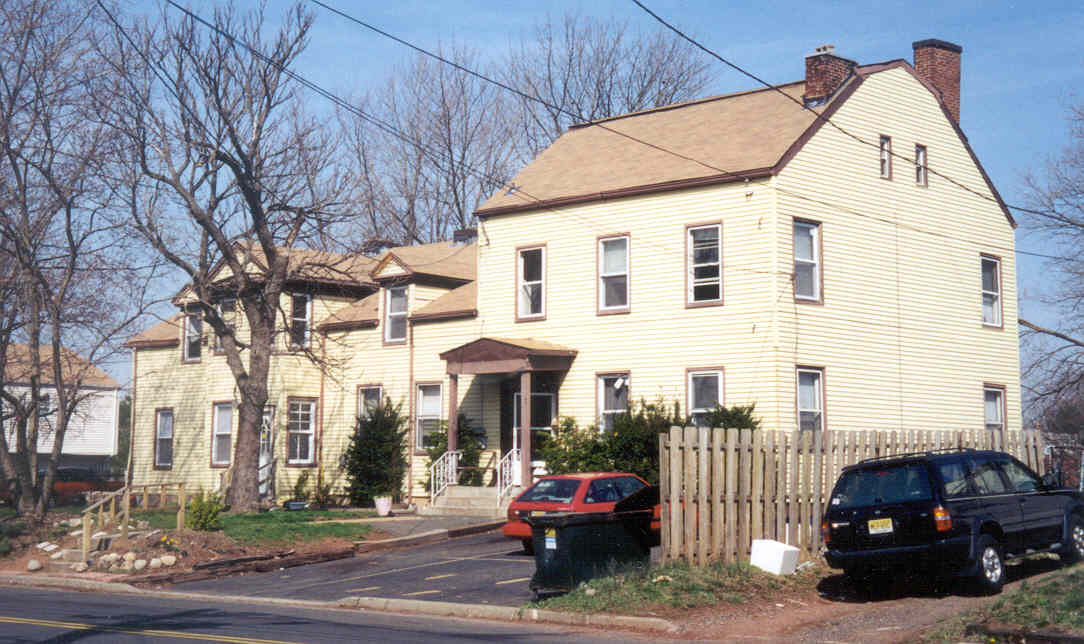 Boice/Steengrafe farmhouse on Montrose in 2002. (Miele photo)



CHRISTINA BUMBACK, daughter of Nunzio and Grace (DeFillipo) Robustelli, recalled being raised on a South Plainfield farm with eight other siblings.
"Hard work. We worked day and night. We had to get up at five o'clock in the morning. We used to go to market in Perth Amboy and sell the produce, and the people used to come to the yard, too." Recalling the depression years, "Oh God! We lived off the farm. A guy would come and deliver day-old bread for the cows and the pigs. We used to take all the raisin bread out and all the good rolls out, and the rest of it would go to the animals."



FRANK "BUTCH" BUMBACK's parents, George and Anna (Feddock), came to South Plainfield around 1915. He was a life-long volunteer fireman.
"I was born and raised here. We started somewhere around Castle Gardens[*]. My grandfather, George Feddock, lived there. My father was a laborer on the Lehigh Valley Railroad. Mr. Staats [a LVRR crane operator who lived in town] used to be the bonesetter around town. If you broke your arm or something, that's where you went and he'd straighten you out. Yes sir, I remember him well. See, it [the town] was like a family. Everybody helped everybody else out. Whenever they had to build a shed or a barn, everybody pitched in and helped out. At one time I used to know all the people who lived in this town. Knew everybody from here to Hadley Airport. I enjoyed every bit of living in this town. The people were down to earth."

*Castle Gardens, a group of houses on Lakeview Avenue which then deadended at the LVRR tracks, was demolished in the 1970s for the construction of the LVRR overpass at Hamilton Blvd. and Lakeview.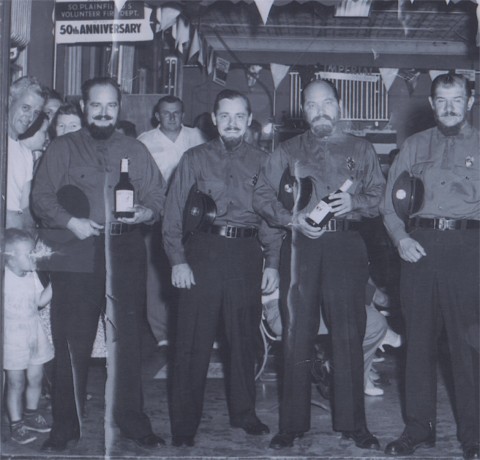 L. to R.: Bob McCallister, Michael Bumback, Frank Bumback and Leo Grabowski on Sept. 7, 1957 celebration of the 50th Anniversary of the South Plainfield Volunteer Fire Department. The former firehouse now houses Spotlight on Dance Studio and a carpet store. Photo courtesy of Christina Bumback.




DOROTHY AMANDA TEN EYCK CHARD is a descendant of one of the oldest families to settle in South Plainfield.
"My great, great grandfather Simeon Fitz Randolph came from England in the 1700s. He had a grant written on parchment by the King of England for the land. It contained 650 acres. It extended from where the house is now, down Maple Avenue, across Park Avenue up to the Plainfield Country Club. As the years passed, it dwindled until when I was growing up there were only 56 acres left. The two woods, fields, brook, etc. The house that still stands was built in 1732. There were no nails in the building. Only wooden pegs, handmade. The house was up on two terraces, surrounded by a white picket fence. The barn was originally across the road from the house. The property ran to the [Spring]lake in the back of the property. The house had eleven rooms. The cellar walls were made of fieldstone and the floor dirt. It was always cool. Milk, food and home canned goods were kept down there before ice was available."




NORMAN CHICARELLI was born in South Plainfield and grew up on New Brunswick Avenue near Harris Steel.
"There were a lot of truck farms in the area. My aunt and uncle rented pieces of land on their property so people could grow their own gardens. Every Saturday, my aunt and uncle loaded their truck with vegetables, chickens, eggs and went to Plainfield to sell them. In back of us were little plots bought by people from the city who would come out on the weekends to tend them. There were only about seven houses on the whole of New Brunswick Avenue. The Smith farm at Tyler Place, one on the bend, one on New Jersey Street. Gus DiSesso lived on New Jersey Street. He went to Hollywood where he [stunt]doubled for John Garfield. He raised animals that he trained for the movies and lived in San Bernadino. His dog was in the movie "Annie" which was filmed at Monmouth University."




ANTHONY COTOIA retired as a teacher, coach and administrator in the South Plainfield School District.
"When I first came in 1956, I was appointed basketball coach and also assistant football coach to Harold Wycoff who was native born. As a result of my appointment as basketball coach, I took a ride through the entire municipality of South Plainfield. I was looking for basketball backboards to see, if in fact, anybody played basketball in town. Sorry to say, after my very thorough tour of the community, I located just one. And it was located behind DeLayo's Market on Plainfield Avenue. One basket! And his son, Billy DeLayo was a freshman or sophomore, and he was going to St. Peter's High School!"




ED NIEMCZYK grew up in South Plainfield. He and his dad cut hay by hand to feed their cows. Here he discusses an incident behind a farmhouse and barn adjacent to Spring Lake around 1934.
"Right along side that house was a big open field. Lees lived in front of it. Back there was all fields and my dad used to cut the hay there for our cows. Me and my dad were there one day cutting the hay and all of a sudden we saw a lady run out of the house down into the swamps. We couldn't figure out why. All of a sudden two big black cars pulled up in the back and men got out. They went in the big barn. We're standing there, watching. And all of a sudden shooting -- bang, bang, bang. We wondered what was going on in there? We were standing right there near the barn. A couple of men came out. A guy came up to my dad. My dad asked him what was going on. He told him that there was a big still in the barn. My dad asked what the shooting was? They were shooting holes into the still! So when they finished talking they let my dad go in. They gave my dad a hundred pound bag of sugar and a whole big case of yeast cake."