Johnny Marr interviewed for The Guitar Magazine
January, 1997
There was a point in time when suddenly Johnny Marr made it cool play pop guitar all over again. In this exhaustive interview, the Mancunian maestro reveals his key influences and leads TGM on an exclusive album-by-album tour of his career to date. Just do him a favour: don't mention the 'jangle' word, eh?
It took five albums before he played a conventional solo; he'd rather listen to electro pioneers Mantronix than any of the blues greats; he judges pure pop music 'a noble thing', and likes songs with 'a definite beginning, middle and end.' Cut from a different cloth than the average guitar hero, maybe - but that's one of the reasons why Johnny Marr is so admired.
In the 1980s, Marr was one of only a few British guitarists who offered an alternative to America's production line of gymnastically-fingered fret-chokers. His work with The Smiths impressed not just from a playing point of view, but also because it placed ambitious guitar-led pop back in the British charts. In an era when the ensemble du jour was the synth duo, The Smiths proved inspirational. 'I didn't take it all seriously until I saw Johnny Marr,' admits the current king of guitar pop, Oasis overlord Noel Gallagher. 'He had the Brian Jones haircut and the white polo neck and the big red semi-acoustic. When The Smiths came on Top Of The Pops, that was it for me. I wanted to be Johnny Marr.'
The 70 Smiths songs Marr recorded in four years are, of course, only half of the story. Since the band's demise he's gone on to record and tour with The The, play numerous sessions, and explore more eclectic avenues with Bernard Sumner in Electronic.
Today, at London's Mayfair studios, Marr has agreed to cast a fond yet not uncritical eye over his guitaristic back pages. Aptly, it's a studio where Marr recorded with The Smiths; typically, the guitarist is talking nineteen to the dozen; weirdly, the first chapter in his story begins with Irish power-bluesman Rory Gallagher...
'He came along [at a] time when I was at an age desperate for something to call my own,' Marr reflects. 'He had a very straightforward street image - jeans, plimsoles, a really battered guitar - and it just connected with me. I went to see him in concert and he scared the life out of me, honest! He was so intense I couldn't believe it - I wanted to get closer, but I was scared in case he made eye contact with me and the earth swallowed me up or something. I can remember staying off school for a couple of days pretending I was ill and trying to play along with his records.
'There was one day when I was playing along to his Deuce album which was just a complete turning point for me as a guitar player. I sussed it out, and the penny just dropped; "I can play!" It's funny, 'cos about six months ago I dug all the records from that period of my life out again, and I can hear echoes of what I do chordally in what Rory Gallagher used to do. I don't know if anyone else would pick up on it but for me it was quite shocking... it was like seeing old photographs of yourself."
Marr subsequently lapped up the playing of Howlin' Wolf and sidekick Hubert Sumlin, Neil Young, early Led Zeppelin, Tom Petty And The heartbreakers, plus, notably, Nils Lofgren - sometime Crazy Horse guitarist and leader of his own '70s band, Grin - and the lauded English folk stylist Bert Jansch.
'Nils Lofgren had this really melodic lead style, as opposed to a modal, bluesy style,' Marr explains. 'He played across relative minors a lot of the time, which meant he could play a really poignant melody even in the middle of a straight-ahead rock track, and that was something that really interested me. All guitar players know that when you first start it's incredibly tempting and easy to just go for that Chuck Berry sort of thing, but Nils Lofgren never really did that. The songs were great, too, and he had this amazing, almost guileless, boyish voice. He also played beautiful slide on acoustic guitar...
'You can hear Nils Lofgren's influence on me in the solo on Shoplifters Of The World Unite. That's all done with false harmonics, which is a steel player's technique: you touch the strings with a right-hand finger an octave higher than where you're fretting, and then pluck the string with your thumb. All this was useful as inspiration to me 'cos I was desperate not to play boogie or blues leads. There was a million other guys doing that, and anyway, it really didn't have any poignancy for me. I still hear young players doing it to this day and... it just seems too easy.
'Even then, I was really into sad melodies. I started looking for people who played things in minor keys, something a bit more evocative than straight boogie. The altered tunings thing came, I guess, when I discovered Bert Jansch. He still inspires me to this day - his recent album is great. He's one of the key threads that run through my guitar playing. Whenever I come up against a dead end or lose the plot with my playing I just go back and listen to Bert Jansch... horribly unfashionable influences, I know, but it's the strange truth."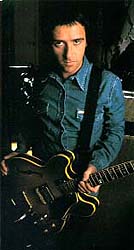 The lush production work of '60's maverick Phil Spector provided the next impetus. 'When I heard his records, a whole new world opened up to me,' Marr discloses. 'Even back then, I didn't so much listen to music as study it. I'd put on records, whether by a favourite group like T-Rex or just some naff pop record, and if the middle eight didn't appear where I thought it should or if the fade-out was too short, I'd get really frustrated! Having my head buried in the speakers, listening out for those things sort of grew in tandem with my obsession for guitars. And that's been with me for as long as I can remember.
'Thing is, when I was younger I'd spend a lot of time sitting in my bedroom with my guitar-playing friends, listening to Neil Young and Bert Jansch, skinnin' up and being serious, and my sister would be in the next bedroom listening to dance music and getting ready to go out with her friends, and they just sounding [sic] like they were having a better time - and they looked better, too! They'd say to me, "what are you listening to this miserable crap for?" After that I started getting turned on to Chic, The Fatback Band, The Ohio Players and War. If you listen to The Smiths' The Boy With The Thorn In His Side, the rhythm part from verse two onwards - that chick-a-chick part - it's pure Nile Rogers...
'I've got tons and tons of influences and I don't know many musicians who've got as wide ranging tastes that go into their playing as myself,' he adds. 'My whole life's been wrapped up in this, I've been fighting for it since I was 11 years old. What can I say? - I mean it, man.'
Righto. No apologies then as TGM says eyes down for 13 meaningful years of guitar, triumph, overwork, despair, ever-changing haircuts and, err... more guitar. Beginning with...

THE SMITHS


THE SMITHS
February 1984
It took four studios and one completely aborted mix before The Smiths finally issued their debut album for Rough Trade. Wild acclaim had greeted their two singles, Hand In Glove and This Charming Man, their first actual chart hit; the album's John Porter production was sonically somewhat stunted, but the Morrissey/Marr songwriting partnership proved worthy of the press hyperbole. Meanwhile the guitar talent of the 20-year-old Marr shined through clearly, particularly on the lilting Suffer Little Children, the flailing Hand In Glove and the muscular double-tracked riffing of What Difference Does It Make?.
'The thing that sticks in my mind is not really liking the sound of the record,' sighs Marr. 'It wasn't anybody's fault, particularly - just time and budget limitations. Suffer Little Children has certainly got the atmosphere that I intended, and Pretty Girls Make Graves was probably good as it was ever going to be... whatever that means!'
For much of the album Marr played in regular concert tuning, but with a capo at the 2nd fret. 'That comes from the early days of Morrissey and me writing together,' he explains. 'I'd go round his house, play him a tune, and he'd hum along. I soon realised it made sense for me to turn up a whole tone as he was singing very much baritone at that time. Also, I was writing on my Gretsch Super Axe, which just sounded better tuned up.
'That said, a lot of the album was actually recorded with a '54 Telecaster belonging to John Porter. I used a Rickenbacker 360 12-string as well, and that was the guitar which subsequently got all the attention, but in fact it was mainly the Tele, and a bit of Les Paul.
'Overall, what I really didn't like about the records then was the amp, the Roland Jazz Chorus - that's the fuckin' prime suspect. Hey man, it was the '80s! They sounded fine to the player, but I think they failed out front. There seemed to be [a] big hole in the sound...'

HATFUL OF HOLLOW
November 1984
A budget-priced collection of Radio 1 sessions, B-sides and new tracks that ultimately seduced a substantially larger audience. The radio tracks displayed a swagger and venom that had been absent from The Smiths, while Marr's guitar was now shifted centre stage; check the quicksilver arpeggios in Girl Afraid, the baffling chordology of William, It Was Really Nothing and the chiming mandolin in Please, Please , Please, Let Me Get What I Want - plus, of course, the swampy throb of How Soon Is Now?
'At the time I wasn't too sure about Hatful Of Hollow being released - although the radio sessions were great, I was keen for them to remain just being that. In hindsight, I realised there were certain tracks - particularly Handsome Devil - that had something the produced version just didn't. It's a very valid record.
'How Soon Is Now? was the one, though. I wanted to write a track with an intro that you couldn't forget, something that you knew straight away was The Smiths. In that regard it was very "worked on". I arrived at the studio with a demo of the whole thing, apart from the tremolo effect - though that was bound to surface on a Smiths track sooner or later, 'cos at that time I was playing Bo Diddley stuff everywhere I went. I wanted it to be really, really tense and swampy, all at the same time.
'Layering the slide part was what gave it the real tension. As soon as I played that bit on the second and third strings, John Porter put an AMS harmoniser on it. Then we recorded each individual string with the harmoniser, then we tuned the B string down a half step and harmonised the whole thing.
'The tremolo effect came from laying down a regular rhythm part (with a capo at the 2nd fret) on a Les Paul, then sending that out in to the live room to four Fender Twins. John was controlling the tremolo on two of them and I was controlling the other two, and whenever they went out of sync we just had to stop the track and start all over again. It took an eternity. God bless the sampler, 'cos it would have been so much easier! But it was just one of those great moments.
'When Morrissey sang the vocal it was the first time we'd all heard it. John Porter said, "Oh, great - he's singing about the elements! I am the sun and the air..." But of course it was really, I am the son and the heir/of a shyness that is criminally vulgar... A great track.'

MEAT IS MURDER
February 1985
The second Smiths album proper, self-produced, and yet - despite the band's glowing reputation - it didn't yield a single hit. Marr nevertheless stretched out with his backward guitar treatments on That Joke Isn't Funny Anymore and Meat Is Murder, and the open tuning/overdubbing complexity of The Headmaster Ritual. And, look out - indie-alien funk guitar ahoy on Barbarism Begins At Home...
'The Hatful Of Hollow Radio 1 sessions were really just banged out and ended up sounding great, so I thought, "Why use a name producer? We'll do it ourselves." I really like That Joke Isn't Funny Anymore, the title track and The Headmaster Ritual - as guitar pieces they took me a long time to do, and songs like that don't come around that often.
'The nuts and bolts of The Headmaster Ritual came together during the first album, and I just carried on playing around with it. It started off as a very sublime sort of Joni Mitchell-esque chord figure; I played it to Morrissey but we never took it further. Then, as my life got more and more intense, so did the song. The bridge and the chorus part were originally for another song, but I put them together with the first part. That was unusual for me; normally I just hammer away at an idea until I've got a song. It's in open D turning, with a capo at the second fret. Again, it was heavily overdubbed. It was a very exciting period for me - realising I could hijack 16 tracks all for myself.'
Some reckon it to be Marr's strongest guitar LP with The Smiths...
'Really? In hindsight, I wasn't happy with the overall sound. I think it's too thin. And artistically, I think Meat Is Murder is the least successful of all The Smiths' albums. Some of the songs are just played too fast. That's me - I'm terrible for just speeding things up. Super hyper!'
While Marr's orchestral guitar arrangements on record were undoubtedly impressive, it was at this point he realised that the band's live sound badly needed bolstering up. 'When you go out live you want to give people at least a general impression of the whole thing, but if you're on your own, you end up compromising a lot of the chord inversions and inflections that were there in the overdubs,' he explains. 'You generally end up being reduced to playing that big-sounding first position chord. With my one-man band approach I managed that fairly successfully for a while, but other times it didn't really work. From a guitar point of view That Joke Isn't Funny Anymore could have been absolutely incredible live, but in the end it was only good.'
Once the Meat Is Murder tour was over Marr decided to add a second guitarist, Craig Gannon, for live dates.

THE QUEEN IS DEAD
June 1986
'Album of the '80s,' cooed the critics, and ardent fans tend to agree: this is The Smiths' masterpiece. Although behind the scenes things were becoming extremely fraught, Marr still judged Bigmouth Strikes Again to be 'my very own Jumpin' Jack Flash'. The Boy With The Thorn In His Side exhibited an able pop touch, and the Stooges-influenced title track's aggressive wah rock frenzy was further enlivened by an eerie 'woohing' noise in the background...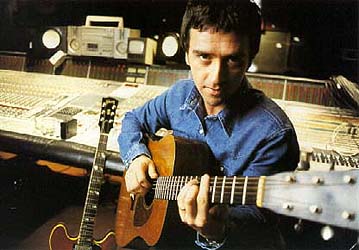 'I'd done the rhythm track for The Queen Is Dead, and left the guitar on the stand. The wah pedal just happened to be half open, and putting the guitar down made the guitar suddenly hit off this harmonic. We were back at the desk playing back the rhythm track and I could still hear this harmonic wailing away, so we put the tape back onto record while I crept back into the booth and started opening up the wah-wah, thinking "Don't die, don't die!" Eventually I opened up the pedal, and "Wooooohhhhhh!" Kept it going, too. Great accident.'
More open tuning frippery came in the form of Morrissey's mis-spelt Cemetry Gates. 'When we signed with Rough Trade we were being hailed as The Great New Songwriters, and I was on the train coming back thinking, "Right, if you're so great - first thing in the morning, sit down and write A Great Song." I started with Cemetry Gates' BM to G change in open G...
'Sonically we got it right, but it was a very dark album that came out of a very dark period. I remember, when I was a kid, bands used to describe album environments as being very womb-like, which always fascinated me as an idea... now I know! Once was enough, making an album like that - I was really putting myself out on the edge. I know that sounds very humourless, and we did have a good time making it, but it was a bit like that. We had no manager, so me and Morrissey were trying to run the whole band, plus we were still on an independent label, but out of all that adversity we still managed to make this great album. A song like Never Had No One Ever could only have come out of that mindset - fucked-up.'

STRANGEWAYS, HERE WE COME
September 1987
By the time Strangeways... reached the record racks, The Smiths were no more. Cocky coves claim they can hear clues in the grooves: Morrissey's lyrical preoccupation with death, the absence of guitar (yikes!) on the opening track, Marr's splintered riffing and production, his gaunt and frankly ill appearance in press photos. Further 'proof' was cited in Morrissey's lyrics for I Won't Share You, an 'obvious' kiss-off to his session-hungry partner. Doh! Unbridled woe and much burning of cardigans ensued...
'Actually, it's my favourite Smiths album. We split after we recorded it and they were good sessions. One or two of the songs are acoustic-led (Girlfriend In A Coma and Unhappy Birthday) which I really liked - now that was an organic record.
'I wanted the electric guitar parts a lot less layered and with a lot more weight, which you can hear on I Started Something I Couldn't Finish. The stuff that wasn't acoustic was mainly led by my 355 12-string; in fact, a lot of the songs - I Started Something..., Paint A Vulgar Picture and Stop Me If You've Heard This One Before - were written on that guitar. It gave a really big sound. I wanted to make sure my main guitar parts really counted and stayed on the record. Often, before, I had changed the main foundation at a later date, but that didn't happen with Strangeways.'
Coincidence or not, Marr also chose Paint A Vulgar Picture to 'lay down' his first guitar solo proper...
'Yeah, it was a big deal!' he grins wryly. 'I had to make everyone leave the studio, bring in a few candles... no, not really. The song just suited it. I always thought that if you played a guitar solo it should be something people could whistle... mind you, since then I've recorded solos that even Roger Whittaker would have problems whistling.
'One of the main things that was frustrating me about The Smiths was the way I was getting boxed. Anyone with half an ear could listen to The Smiths records and hear hard guitars, distorted guitars, backwards guitars, slide guitars, acoustics, Nashville tunings, open tunings... yet every time I opened a music paper it said, "Johnny Marr - jingle jangle." I'd just had enough...'

After The Smiths split, Marr cropped up on various sessions - backing Bryan Ferry on his Bete Noir LP (The Right Stuff single was a vocal version of Marr's Smiths instrumental Money Changes Everything), on the Colors film soundtrack, some tasty work on Kirsty McColl's Kite album, a few songs on Talking Head's Naked. For a while it looked like he would join The Pretenders (he played on their Windows Of The World single and even completed a short tour) but his first full-time project was as new guitarist in The The. 'I'd actually met Matt Johnson before The Smiths,' recalls Marr, 'it was just finances and geography that kept us apart. We hit it off straight away when we first met - he played me something off Burning Blue Soul, and I played him the music that eventually became Suffer Little Children, and we really connected. He was the only other person I knew playing in a similar sort of style as me. When I was in The Smiths I'd always listen to Matt's records and think "I could do that better" - heheh!
'The way we got together was amazing synchronicity. You see, I really wanted to play with David Palmer (drums, one-time ABC-er) and James Eller (bass, just exited Julian Cope's band) and I talked about putting a band together with them, but at the same time Matt talked to each of us individually about playing with The The - and hey presto, we all joined The The. It was perfect for me in many ways, 'cos it allowed me to continue to be a musician and do something intense, but to stay completely away from the media hullabaloo that was going on around The Smiths' split.'

THE THE


MIND BOMB
May 1989
As gloomy as The Smiths at their best/worst and without any 'whoops, vicar!' gags, Mind Bomb remains uneasy listening, but it nevertheless allowed Marr to break free of his past. Messrs J*ingle and [email protected] are nowhere to be found; weird guitar 'orchestration', on the other hand, is everywhere.
'Matt really wanted me to get into melodic, atmospheric orchestration, which worked particularly well live. By the time I'd done 50 gigs I was really adept at the harmonic stuff - hitting a couple of false harmonics on a chord, then swelling the volume up on the guitar with wah, then pushing down on the Strat's bridge for a weird divebombing effect. Other people have done that, but not with chords. I even got into some tapping; tasteful tapping, I might add! Plus, I had to recreate some of the stuff Matt had cooked up with weird mixing desks and tape loops. It was challenging, to say the least, but really exciting.
'I decided it was time to concentrate on playing just one guitar onstage through an entire set and letting technology do the rest of the work. To me, that was a logical step. In the Smiths I used to take 14 guitars out on the road; in The The I'd just take two Strats... my rack cost more than the entire guitar collection! But it was all about playing, which was great.
'I really like the fucked-up wah riff in The Violence Of Truth (from the second verse onwards). Matt was pushing me so hard, I was close to just giving up; "Can we please slow the tape machine down?" Oooh, he's a difficult taskmaster... but he does make you a better musician."

As he continued touring with The The, Marr began work on his next project. He'd originally planned to simply guest on a forthcoming solo album by New Order singer/guitarist Bernard Sumner, but their writing blossomed and the decided to form a new band, Electronic. Fusing Sumner's electro-influenced pop and Marr's supposed guitar classicism seemed strange; it certainly resulted in a sound way removed from that of The Smiths. Marr nevertheless insists that the raised eyebrows of public and press were the result of him being misunderstood all along.
'The sound of Electronic goes back to what was going on at The Hacienda (Manchester club) when the Smiths were formed,' he says. 'Even in the band's early days I was really quite involved with the people behind the club - Mike Pickering (of M People), Tony Wilson (Factory records) and Peter Saville (designer) all used to come into the clothes shop where I worked, which was really exciting for an 18-year-old.
'The Hacienda looked really exciting 'cos it was going to be playing primarily American music and consequently that's where I spent nearly every night. My then flatmate used to be a DJ there and he'd play all these obscure New York records; J Walter Negro And The Loose Jointz' Shoot The Pump, Prince Charles And The City Beat Band... all the stuff that evolved into hip-hop. I'm not laying claim to that but I certainly understood it. New Order took that and kind of made it their own... I went on record saying I thought New Order were great for doing that, which wasn't really the thing to do when you were in The Smiths in 1985.
'So to me, it was never bizarre that I ended up forming a group with Bernard Sumner - he was one of the only other English guitar players in the '80s who was doing anything passionate. I always thought he played guitar like Neil Young, actually...'

ELECTRONIC


ELECTRONIC
June 1991
Taut funk on Idiot Country, quintessential Marr pop on Get The Message, a seamless marriage of jangle and dance beats on Tighten Up... plus loads of E-fuelled blip-pop. 'Vindication' was a word mentioned...
'I think this album worked really well, there's some great songs on there,' enthuses Marr. 'Guitar-wise this was where I took my first steps in MIDI guitar playing, so a lot of it sounds quite synthetic. It was also the first album where I played a substantial amount of keyboards. MIDI guitar was very easy for me 'cos I was working with someone who I regard as one of the best synthesiser programmers and players in the country - Bernard can set up great sounds on a bank of keyboards almost with the volume turned down. Oscillation, waveforms, he knows all that stuff.
'Annoyingly, Bernard wouldn't play any guitar - he still says, "Why bother, when you're around? You can do it!" People assume Bernard turned me into a synth-head on that album; the truth is that I cut out some of my guitar parts when he wasn't looking, 'cos it was sounding too much like Johnny Marr. I didn't want to dilute the music, I wanted it to be pure, and with dance music, once you introduce the human element you lose the essence of what it is - machines and relentless energy.'

THE THE


DUSK
December 1992
With Electronic not touring extensively, Marr was free to simultaneously retain membership of The The. Dusk was more strum-centric than Mind Bomb and loaded with superior songs. The tunes remain solely Johnson's but Marr stamps 6-stringed authority on the lurching Dogs Of Lust, the jangling Slow Emotion Replay and the chugging funk of Sodium Light Baby.
'The difference between this and Mind Bomb was that I was around whilst the Dusk songs were being written. People still don't understand that from the moment I joined The The to three and a half years later I was in the band, 24 hours a day - I wasn't just getting out of my limo at Matt Johnson's place, playing a few guitar parts then disappearing! I think Dusk is one of the best records I've been involved in.
'Something like Slow Emotion Replay is very recognisable as me 'cos it has that (withering look) jingle fuckin' jangle, but Dogs Of Lust was one of the best rock records I'd heard for ages, and a lot of that is to do with Matt's vocal delivery. Great song. It's one of the best guitar tracks I've done, as well. He really put me through it when we were recording that... again!'

ELECTRONIC


RAISE THE PRESSURE
July 1996
Fatherhood caused Marr to lie low for a few years, but he returned in 1996 with the second Electronic LP, some tracks being co-penned by Kraftwerk's Karl Bartos. Although less vital than the duo's debut (the dance tracks sound too rooted in '89) Raise The Pressure is still notable for Marr's unmistakable guitar work, particularly on Forbidden City and For You. Marr extensively employed Roland's VG-8 'virtual guitar' system throughout.
'Oddly, out of all of us, Karl was the one who tended to lean towards the traditional. He's really into his '60s pop - The Small Faces, The Kinks, stuff like that! So it was a bit strange, the way things turned out. We were trying to get a balance of guitar and technology, but to keep it sounding contemporary. When I listen to it now, it sounds a bit dense - full of ideas and hooks... But, y'know, give it time and I think everyone will see it as a really strong pop album, which is pretty much what we were trying to do.
'I think it's really soulful. Songs like Second Nature, Visit Me and Dark Angel are upbeat, poignant, melodic, sad - you're not sure whether they're happy or sad. That's the kind of song I like. I don't know if I'll ever get away from writing songs like it...'

A week later, Marr's back at home in Manchester demoing new Electronic material. He's now back 'on a roll', he says over the phone, and can promise new and mostly guitar-led Electronic releases by mid-'97. 'I'm happiest when I'm wandering round a room full of guitars in different tunings, guitars with capos on,' he admits. 'It means you've got a frame of reference in your head and then the guitar speaks a different language. I've been thinking about my playing a lot recently, and if I could say anything it's probably that I've always been anti the easy cliche. When I was growing up, all that widdly-dee playing was considered illegal... and quite rightly. They should bring back the birch for those players!'
So where is his playing going?
'Hard to fathom... I suppose it's going underground,' he offers, somewhat inconclusively. 'For example, at the moment I'm interested in this new technique, a combination of false harmonics with a thumbpick to tell the feedback which note it should play, and on top of that using a couple of octave boxes to get the note to jump around. If you use two you can get it to jump down an octave and then jump back again... pretty good, really freaks the feedback out! But again, it's still melodic. Y'know, it's easy to walk up to amp and get it to whistle, but it's not so easy to get it to whistle a tune. It's just another way of avoiding the obvious.'
It would be churlish to suggest that many of Marr's admirers would actually like him to return to a four-piece guitar/bass/drums/vox group and 'do something obvious'... so TGM suggests it anyway.
Yeah, yeah,' sighs Marr. 'The thing is, guitar rock/pop is completely chasing its own tail at the moment. I want to do something a little more innovative. I like change, I hate dogma. A lot of musicians who are influenced by older groups seem to miss the point of relativity - sticking to the "authentic" isn't what made Hendrix; otherwise he'd have been playing pure delta blues. Sticking to the authentic isn't what made the Beatles, either. As well as passion and amazing talent, it was innovation. I really believe you've got to use everything at your disposal.'
He really does mean it. Man.

MARR'S GUITARS


A renowned guitar junkie, Marr's collection of instruments pushes the 100 mark. 'I'm terrible,' he groans. 'I'll go into a guitar shop to sell two guitars and come out with an extra one which I don't need. I've been doing that since I was 20.' Indeed, it seems the only person to whom Marr regularly donates guitars is Noel Gallagher; for the recording of Oasis's debut album Marr gave Gallagher one of his favourite Les Pauls, a refinished late '60s Standard. Such was the karma hovering in the frets, the Oasis tunesmith claims, that Definitely Maybe's highlight Slide Away drifted from his fingers instantly. 'That song wrote itself, I swear it did,' chirped Noel.
'Well, if that's the case,' reasons Marr, 'then I reckon he owes me a couple of million in royalties.'
For recording Marr gravitates towards a few time-tested favourites. 'Over the last two years, I've been experimenting with everything I've got and I've come back to the same old guitars - not because of nostalgia, simply 'cos they're fantastic.
'My Gretsch 6120 is great, even people who own other ones say mine is the best they've ever played. I got it from Pete Townshend - and it's one that Noel isn't going to get. Another main recording guitar is my '59 Les Paul - just as you'd expect, an amazing guitar. I used that a lot on Strangeways... and The The's Dusk album. My other Les Paul is a mid-'80s one with a Bigsby retro-fitted; that's the one I used on How Soon Is Now?.
Although Marr used a red Gibson ES335 throughout his time with The Smiths, his Gibson ES345 (left) is a more current favourite. 'I used it a lot on The The's Dusk, like the riff from Dogs Of Lust,' he notes. 'I've also been playing my black 355 a lot recently with Electronic' - the 355 can be seen in the videos for Forbidden City and For You. 'That's a really interesting guitar. It's got a very clean, almost David Crosby-type sound - hey, another really unfashionable influence! - and it doesn't fizz too much. I like using it for slide. Clean, but spooky - that's the vibe with that one.'
These days Marr's Rickenbackers rarely see the light of day, but for the record he has two: a black '82 330 6-string (seen in the video for This Charming Man) and a mid-60s sunburst 360-12, his main Smiths recording Rickie, bought off Pete Townshend.
Marr's main Strats are both '63s. 'One I keep constantly high strung in Nashville tuning, which is the top two strings the same and bottom four like a 12-string set with the low strings taken off,' he explains. 'It's a good tuning for coming up with new stuff 'cos you kind of feel like you're playing backwards. I used that on loads of Smiths stuff - You Just Haven't Earned It Yet, Baby, Half A Person...
'I've got two main Martin acoustics, a D28 and a D45. The D28 was always disappointing for recording until I started to put it in different tunings. That's often the case with guitars - they often don't happen in concert tuning - so I'd always recommend changing things around to see if they sound better.
'Another guitar I really like is a Fender Bass VI baritone guitar, which is interesting, even though it's only really got one sound. I used that on Helpline Operator by The The.'
By far the weirdest thing in Marr's collection, however, is his nine pickup Fender Strat. 'I got it really cheap,' he excuses himself, feebly. 'Not only are there nine pickups, but there's an on/off and in/out-of-phase switch for each pickup. I'm not making this up, 'cos Noel was witness to that dreadful event. Bizarre! But I just thought, if Kraftwerk played guitar, they'd play this! I used it on the rhythm outro of Electronic's Out Of My League (from Raise The Pressure). I figured it would give some really strange harmonics... and if you just replace the word 'strange' with 'shit', then I was right."
For amps, Marr again relies on a few old favourites. 'In particular, there's my Fender Deluxe - very punchy and hot, but not too distorted. You can hear the natural sound of that really well on Feel Every Beat by Electronic. I also used a Fender Pro a lot - that was also on a lot of the early Smiths records, while my Blackface Twin was used from the Queen Is Dead onwards. you can hear the Pro really well on New Order's Regret - Bernard (Sumner) borrowed my Les Paul and Pro for that, so he owes me some money as well.
'One amp I've rediscovered is the Vox AC30, an Anniversary model. They were the first amps I ever played as a kid, but I never really got into them until now. With a Les Paul, they're great. Not many people use that combination but if you listen to the early Rolling Stones records, that's the sound there; the Les Paul gives you the heavyweight sound and the Vox adds a nice even spread - very complementary.'

VG DOES IT


Electronic's Raise The Pressure saw Marr record extensively with a Roland VG-8, the 'virtual guitar' black box that aims to reproduce vintage gear sounds, allows 'virtual' pickup placement (even, for example, on the guitar's neck) and simulates altered tunings at the touch of a pedal.
'I tended to put it through a stereo valve amp then DI it for recording,' Marr reveals. 'The room simulation is actually very good but the overall sound is a bit too digitised and brittle for my liking. But it's an amazing bit of gear. For someone who's playing covers in clubs, for example, it would just open so many doors - you can go from a pretty authentic Eight Miles High Byrds sound to a distorted Hendrix sound to a plummy jazz sound really easily. I don't really need it for the "authentic" sounds 'cos I'm lucky enough to have all the authentic gear and nothing, for me, beats the right Gibson through the right Fender amp. Having said that, the track One Day is all through the VG-8 - I actually tried recording that with a Gibson 330 through a Vox AC30 and it didn't sound right, so bang goes my theory. The guitars on For You are all VG-8 too; sort of sounds like Rickenbackers, a really great glassy sound. Even that steaming rhythm track which is the glue that holds the whole track together is via the VG-8, the solo too.
'You can hear a bit of the VG-8 on the fade out of One Day as well, all those strange pings and pops is one of the filters on the VG-8. It's good for weird noises! It'll be interesting to see the updates. Imagine plugging a VG-8 into a portastudio - you'll have this vast array of sounds just to demo with.'

This article was originally published in the January, 1997 issue of The Guitar Magazine.
Reprinted without permission for personal use only.