I went to Costa Rica to see the annular eclipse,
and all I got was a speeding ticket ...
... and countless mosquito bites, torrential rain and strenous mountain hikes on muddy paths - but also perfect views of the Geminids peak at 20°C the night before the eclipse, the 25 hours young Moon the evening after, appearances on TV, in the press and in public, and a healthy dose of the wonders of Central America´s most varied country. Aah, and wonderful pizzas and hospitality at the home of Alejandra León Castellá, Directora Ejecutiva of the Fundación CIENTEC, who had been instrumental in luring me (and three travel companions) to Costa Rica on the occasion of the rare celestial event.

Well, that´s not quite true: This tiny country situated between Nicaragua and Panama had been an underrated venue for the big total eclipse of the Sun 10 years earlier that most eclipse chasers had observed (or tried to :-) in Hawaii or Mexico. The handful who had gone to Costa Rica, however, where the eclipse could be seen well despite falling into the rainy season, were full of praise for its natural wonders and its people, known as ticos and ticas. Add to that the frequent TV documentaries on the country´s pioneering ecological movement and ´ecotourism´, and there was little that could have stopped us from going there now, for the annular eclipse of December 14, 2001.
---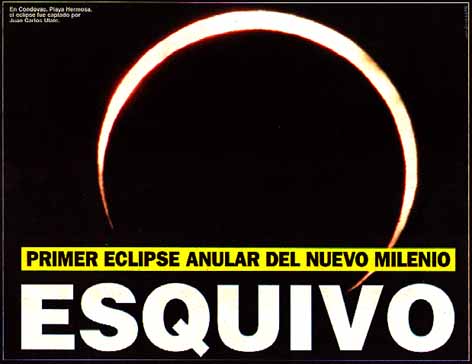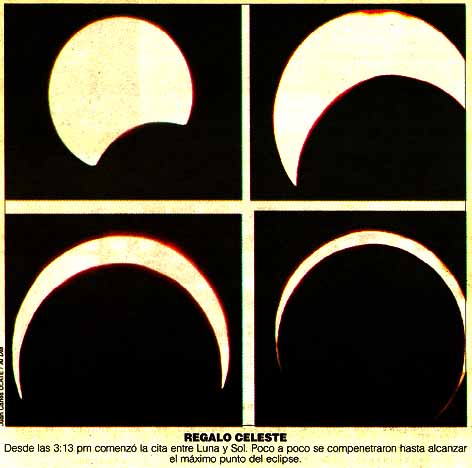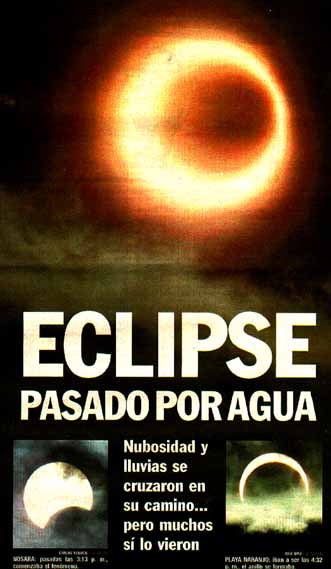 Coverage in the newspapers Al Día and La Nación;
the pictures were taken at Playas Hermosa and Naranjo, resp.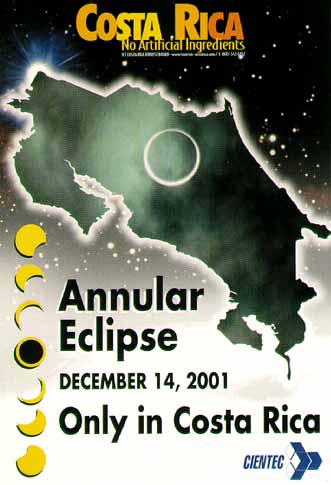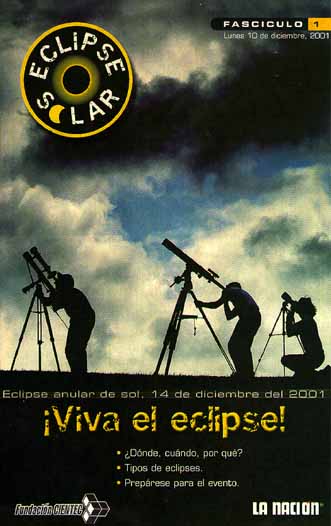 Outreach: a CIENTEC postcard and one of the eclipse brochures.
My own pictures will be added later, as the lab is thinking that X-mas is more important ...
---
There was no guarantee, of course, that the eclipse would be visible, as December marks just the transition from the rainy to the dry season (that then lasts well into April). Plus the eclipse would be only 11° high in the sky or even lower: A replay of all the stunning effects seen during the last annular eclipse that crossed Australia in 1999 was unlikely. Also, the ring would be much thicker this time: There would be far less dimming of the daylight, and the chance to catch the chromosphere was slim. Still, there was said to be a region in Costa Rica where at the same time the climatic prospects were best, the Sun was highest and one would be located near the (Northern) limit of the track of totality, where one always likes to be for annular eclipses.

This coincidence came to my attention when I ´met´ Alejandra for the first time in October 2000 - on the Internet, that is. Is was not even on a forum for eclipses but on the MeteorObs mailing list, prior to the 2000 Leonids, but we immediately started to focus on the eclipse more than a year ahead: The Northwestern Guanacaste province (named after a huge tree) would be the region to head to, and since annular eclipses are most interesting for Baily´s Beads and related dynamic phenomena (while the full annularity is rather boring), the natural choice seemed to be the Santa Rosa National Park in the Area de Conservación Guanacaste, a huge network of conservation projects.

Either one could stay next to the Carretera Interamerica (also known as the Panamericana) that passes right through the area or try to head for the Playa Naranjo - whether the ´road´ leading there would be negotiable remained unclear, though, and hardly any tico had ever gone there ... Arrangements were eventually made through CIENTEC that would provide us with accomodation in the dormitories of the Dry Forest Research Center in the middle of the park (quite a privilege), full board in its dining hall (both very cheap) and even a 4x4 rental car (expensive but unavoidable here). Plans to lure more eclipse watchers into this rather remote region of Costa Rica did not materialize, however, and we would be pretty much on our own there.
Costa Rica on the fast lane
When we arrived in San José´s airport on the evening of Dec. 7 - after spending 13 hours and 15 minutes in the air since Düsseldorf, not including dreadful stop-overs in Madrid and Miami - the eclipse was still a week away: time to start sampling Costa Rica´s other attractions. There are commercial tours that promise to show you half a dozen of them in one day, so our approach seemed not that hectic by comparision (although many travellers spend months here). First there was the bustling city of San José itself, a chaotic but friendly mix of important and not so important historical buildings and places and modern shops and markets. Somewhat like Mexico City but all compressed into such a small area that everything (!) can be sampled in one day on foot.

We managed to at least pass by all 41 sights listed in a big German travel guide, with still some time left to send home some e-mails from a most modern and cheap internet café South of the Plaza de la Democracia (one hour on a fast Linux systems costs less than 1 $). And to check out Costa Rica´s snakes in a terrarium called Serpentinario and cleverly located in between two casinos. How nice: Of Costa Rica´s 17 species of venomous snakes, about a dozen live in the Guanacaste region, some of them brightly colored, others looking more like tree branches. And the spiders and beetles could also get pretty big here...

Quickly we also grew accustomed to the typical food of Costa Rica: Most everything has to do with rice, be it the breakfast (´gallo pinto´ = rice + beans + eggs) or the main dishes (´casado´ = rice + whatever fits; IMHO especially calamares do!). And in a quick survey we determined that ´Imperial´ was the best of several local beers, available everywhere: It seems that whereever you head from Germany on a long-distance astronomical mission, be it to the South (Zambia to a total eclipse, ´Mosi´) or to the East (Korea for a meteor storm, ´Hite´) or to the West, you never go thirsty :-).

An interesting encounter occured in a small restaurant where one of us spotted a young man with a Planetary Society T-shirt. Turns out he was indeed a member of this worldwide group, plus the owner of a small telescope, though unhappy because of Costa Rica´s often cloudy weather. And, most astonishingly, his (software) company was planning to take everyone to Guanacaste for the eclipse. There was great interest in the coming event indeed, and it had become a daily topic in the newspapers already. Especially La Nación gave the event much space and would even carry two well-produced color brochures, created together with CIENTEC.

During the nights in our hotel we could zap through the 50+ channels of San José's TV cable system that carries more programs from the U.S. (even original network fare, including the American commercials) than from Costa Rica itself - which in this respect may feel just like an additional state of the U.S. of A. (from which it is also highly dependent economically, by the way). But mostly it´s pure Latin America (and ´Pura Vida´ happens to be the current official slogan): This is evident e.g. by its dense network of short- and long-distance busses that make hiring a car mostly unnecessary for ordinary travel needs.

On one such bus we soon headed out of San José, first on the Carretera Interamericana through the lush green mountains around the Valle Central, and then up into the Monteverde area. While there had been hardly any noticeable tourists in the capital, the tiny village of Santa Elena at 1400 meters altitude, where the bus eventually ended up after hours on an infamous dirt road (that is actually better than its reputation), is a different story. It is surrounded by several forest reserces and other nature attractions and caters mainly for the budget traveller - while still in the process of stepping off the bus into the darkness (and mud), you´re already being inundated with offers.
Magic of the misty mountains
For some 5 $ per person and night it´s easy to get a decent room here - and to meet fellow travellers from all walks of life, including some rather exotic individuals. Cindy, a young American archaeologist and anthropologist (looking forward to living in a Maya community in Guatemala soon) was among our more everyday acquaintances, but then there was also an elderly Canadian who had - according to his own tales, anyway - turned from being an avid user of magic mushrooms and related substances to a Buddhist to now an expert in hummingbirds. In the end, most everyone in the impromptu group that had arrived on the bus ended up dancing rather erratically in a funny local discotheque, while some bewildered ticos looked on ...

In the one full day we had in the Monteverde area, we managed to partake in three of its advertised adventures: the ´Sky Walk´ through the canopy of the cloud forest, a tour through the Butterfly Gardens and a hike through the Finca Ecologica. All venues are within a few kilometers of Santa Elena, but that can turn into a tough walk during the rain that had now (re-)started and quickly turned the ´roads´ into muddy tracks. The Sky Walk in a private reserve is probably unique in the world: a system of 5 (eventually 6) suspended bridges up to 50 meters above the ground that leads you right through the canopy region of the cloud forest, so called because it´s really often in the clouds.

Numerous species of sometimes bizarre epiphytes can be studied in detail here, far above the dense green thicket; animals, though, are hard to spot, and no guided tours are offered. (Visitors with more time and money on their hands should thus visit one of the two big nearby cloud forest reserves first and get an introduction into this unique and surprisingly endangered ecosystem before doing the Sky Walk. Or one of those ´canopy tours´ on metal wires, an expensive mix of adventure sports and ecotourism catching on quickly around Costa Rica.)

Next on the list was the Butterfly Garden which is not only remarkable for the spectacular species of butterflies kept there in four large enclosures but also for the most entertaining 1 ½ hour guided tour included in the entrance fee. First they show you some live specimen of Costa Rica´s beetles, including the famous Hercules (Dynastes hercules) that can reach a body length of 20 centimeters - and the (in-)famous ´asthma beetles´, just millimeters in length. They played a major rôle in indigenous medicine where there are cooked - but you can also eat them alive, as the visitors are enticed to do (they are rather spicy ...).

Other live displays, more conventional, highlight mimikry (insects perfectly mimicking parts of plants) and the life cycle of butterflies - which is full of dangers, as witnessed by those individuals who fail to fully open their wings after hatching and soon die. Numerous types of chrysalises are also shown as are lots of caterpillars with different defensive strategies. In the big enclosures, the butterflies prefer to fly only when it is warm and dry - which it was not, why the guide often chose to beat up the bushes with a stick to provoke some action. Finally came a colony of leaf-cutter ants (Atta sp.) that could be inspected with a small camera and a TV screen.

Those ants, thousands of them, also turned out to be the most accessible attraction of the Finca Ecologica where again the larger animals remained well hidden (only around sunset we spotted some long-tailed mammals high up in the trees which could have been small bears called olingos; Bassaricyon gabbii). Several ´roads´ were evident where the ants in long processions were carrying big leaf fragments into what for them must be a megalopolis of many cubic meters volume. Watching the busy workers and the soldiers with their mighty heads guarding their long march was quite an experience. As were some outlooks into a steep valley - one could spend weeks in the Monteverde area.
Phantom volcano
But what next for us? The closest other worldfamous attraction next to the Monteverde cloud forest is the almost always active volcano Arenal, but it´s located exactly on the other side of the Cordillera de Tilarán mountain range. Until recently it was quite difficult to make the journey (by several busses or on horseback, with the horses almost dying of exhaustion), but now a transfer combining a jeep drive to the Arenal lake, a quick boat ride and a bus trip to the small town of Fortuna de San Carlos are offered everywhere for about 25 $. And it really takes only 2 ½ hours to arrive in the logistical center of Arenal-related tourism.

While Fortuna (as the town in generally just called) turned out to be more developped than Santa Elena (the roads are paved, for example), the weather was now turning really nasty: It rained like hell for hours on end. And the volcano? It remained hidden behind low clouds all the time, as it does most of the time (we had been warned) - but not even its base was visible now. If it weren't for some spectacular night photographs of an eruption plus star trails on sale in a restaurant, one could think that the people of Fortuna had just made up its existence to lure tourists into their remote rainy community... :-)

A guided tour through the neighboring rain forest (booked well in advance) led to our first sighting of Costa Rica´s famous howling monkeys (Alouatta palliata) in the distance but quickly turned into an endless struggle with steep and extremly muddy tracks, some of them already transformed into tiny waterfalls. The torrential rain and the fading afternoon light added to the stark atmosphere of the stunningly beautiful jungle, though, and eventually we saw what (let´s trust the guide here) were grown-over lava fields from Arenal´s last great eruption in 1968. But even from some 800 meters away no actual volcano was to be seen through the driving rain ...

By now this expedition had already set a record: During none of my 17 preceding astronomy trips since 1983 had I experienced weather that incredibly bad just a few days before an eclipse or a meteor shower. Could the Guanacaste region really be that different!? Anyway, another highlight still awaited the completely soaked rain forest wanderers: the Baldi Termae, amply developped hot springs between the volcano and Fortuna. They even feature a fully stocked bar inside one of the warm pools. Ever wondered what an ´Iguana Verde´ is like? Here we found it out (it´s really green and tastes like some flu medicine ...) and also that the Costa Rican rum (´ron tico´) makes for good Cuba Libres.

Back in Fortuna it was raining again (or still), and it continued to do so during the night: Even for this wet region the rains were out of the ordinary. How bad they had been we found out the next morning when the road from Fortuna to Tilarán, along the North shore of Lago Arenal, was blocked by fallen trees and a major mudslide! Some of the trees the driver got rid off with a giant machete, but others were just too big, and construction crews had also just begun to clear the mud (some was still coming off the wall next to the road as we watched). Tico cleverness prevailed, however: On the other side of the mudslide was the Tilarán bus bound for Fortuna - and so both buses just switched their passengers (who had to climb with their luggage over the trees and over the mude) and each one then simply turned around.
Cowboy country, eclipse eve
This unplanned adventure (all included in the really small ticket price; others pay dearly to get so much drama :-) was even spiced up by a group of coatis (Nasua narica) coming out of the woods and soon fighting for some food. The whole incident cost us only about ½ hour and we made it - despite having to switch buses in both Tilarán and Cañas - to the town of Liberia even before sunset. We were now deep inside Guanacaste, but exactly 48 hours before the eclipse the region didn't quite live up to its promise of being a dry savanna on "the sunny side of Costa Rica". Granted, there were indeed many cowboys around on horses (known as sabaneros; sabana = savanna) and cattle galore in this ´little Argentina´, and the beef was better than anywhere else. But it was still raining at times, and heavy clouds would have prevented all observations today.

Nonetheless the eclipse cast its shadow onto Liberia already (pun somewhat intended) - because of the phenomenon called Milton. Just minutes after our arrival in a hotel booked by Alejandra the phone rang and on the other end was Milton Fernández, a math and physics teacher at the Escuela Ascensión Esquivel Ibarra de Liberia and local astronomy hero with connections seemingly everywhere. Now he was promoting the eclipse to the Liberianos with a vengeance: We had already met him earlier this week in San José where he had picked up a bundle of eclipse glasses from CIENTEC (and the eternal Swiss eclipse chaser Olivier Staiger, who had been in the local press already, had also been a surprise guest to this ´summit´).

Now Milton had urgent wishes: He invited me to appear with him on a local TV show, that very evening. Canal 36 turned out to be a really small broadcaster, with just a handful of people and basically just a newsdesk; even the stage lighting was somewhat subdued (but at least not really hot). Here Milton and I were, during a commercial break, seated next to the anchor lady, with Vicky, a friend of Milton, acting as an interpreter off camera. No rehearsals, no preparation (at least I had thought of wearing an official CIENTEC eclipse T-shirt), and already we went on air as the central section of the main evening news.

A lot of ground was covered during a good quarter of an hour: about the geometry of the eclipse (which would happen a mere ¾ hour before sunset), what could be observed and how to do it safely. A few viewers´ questions were also answered, the first one being: Will it be safe to observe the eclipse on TV? Then we were clear, and the channel´s director told me that they would indeed try to broadcast the eclipse live, from three locations (and according to a TV guide at least one national station was also preparing a big live show). Milton on his part was planning a big eclipse event somewhat outside the city, for providing a free Western horizon.

The next morning - 30 hours to go until E-time - Milton had me address the people of Liberia once more, this time with a public talk in his Escuela (with students between 5 and 15 years of age). Due to the early hour, mainly students and girl scouts showed up, but from the level of many of their questions I could fathom that CIENTEC, the news media and Milton, of course, had done a fine job in educating the masses. (That was in stark and welcome contrast to the efforts by the Mexican government in 1991 to scare everyone into watching that year´s great total eclipse exclusively on TV.) I was especially impressed by a young girl and a young boy who were even involved in the Starshine Project and whom I provided with some solar filter material for photography.
The road not taken
By now it was time to get earnest with the eclipse: Milton and I picked up a mighty jeep (a Toyota 4Runner), for which he got a special rate, and off we drove to the Santa Rosa National Park. There we were already expected and could check into the dorms of the (well-hidden) Tropical Dry Forest Investigation Center, but then the expedition hit a snag: The ´road´ to the originally planned beach, Playa Naranjo, turned out to be so horrible after the stronger-than-usual rains that Guanacaste had experienced, too, that it would have been too dangerous to use it with all our equipment (not even to mention the return trip at night). And walking there, while possible, would have taken hours. Given the hilly nature of Costa Rica´s Pacific Coast and the density of the dry forest, which was still very green at the end of the rainy season, the search for alternate observing sites was difficult, and a meadow just next to the dorms was eventually chosen as the probable venue.

Here the annular phase at 11° would still be above the treeline, but soon thereafter the Sun would disappear. Now observing annuarity was one task, but watching the Sun set while still partially eclipsed was another main challenge. The only place from which one could follow the Sun all the way down I had found so far was a hill behind La Casona, a historic farmhouse (at times serving as a fortress) that had been blown up completely by a deranged arsonist earlier this year (thanks to an unexploded bomb left from a war in 1955 he got more than he expeced). Now La Casona was being rebuilt, and amidst the construction work there were a few spots from which the 2nd partiality could be photographed, though only from small tripods. I made a mental note that this would be the site to return to in case a clear sunset would be likely. Little could I know what would really happen the next day ...

The meadow near the Investigation Center was also a fine venue for nighttime astronomy, for the skies finally cleared on the evening of December 13th. Now and then black clouds drifted accross the star fields (there were no light sources to illuminate them from below), but otherwise the transparence was excellent - and the Geminid meteors were, too! By sheer coincidence their predicted maximum at 4 UTC on Dec. 14 (i.e. the evening hours of Dec. 13 in Santa Rosa) would come less than 24 hours before the eclipse, a fact mentioned even in the newspapers and one I was asked about on yesterday´s TV show. At dusk, here at 10°50´ North, the constellation Gemini with the radiant was just rising, and so many of the early Geminid meteors were spectacular Earth grazers, moving slowly and over large angles in the sky.

This brought back vivid memories of the early hours leading up to the Leonids meteor storm less than a month earlier which had started just the same way. A marked difference was the much lower number of meteors, of course, and the lack of persistent trains that is typical for the asteroid-derived Geminids. But with a Zenithal Hourly Rate certainly at or above 100 and many bright meteors (plus some of them travelling in rapid succession on similar trajectories), it was still a marvellous sky show. And one to be enjoyed with an air temperature around +20°C - what a contrast to a typical Geminids night in Germany at or below freezing! The only detraction were zillions of tiny mosquitos that enjoyed a party quite of their own...

Much of the night was also spent trying to nail down the cardinal points by strictly stellar-astronomical means. Increasingly sophisticated ideas led to widely discordant results as to there South and West might be, since Polaris was just invisible behind solid trees. Eventually the sighting of the Large Magellanic Cloud just culminating above the trees saved the day and set the South direction pretty firmly; while just a diffuse large blob for the naked eye, small binoculars easily revealed the central bar of this semi-irregular galaxy and the Tarantula Nebula. Otherwise the Southerns skies at this time of year are not very exciting for the naked eye, but at least the Geminids kept shooting over our heads. And the mosquitos kept feasting - what might they feast on when there are no crazy astromomers on their meadow...?
Disaster dawning
Eclipse day had come - and that dreaded cloudiness was increasing again. What had the weatherman of La Nación been smoking who had predicted fine eclipse weather for the last three days? The satellite view of Costa Rica from this morning (as seen on an iMac in the headquarters of the Investigation Center) revealed a practically solid cloud cover over the whole country - there was no indication that e.g. running South would increase the chances of seeing the eclipse in any way. And heading North to Nicaragua was not an option as we would leave the zone of annularity. Thus we stayed put on our meadow and with our mosquitos (which were happily biting around the clock, it turned out), hoping for favorably shifting clouds - after all, yesterday annularity would have been visible from this very spot.

There was indeed a pretty sharp edge below the solid cloud bank above us visible towards the West, reavealing varying patches of blue sky. The question was: Would the setting Sun outrun the clouds that were, as a whole, also slowly advancing towards the West? First contact just after 3 p.m. was missed, but some time later the partially eclipsed Sun could be spotted through clouds so thin that a solar filter was necessary. Then it was covered again, and it became clearer by the minute that the annular phase would be covered, too, from our site. Some spots farther to the South and perhaps just at the beach might get it, but it was too late now for a chase of one of those ´sucker holes´ as they´re called in astronomy. What an irony: We were always worried that the eclipse would happen too low in the sky - and now it happened way to high...

The cloud bank, however, it was also becoming clear, would never reach the Western horizon: Some unusual views of 2nd partiality just minutes before sunset were still a distinct possibility. Losing the ring phase of an annular eclipse is not nearly as bad as missing a totality, actually: Especially with a ring as thick as the one just now eluding us, it´s just a specially shaped partiality. Indeed the overall dimming of sky and landscape was hardly noticeable even when the ring closed ¾ of an hour before sunset. The only ´evidence´ that something was ´wrong´ with the Sun was the clear reduction in direct sunlight scattered off the Pacific Ocean which had illuminated ´our´ cloud quite dramatically from below - that source of light was now much reduced.
´Failure is not an option´ (as consolation prizes go)
With annularity missed, it was time to head for La Casona, but there was actually no need to rush: The construction site was just a few kilometers away from the dormitory, and it would take the Sun another half hour to finally outrun the lower edge of the cloud bank. At 17:05 Costa Rican Time it finally reappeared - and despite its low elevation is was extremely brilliant. The atmosphere behind the clouds had been cleaned quite well by all the rain of the recent days, I suppose, and solar filters were again necessary to view and photograph the Sun with still a major chunk of it missing on top. A video camera even demanded several layers of filter foil - it was quite a show, but a fleeting one.

Soon the Sun disappeared behind another cloud, but there was another hole in that one as well - which appeared, because of the extremely slant viewing angle, rather as a narrow slit. It was about as wide as the Sun, which was now directly sinking towards it, but had only a height of a few arc minutes. And finally luck was with me (and the wife of a Canadian yeast ecologist who had spontaneously joined me in my Casona dash): The Sun ´scanned itself´ by setting right through this slit, eventually just consisting of two separate horns (North and South of the still eclipsed section) that dramatically slipped away. With that the show was really over and we made it back to the comedor (outdoor dining hall) just in time for dinner at 5:30, by which we evaded the grim looks of the cochina (cook) for latecomers ...

The Casona dash had also led to a surprise encounter with a group of astronomers (some of them from Germany) from the International Occultation Timing Association who had also opted to oberve from near the limit of the zone of annularity. When we approached the site they were just about to leave (and miss the sunset spectacular) because they were under the impression that the park would close any minute now. Actually that´s what it says in officical documents, but in fact at 4:30 it is just the box office that closes near the Interamericana - there are no barricades in the Santa Rosa National Park, and people walk about there even late in the day. The IOTA expeditions are mainly about measuring the diameter of the Sun by studying Baily's Bead phenomena near the contacts - here was an opportunity lost for science, no question.

Capturing the setting, partially eclipsed Sun together with dramatic clouds had been the 2nd aim for me, however, and so from that perspective I herewith declare the eclipse at La Casona a ´partial full success´. The triple strike of 1999 when I had been able to observe an annular and a total eclipse and a meteor storm all under perfect conditions was not to be again, but the Costa Rican experience - with about as much action crammed into 10 days as the African sojourn half a year earlier had had in three weeks was an icing on the cake of the astronomy year 2001 I would not have wanted to miss. And the trip was not even over yet, with one more unexpected astronomical highlight in store for us.
The celestial clockwork carries on
The next day we slowly learned (from 2nd hand eyewitness reports and soon also from some newspapers) that our bad luck w.r.t. the annular phase had been shared by nearly all ticos and their foreign guests, with just a few widely scattered spots offering more or less clear views of the ring. There had been no way to predict where these locations would be, even hours in advance, from the satellite view - a situation starkly reminiscent of the unpredictable cloud chaos over Central Europe on that August day of the 1999 total eclipse. Some of the usually sunny sites like Nosara near the intersection of the center line with the Pacific coast had particularly bad skies, while some usually cloudy locations in the inland could see the ring. And perversely even on Playa Naranjo a few had seen the annularity as had the people in Liberia - as in 1999 a few kilometers could make all the difference.

Still the stay in the Tropical Dry Forest Investigation Center that CIENTEC had organized for us had been worth it, since here we saw more and bigger animals than anywhere else during the trip, be it frequent agutis (Dasyprocta puntacta), some deer, lots of birds, a frog that one morning jumped into a bed and a giant locust measuring 15 centimeters. And the biologists at the Center were not less interesting than their prey: There were e.g. two ´bat ladies´ from Germany and the abovementioned Canadian ecologist who studies the yeast carried by certain beetles reproducing in certain flowers. Of all possible institutions he works at the same University of Western Ontario where the meteor researcher Peter Brown comes from who once lured us into Mongolia for the Leonids - and he knows him ...

With our short yet intense trip approaching its end it was time now to leave the Santa Rosa National Park and to head for the beaches West of Liberia - a little to fast, it turns out, as we ran into a radar trap just outside the city. 80 $ later we had learned that even a rural road can sometimes be considered a village through street with a built-in ´velocidad maxima´ of just 40 kph ... Really slowly we made it eventually to our final destination, El Coco - and, after taking a plunge into the Pacific from directly in front of our hotel, got an unexpected final astronomy bonus. For over the Playas del Coco all clouds cleared away during the day, and by nightfall the young Moon, exactly 25 hours after the eclipse, could be spotted quite easily with the naked eye, just 20 minutes after sunset.

It was the same Moon that would end this year's ramadan in the Muslim world - and I now understand much better why e.g. the Jordanian Astronomical Organisation is often going to great lengths to hunt down the young crescent. Under atmospheric or geometrical conditions any worse than what we had on Dec. 15 (at 23:35 UTC, to be exact) spotting the 25-h-Moon would have been much more difficult or even impossible. Equally stunning was by how much the crescent would become brighter just another 24 hours later. El Coco would also be the first site from which we clearly indentified Polaris low in the Northern sky - a reminder that it would all too soon be time to spend another 12 hours and 13 minutes on three planes to get back to Germany where it had just started to snow heavily ...

Daniel Fischer

Drafted during the return flight on Dec. 17-18, typeset Dec. 19, posted Dec. 20, proofread & updated Dec. 23, 2001.
Coming attractions in Centroamerica
There will be two other annular eclipses in or near Central America in the next few years, and CIENTEC is already working on them, too:
On June 10, 2002 an annular eclipse will be visible (weather permitting, of course) precisely at sunset from the West Coast of the Mexican mainland - and, it being the Saros successor of the famous near-total U.S. eclipse of 1984, the ring will be extremely narrow. CIENTEC might organize an expedition to the remote Mexican viewing zone (which is depicted here) near Puerto Vallarta that includes some archaeological sights.

On April 8, 2005 another narrow-ring annular eclipse will happen just South of Costa Rica, in Panama - again low in the sky (some 18°) in the late afternoon. But then the dry season in the area should be still in full swing, and the weather prospects should be better than they were in Costa Rica this year. This hybrid eclipse is actually total for part of its track over the Pacific Ocean, but there´s no landfall during that interval. CIENTEC will advertise the event to Costa Ricans: They can just drive there by car, and Panama´s West coast has nice beaches, too...

The next annular eclipse in Costa Rica will happen already on Oct. 14, 2023, and the last one (then the skies were fine) was on Dec. 24, 1973 - add to that the total eclipse of July 11, 1991, and the small country can look at quite some 'hits' during just an interval of 50 years!
Links related to the 2001 annular eclipse
Pictures by V. Winter and O. Staiger and a story with pictures by Maley - some of the very few with a clear view of annularity.

Plus reports with pictures by León and White with less luck - and by Bruenjes way outside of the zone of annularity.

More pictures are in an image gallery from SpaceWeather.com.

Coverage by La Nación (plus their preview and a later article). And more previews from [email protected] and CNN.