YELLOW SUBMARINE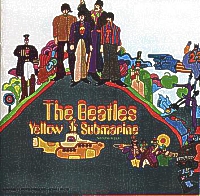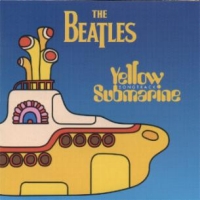 TRACKS:
Yellow Submarine
Hey Bulldog
Eleanor Rigby
Love You To
All Together Now
Lucy in the Sky With Diamonds
Think For Yourself
Sgt. Pepper's Lonely Hearts Club Band
With a Little Help From My Friends
Baby You're a Rich Man
Only a Northern Song
All You Need is Love
When I'm Sixty-four
Nowhere Man
It's All Too Much


ALBUM INFORMATION:
This album is undoubtedly the weakest of all officially released Beatles albums. Issued shortly after The White album, almost half of the 40 minute album contains orchestrations by George Martin that were used in the animated film. plus 2 other tracks--the title song and " All You Need Is Love"--that were not only previously released but relatively ancient by then. That only left 4 'new' songs, although they were hardly new, having been recorded months before the White Album.
In addition to few new songs, the group didn't even put much effort into them. The Beatles were unhappy about the idea of being portrayed in a cartoon, the result of Brian Epstein's last deals. ( The movie's critical and popular success changed their minds). So now they offered the dregs: " All Together Now," a pleasing lightweight McCartney sing-along: 'Only a Northern Song', one of the worst songs Harrison ever wrote; Lennon's " Hey Bulldog", a good rocker, that was recorded during filming of a promotional film for another song; and "It's All Too Much", a flashed out Harrison psychedelic extravaganza that is probably the album's standout, if only by default.
CHART ACTION:
UNITED KINGDOM
Released January 17, 1969, it entered the charts 5 days later at number 9. It climbed to number 3 for 3 weeks. Meanwhile The White Album had already occupied the number one spot.
UNITED STATES
Released January 13, 1969. On February 8, it finally entered the top 100 at number 86 and then climbed to number 2 for one week.
RECORDED:
The new material was recorded sporadically between February 13, 1967 and February 11, 1968, at the Abbey Road and De Lane Music Recording Studios, in London.
MARTIN: " As we recorded songs for future albums, they would try out some little bit of nonsense at the end of the session, and as long as it worked moderately well, they would say: " Right, that's good enough for the film. Let them have that." So the film essentially got the bottom of the barrel as far as new material was concerned.
MISCELLANEOUS:
These are the titles if the George Martin orchestrations that make up half of the album:
"Pepperland"
"Sea of Time"
"Sea of Holes"
"Sea of Monsters"
"March of the Meannies"
"Pepperland Laid Waste"
"Yellow Submarine in Pepperland" ( this was an orchestration of Yellow Submarine)
Because of the speed at which the film was made, Martin's scoring and the film's animation occurred simultaneously
COMMENTS BY THE BEATLES:
" There were albums which aren't any good as far as I was concerned, like Yellow Submarine. "




GET BACK