WITH THE BEATLES
(or Meet The Beatles)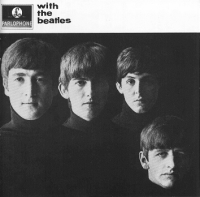 TRACKS
I Want to Hold Your Hand
I Saw Her Standing There
This Boy
It Won't Be Long
All I've Got to Do
All My Loving
Don't Bother Me
Little Child
Till There Was You
Hold Me Tight
I Wanna Be Your Man
Not a Second Time

ALBUM INFORMATION:
With Please Please Me out for less than 4 months, the Beatles began recording songs for their next long-player in mid-July 1963. The band's intent was to release 2 albums and 4 double-backed singles each year. They were generally able to maintain the exhausting recording schedule through 1965.
Instead of trying to record all of "With the Beatles" in one day a la "Please Please Me", ,however, the sessions were extended over 3 months, during which time the Beatles also kept up their grueling tour schedule and recorded parts of several BBC radio and TV shows.
CHART ACTION:
UNITED KINGDOM
Released November 22,1963, it entered the album chart 5 days later at No. 1, taking over the top spot from "Please Please me" and staying there for 21 weeks. (It was the longest continuous stay at the top by any artist--50 weeks.) "With the Beatles" was the second album ( the first being the "South Pacific" soundtrack) to sell a million copies in Britain, meaning that 3% of the population had bought the record.
UNITED STATES
The US equivalent, "Meet the Beatles" excluded 5 tracks and added 3 others. It was released January 20, 1964, as Beatlemania was about to erupt. In its first week, it sold 750,000 copies, and by mid-March it had sold 3.65 million.
RECORDED:
Between July 18 and October 23, 1963, at Abbey Road Studios
INSTRUMENTATION :
McCartney: bass Harrison: lead guitar ( including Gretsch
Country Gentleman, model PX6122
Lennon: rhythm guitar Starr: drums
With their second album, the Beatles began to experiment with studio technology. They took advantage of a new option for vocals: double-tracking. But according to Lennon, they went too far and used that track too often for the album.
ALBUM PACKAGE:
The cover photo, with the Beatles in black turtlenecks against a black background and lit from the side in the style of Richard Avedon, was shot by Robert Freeman, a London fashion photographer. He was also a friend of John and Cynthia Lennon, who lived in a flat above Freeman at about that time. The cover photo was so successful that Freeman became the group's official photographer on their first 1964 America Tour.
Freeman used the same technique Astrid Kichener had used three years in photographing Stu Sutcliffe in Hamburg.
COMMENTS BY OTHERS:
PETE THOMAS: (drummer for Elvis Costello and the Attractions)
"When I was nine, I got "With The Beatles". and my grandma bought me a honky old drum set and old cymbal. That's it, isn't it, what more is there? A drum, a cymbal, and "With the Beatles". Has the world really come much further??




GET BACK