THE BEATLES
( better known as the White Album)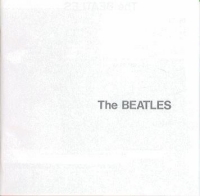 Back in the U.S.S.R.
Dear Prudence
Glass Onion
Ob-La-Di, Ob-La-Da
Wild Honey Pie
The Continuing Story of Bungalow Bill
While My Guitar Gently Weeps
Happiness is a Warm Gun
Martha My Dear
I'm So Tired
Blackbird
Piggies
Rocky Raccoon
Don't Pass Me By
Why Don't We Do It In the Road?
I Will
Julia
Birthday
Yer Blues
Mother Nature's Son
Everybody's Got Something to Hide Except Me and My Monkey
Sexy Sadie
Helter Skelter
Long, Long, Long
Revolution 1
Honey Pie
Savoy Truffle
Cry Baby Cry
Revolution 9
Good Night



ALBUM INFORMATION :
One of the great ironies of the Beatles' career is that the first album which they didn't individually contribute much to the unit of the group would be titled The Beatles. More commonly called the White Album because of its cover, it is essentially Lennon, McCartney, and Harrison taking turns recording their own songs and using their own backing musicians. The Beatles later recognized this, and both Lennon and McCartney traced the bad feelings that led to the group's breakup to this album.
The White Album made a huge impact. People were starved for new Beatles songs--it had been three months since the last single ( "Hey Jude" b/w "Revolution) and nearly eighteen months since the last Beatles album release Sgt Pepper: ( The interim Magical Mystery Tour LP in the US was filled with previously released singles, while in Britain it was an EP containing only the soundtrack songs.)
Buyers of The White Album also were excited by its sheer size--two discs, a total of almost ninety-four minutes--and its diversity, which ranged from hard rock to soft acoustic tunes, from the antimusic stance of "Revolution 9" to the overly lush " Good Night". But it lacked much of the experimentation that characterized previous Beatles releases.
CHART ACTION:
UNITED KINGDOM
Released November 22, 1968. It entered the NME album chart November 27 at number 1, where it stayed there for 9 weeks.
UNITED STATES
Released November 24, 1968, with advance orders for 1.9 million copies. It entered the Billboard chart December 14 at number 11 and rose to number 1 two weeks later, where it stayed for nine weeks.
One month after release worldwide sales had reached more that 4 million copies. By the end of 1970 sales were estimated at 6.5 million, a phenomenal achievement for a double album. The White Album was the best selling double album of all time, until the release of the Saturday Night Fever Soundtrack in 1977.
RECORDED:
Sessions began May 30, 1968, and continued through October 14. It was the longest time the Beatles ever took to record an album.
The tracks were recorded at Abbey Road, except for four done at Trident Studios. Mixing began October 14. Four days later, after the work was done, Lennon and Yoko Ono were arrested for possession of cannabis resin.
A lot of work on songs was done by band members alone--sometimes when work was being done separately by others at the same time, inside other studios in the Abbey Road building.
Several songs were recorded during these sessions that never found their way onto a Beatles record , included Harrison's "Not Guilty" ( that later appeared on his self titled solo album in 1979, Lennon's "What's the New Mary Jane" (which had been recorded previously) , and McCartney's "Jubilee" (recorded for his first album as "Junk").
Rach song took an average of 30 hours to record. Guest musicians included: Eric Clapton, Nicky Hopkins, Dave Mason, and Jackie Lomax.
JACKIE LOMAX: "They would play a song in every kind of feel they could think of that would more or less suit the song. They would do it faster and slower and in 3/4,4/4 and 6/8. They'd try a bunch of things, drifting in and out of these with a lot of craziness in between. Weirdness. They gave the impression they were getting rid of a lot of nonsense, overplaying and stuff, They could do this because they had unlimited time. George Martin went on Vacation three months into the sessions and left engineer Chris Thomas in charge.
CHRIS THOMAS: "Actually, I thought the atmosphere was all right. Yet every day, in the middle of a song, they'd have to have a meeting about who to hire and fire at Apple. Yet when they started playing it was a really great atmosphere: they'd really rock out. They were very funny: Paul was very quick, but John was out on his own....But when I worked with Paul later, I realized how much he was leading the Beatles. He is staggeringly gifted--he can be so precise..."

RINGO QUITS
PETER BROWN, Beatles associate: "Most of the time Ringo spent in the studio he sat in a corner playing cards with Neil and Mal. It was a poorly kept secret among Beatle intimates that Paul would often dub in the drum tracks himself. When Ringo came back to the studio the next day, he would pretend to not notice that the drum tracks were not his playing."
After one session where McCartney criticized his drumming, Ringo quit--the first Beatle to do so. McCartney played drums on at least "Back in the USSR".
McCARTNEY: "The real breakup on the Beatles was months ago. First Ringo left when we were doing the White Album because he felt it wasn't fun playing anymore."
STARR: "... I was playing like shit. And those three were really getting on. I had a feeling like nobody loved me; I felt horrible along so well, and I 'm not even playing well.'...That was madness, so I went away on holiday to sort things out. I don't know if I was just paranoid. You know that to play in a band you have to trust each other.
McCARTNEY: " But after 2 days of us telling him he was the greatest drummer in the world for the Beatles--which I believe---he came back."
Ringo came back within a few days to find his drum set smothered in flowers.
STARR: "When I came back to work everything was all right again...Paul is the greatest bass guitar player in the world. But he is also very determined he goes on and on and on to see if he can get his own way. While that may be a virtue, it did mean that musical disagreements occurred from time to time."

HARRISON: "Paul would always help along when you'd done his ten songs--then got around to doing one of my songs, he would help. It was very silly. It was very selfish actually."
McCartney's relationship with Lennon was also becoming strained. Yoko Ono was present at every recording session Lennon attended.
RAY COLEMAN: ( Lennon biographer): " The other Beatles treated her shabbily and provocatively...John broke a rigid, unwritten rule of the group: that their women never be allowed in the recording studio. John perversely attended every session of the White Album with Yoko right by his side. His message, unspoken, was obvious to all: they were inseparable. She sat on the speakers, offering suggestions and, incredibly--criticism. Yoko moved her bed in the studio--she followed John everywhere, even into the lavatory, according to a studio technician.
PETE SHOTTEN: " At best, Yoko's presence tended to inhibit the other Beatles, and to stifle the extraordinary rapport that the four musicians had heretofore enjoyed; at worst, Paul or George would let their resentment boil to the surface, thus putting John on the defensive and exacerbating the tensions yet further...During my many visits to Abbey Road during the summer and autumn of 1968, all the laughter, and the camaraderie seemed conspicuous by their absence. The Beatles' recording sessions had turned into a very serious, dour operation--a far cry indeed from the festive atmosphere of the Sgt Pepper sessions.
McCARTNEY: " The White Album...was the tension album. we were all in the midst of the psychedelic thing, or just coming out of it. In any case, it was weird. Never before had we recorded with beds in the studio and people visiting for hours on end; business meetings and all that. There was a lot of friction. It was the weirdest experience because we were about to break up, that was tense in itself."
Harrison agreed that the White Album was a tense period for the band. He blamed the Beatles' wives, mainly, for creating distances between them.
Interestingly, Lennon later tried hard to persuade a court while the dissolution of the group was being decided, that the group's relationship had not worsened during the sessions or later.
LENNON : in a court affidavit: " We were no more openly critical of each other's music in 1968, or later than we'd always been. I do not agree with Paul that after touring ceased we began to drift apart socially and that drift became more marked after Brian Epstein's death. " Lennon's comments were the opposite in a Rolling Stone interview. McCartney used them in one of his affidavits to refute Lennon's argument, which helped him to win court approval to dissolve the legal ties among the Beatles.
ALBUM PACKAGING:
The album has a white cover. On early copies the name The Beatles was embossed on its front; later it was simply printed in light gray type. The design was suggested by artist Richard Hamilton. He said the Beatles should make a cover distinctive by having 'no design' on it at all. But he thought the white album cover should be defaced in some way and suggested that the albums should be consecutively numbered as would a limited edition piece of art. The Beatles asked Gordon House to design the album using Hamilton's ideas.
The album included color pictures of each Beatle and a large poster-sized sheet with the song's lyrics on one side and a photo collage on the other. Neil Aspinall and Mal Evans provided the photos, and Jeremy Banks coordinated the design. The English press created a controversy when it zeroed in on a small photo of McCartney in the nude.
Pete Shotten said it was McCartney's idea to stamp each copy of the album with an individual number. McCartney originally wanted to hold a lottery with those numbers; he thought it would be a strong marketing gimmick. He came to the conclusion that would make the Beatles seem cheap.
"PAUL IS DEAD" HYSTERIA: A picture on the back of the lyric sheet showed McCartney in a bathtub with the back of his head unseen under water. Some thought it was a clue McCartney had been decapitated in the accident that caused his "death."
MISCELLANEOUS:
The album was recorded under the working title of A Doll's House. This was the third album released on the Beatles' Apple Records label. It followed Harrison's Wonderwall Music and John and Yoko's Unfinished Music No. 1: Two Virgins. Most of the songs were composed during the Beatles' stay in India in early 1968.
Martin wasn't sure that all the songs were good enough to merit releasing a double album. " I tried to plead with them to be selective and make a really good single album, but they wouldn't have it."
The Beatles insisted on a double album because they would owe EMI one less album under their contract. Also, Lennon loved the way the songs showed the development of the Beatles as individuals.
There is a snippet of a song between " Cry Baby Cry" and "Revolution 9". Sung by McCartney, the tune is called " Can You Take Me Back." It's not listed with the album's song titles. The other Beatles apparently were not present when it was recorded. McCartney is presumed to have played all of the instruments: acoustic guitar, drums, maracas, and bongos.
COMMENTS BY THE BEATLES:
McCARTNEY, on why the album wasn't more experimental: " We felt it was time to step back because that is what we wanted to do. You can still make good music without going forward. Some people want us to go on and on until we vanish up our own B-Sides."
LENNON: "I started simplifying my lyrics then, on the double album. It's like if you took each track off and made it all mine and all George's. It's like I told you many times, it was just me and a backup group, Paul and a backup group, and I enjoyed it. We broke up then."
HARRISON: " I think, in a way, that doing four sides was a mistake because it's too large for most people to really get into. I listen mainly to side one which I like very much."
STARR: " As a band member, I've always felt that the White Album was better than Sgt Pepper because by the end we were a like a real group again. There weren't so many overdubs like on Pepper. With all those orchestras and whatnot, we were virtually a session group on our own album."
LENNON: " As a band member, I've always preferred the double album, because my music was better on the double album...because I'm being myself on it...I don't like production so much."
COMMENTS BY OTHERS:
STEPHEN SPIELBERG, movie producer and director: " I resented the Beatles at first because it wasn't a fad that I discovered for myself....I wasn't a Beatles' fan until I listened to The White Album and became an instant convert."




GET BACK