SGT PEPPER'S LONELY HEARTS CLUB BAND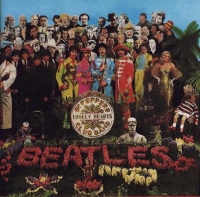 TRACKS
Sgt. Pepper's Lonely Hearts Club Band
With a Little Help From My Friends
Lucy in the Sky With Diamonds
Getting Better
Fixing a Hole
She's Leaving Home
Being for the Benefit of Mr. Kite
Within You Without You
When I'm Sixty-Four
Lovely Rita
Good Morning Good Morning
Sgt. Pepper's Lonely Hearts Club Band (Reprise)
A Day in the Life


ALBUM INFORMATION:
(warning, there is a lot of information here)
Sgt Pepper not only changed pop music, but transformed how we perceive that music in a very literal sense, how we perceived ourselves. A product largely of the mid-60s Swinging London scene, the album became the soundtrack of the flowering hippie movement in the US during the "summer of love".
Sgt Pepper broke the rules of what went before and by doing so gave support to new ways of thinking and alternative life styles. The front cover, showing the mustachioed Beatles in brightly colored uniforms next to drab waxen figures of themselves as they used to look, plainly showed the metamorphosis that had occurred. They had been reborn and it was a new age.
Before this album. pop music had limits. The common unit was the single, about 2-3 minutes long. In the US, the Top 40 radio was king. Albums, especially in the US, had been mainly a way to get more sales from a hit song. Generally, if a pop artist had one or two chart hits ( or almost hits) the record companies would slap together another arbitrarily chosen songs and issue them as an album. The songs would not be thematically related, and their collection on the same slice was mainly chosen by chance.
Things were a bit different in Britain. The Beatles had been releasing hit singles without pressing then on albums. With Sgt Pepper, they went a step further.
The music never stops for long on Sgt. Pepper--songs simply segue into other songs to there's only a split second of silence, far shorter than any other pop album. This reflects the album's concert-like format, perhaps spurred by the Beatles decision in 1966 to not tour anymore.
The album begins with concert noises: an orchestra tuning up, and an audience filled with anticipation. The come in the first hard rock notes and the first lyric--an introduction to Sgt Pepper's Lonely Hearts Club Band--followed by the lyrics--"we hope you enjoy the show" and the bulk of the album-cum concert. There is even a reprise on the album that signals the concert is over. Finally to round out the concert, you have your encore " A Day In The Life."
Judged as a group, the songs are generally not up to standard of those contained in Revolver and Rubber Soul , but they have more layers. Heavy overdubbing, despite the use of what now seems like crude recording equipment, was an innovation upon by Revolver and the single "Penny Lane" b/w " Strawberry Fields Forever" the previous winter. " Strawberry Fields" seemed strange--almost like an LSD dream. On Sgt Pepper, the Beatles were speaking with far different vocabulary from the one they used in " I Want To Hold Your Hand." They wanted to 'turn you on' and sang 'with our love we can save the world.' Despite the inclination to read too much into it all, the spirit of the album was certainly drug induced--liberated the power of LSD, a drug all 4 of the Beatles had taken by then.
Several localized events penetrated their altered sensibilities and spurred the creation of songs. The first part of " A Day In The Life" came from items John read in a newspaper. A news report on the generation gap and teenage runaways inspired McCartney to write " She's Leaving Home". A commercial for corn flakes provided the spirit of " Good Morning Good Morning."
Spawned from pop culture, the Sgt Pepper album helped to elevate pop art even higher. It was quite the rage for a while; covered heavily in the magazines of the day, it influenced TV and film, interior decorating and fashion.
The art on the front cover of Sgt Pepper celebrated pop culture. Behind the Beatles stand pop icons and friends, including Bob Dylan ( who turned them onto marijuana in 1964), Marilyn Monroe and her English clone Diana Dors, Marlon Brando, Lenny Bruce, and many others. Beatles manager Brian Epstein fought against the cover design. But this was a new age, and the new Beatles were doing things their way.
The Beatles' headstrong demand for creative control would lead to artistic disaster with the Magical Mystery Tour film later that year, but as of the release of Sgt Pepper, they had never lost. Like others of their generation, they felt that they had the power to change the world for the better.
CHART ACTION:
UNITED KINGDOM
Released June 1, 1967, it sold 250,000 copies within the first week and entered the album charts at number 1. Sales mounted to 500,000 within the first month and one million by April of 1973.
UNITED STATES
Released June 2, 1967. Advance sales were 1 million and within the first 3 months, more than 2.5 million copies were sold. It occupied the top spot of the Billboard chart for 15 weeks, stayed in the top 100 for 85 weeks, and partly due to a resurgence in 1969-79 it was in the top 200 for a total of 113 weeks.
Sales in other parts of the world were also outstanding, including 100,000 copies in its first week of release in West Germany. It wa the biggest selling British album of all time until Abbey Road in January of 1971. By 1981 more than 10 million copies of Sgt Pepper had been sold worldwide. By mid 1987 15 million copies had been sold.
RECORDED:
Between December 6 and April 3, 1967, at Abbey Road and Regent Sound Studio. A small snatch of gibberish at the end was recorded April 21.
Sgt Pepper took more than 700 hours to record and cost about 75,000 pounds.
Wanting Sgt Pepper to have a radically new feel, the Beatles recorded every instrument and voice witht he same kind of studio manipulation. They distorted, compressed, echoed and equalized, turning the studio into a laboratory for experiments in sound.
GEOFF EMERICK, recording engineer: " We were driving the equipment to its limit..." "Technically Pepper still stands up as the best album, knowing what we were going through. I mean, although it was a bit laborious and it cant be done today, every time we either changed tape or we copied something everything was meticulously lined up and re-biased...." "On Pepper we were using the luxury of utilizing one track for bass overdub on some of the things...We used to stay behind after the sessions and Paul would dub all the bass on. I used to use a valve C12 microphone on Paul's amp, sometimes on figure-eight, and sometimes positioned up to 8 feet away, believe it or not. Direct injection wasn't used on the guitars until Abbey Road.
PETER VINCE, engineer for "Getting Better," described the Sgt Pepper recording sessions: "Lots of friends would come in, dressed in the beads and bells of the time, and would just be sitting around playing sitars, tablas, you name it! They would be playing together, there would be no screening between the individual instruments, and everything would be drowning everything else out!"
SIR JOSEPH LOCKWOOD, EMI Records managing director: "I knew there was some possible connection with cannabis in the studios--'smells' were noted--but I never pursued it. I had a pretty close relationship with the Beatles, largely because they were so successful."
McCARTNEY: "...I was into cocaine just before the entire record industry got into it. I was into it at the time of Sgt Pepper actually. The guys in the group were a bit, kind of "Hey wait a minute, that's a little heavier than we've been getting into." And I was doing the traditional coke thing---no problem, man, it's just a little toot, no problem.' It was all very lightweight, really. But I remember one evening I went to a club and somebody was passing coke around and I was feeling so great, and i came back from the toilet--and suddenly the plunge, you know? The drop...Anyway, I could never stand that feeling at the back of the throat--it was just like you were choking, you know? So I knocked that in the head. I just thought " This is not fun."
MARTIN:"...Of course I knew they were smoking marijuana. they tried to hide it from me, they'd go out into the canteen one at a time. Neil Aspinall and Mal Evans would have the joints already rolled out there. They'd come back and it would be obvious, but it seemed to help and they had an enormous enthusiasm for recording in those days. They worked very hard."
NEIL ASPINALL: "...They were workaholics...They took a bit longer than before because they weren't on the road--they took 3 months and instead of working from 2 in the afternoon until 3 in the morning, it was from 6 PM-1 AM with weekends off."
HARRISON: " Most of the songs we did had to do as if we were recording live, like mono. We spent hours getting drum, bass, and guitar sounds, then balancing them out and then doing the take. That was in effect a backing track and then we later added overdubs. Nowadays you can overdub individually with each p[erson having his own channel to record on/ Then we'd have to think of all the instrumental overdubs, say a guitar coming in on the second verse and a piano in the middle and ten a tambourine. And we'd routine all of that. get a sound and balance and mix and do it and do it as one performance. If one person got it wrong, we'd have to back up and do the entire overdub of all the parts again."
Jane Asher departed Britain January 16, 1967, for a three-month tour of the US with the Old Vic troupe of actors. McCartney concentrated on Sgt Pepper and made a deadline that all work be completed in time for him to see Jane in Denver, Colorado, on her 21st birthday, April 5. Work on Sgt Pepper ended April 2, and Paul flew to the US April 3.
Lennon told Derek Taylor later that he was the happiest he's ever been in the studio during the recording of Sgt Pepper sessions. ( This probably only includes the Beatles' sessions)
David Crosby, of the Byrds, sang harmonies on one track, according to Derek Taylor. Crosby reportedly denied that, saying that he only visited the studio during the recording of " A Day In The Life."
The Byrds were old friends of the Beatles. Some of them were at the party during which Lennon and Harrison took LSD for the second time. The experience prompted the creation of "She Said She Said."
INSTRUMENTATION:
According to The Beatles Book, fan publication, in a report from the session: "The Beatles play far more instruments (now). The total count at the moment is 14 guitars, a tamboura, one sitar, a 2-manual (double keyboard), Vox organ, and Ringo's Ludwig kit. Plus various pianos and organs supplied by EMI.
McCARTNEY: " On the Pepper stuff, I got into the more melodic bass lines. In Fact, some of the best-paced bass playing I ever did was at that time."
ALBUM PACKAGE:
McCartney became convinced during the recording sessions that Sgt Pepper was a great artistic work and insisted the album had a cover to match.
PETER BLAKE: Who staged the album cover photo: "Paul explained that the concept was like a band you might see in a park. So the cover shot could be a photograph of them as though they were a town band finishing a concert in a park, playing on a bandstand with a municipal flowerbed next to it, with a crowd of people around them. I think my main contribution was to decide if we made the crowd a certain way the people in it could be anybody."
When Blake asked the band members to pick the onlookers for the park scene on the cover, George wanted gurus, Ringo, not especially interested in the fanciful audience, left it up to his mates, John wanted Jesus, Gandhi, and Hitler. Because of his comment that the Beatles were more popular than Jesus had recently sparked demonstrations and album burnings in the States, John's choice for Jesus was vetoed.
McCARTNEY: " The rest of us said names we liked the sound of like Aldous Huxley, H. G. Wells, Johnny Weissmuller...These were all just cult heroes."
EMI nixed one face from the crowd scene--Mahatma Gandhi, which was to be above the face of Diana Dors on the cover--because it feared of offending India. EMI also insisted that every person be approached ( or their executers if dead) for permission and that the Beatles indemnify EMI for several million pounds in case of lawsuits.
WENDY MOGER, Epstein's personal assistant,: Brian asked me to try and get legal clearance from everybody within a week. EMI wasn't very keen on the cover, but Paul wanted to do it. It was an incredible job. I spent many hours and pounds on the telephone to the States. Some people agreed to it, some wouldn't. Fred Astaire was very sweet about it, but Shirley Temple wanted to hear the record first. I got on famously with Marlon Brando.
Mae West refused to be pictured asking " What would I be doing in a lonely hearts club band?" She agreed onle after all 4 Beatles wrote her saying how much they wanted her to be on the cover. Leo Gorcey, of the Bowery Brothers, was the only one to decline being pictured and asked for a fee, which EMI refused, He was deleted. About half of the famous faces couldn't be found to gain their permission, but the album cover was printed as planned.
Brian Epstein didn't like the idea of the cover and feared lawsuits. While the negotiations were going on, he had to fly back to London from New York. Afraid the plane would crash, he scribbled a note to his New York Attorney, Nat Weiss, which instructed that brown paper jackets should be used for the album.
PETER BLAKE: "All the figures which you see behind the Beatles only filled a space about 2 feet deep, and then there was a line of figures in front of them, which were to be waxworks. The actual Beatles stood on a platform about four feet deep in all with the drum in front of them, and in front of that there was a flowerbed which was pitched at an angle, maybe 10 feet deep. So that from front to back the whole thing was only about fifteen feet deep."
It took Blake 2 weeks to construct the collage.
Mal Evans spent more than hours polishing the instruments held by the Beatles for the cover.
The three hour session too place in photographer Michael Cooper's studio in Chelsea on march 30. Later that night the Beatles recorded overdubs for "Whit a Little Help from my Friends"
Contrary to rumor, the plants on the edge of the cover photo were not marijuana plants, according to Peter Blake.
A photograph of a garden gnome that appears on the cover sold for 9,740 pounds at a London auction on August 26, 1987.
"PAUL IS DEAD" HYSTERIA: The album cover allegedly provided many "clues" to that McCartney had met his end. The band above McCartney's head was a sign of death. The Beatles were standing around his freshly dug grave. The yellow hyacinth bass guirat in the foreground marked Paul's grave, but according to Peter Blake, the flower arrangement was only a guitar, suggested by a young boy helping set up the shot.
The Beatles hold golden instruments, except for Paul, whose clarinet was black, supposedly signifying death. on the back cover Harrison's finger is pointing to the first line of "She's leaving Home," which says " Wednesday morning at 5 o'clock as the day begins," the time at which the "fatal" accident supposedly occurred.
In fact, McCartney was in a car crash on a Wednesday at 5 AM. It happened on November 9, 1966, after an all night recording session, and was coincidentally the morning after John met Yoko.
The Paul on the cover photo was supposedly an actor named William Campbell, who had plastic surgery and had taken paul's place to keep the band functioning. The inside photo showed McCartney wearing an arm patch reading OPD, which many took to mean "Officially pronounced Dead" instead of "Ontario Police Department." The photo on the back also gave support to the hysteria--McCartney had his back turned.
McCARTNEY: " We realized for the first time that someday someone would actually be holding a thing that they'd call the Beatles' new LP and that normally it would just be a collection of songs or a nice picture on the cover, nothing more. SO the idea was to do a complete thing that you could make what you liked of--just a little magic presentation. We were going to have a little envelope in the center with the nutty things you can buy at a Woolworth's--a surprise packet."
The album package included a set of cardboard cutouts: a moustache. sergeant stripes two badges, a picture card and a "stand up" of Sgt Pepper's Lonely Hearts Club Band.
For the original release, the inner record sleeve was decorated with a wash of reds and pinks in a design created by The Fool, a Dutch group of designers. It is believed that this was the first time a pop record had something other than the regular inner sleeve. The colorful sleeve was discontinued after early pressings of the album.
The center spread was also supposed to be done by The Fool but they hadn't found out what the physical size of the album was so the design was out of scale. Consequentially, a photo of the Beatles in their Victorian regala was shot and printed there.
NEIL ASPINALL: "The back of the cover took some time and had to be left till last because we were printing lyrics and they had to be designed and we had to have a running order. We couldn't have that until everyone had decided on it. I remember Paul and I walking along. I think Kingly Street in the West End, trying to work out some clever word using S for Sgt Pepper: and then we'd try to get a vowel, say--but we couldn't get it right so the running order had to be done in another way."
The original planned sequence of the first side of the album:
"Sgt Pepper's Lonely Heart's Club Band"
"With a Little Help From y Friends"
"Being For the Benefit of Mr Kite"
"Fixing a Hole"
"Lucy in the Sky With Diamonds:
"Getting Better"
"She's Leaving Home"
Sgt Pepper was the first time song lyrics were printed out in full on an album cover, at least on a major pop release.
MISCELLANEOUS:
McCartney and photographer Linda Eastman , who later became his wife, got to know each other at the release party of Sgt Pepper, May 19, 1967, at Brian Epstein's Mayfair home. They had met briefly during one of the Beatles' US tours.
The album was originally titled Dr Pepper's...until the Beatles realized an American soft drink company had the rights to that name.
PETE SHOTTEN: "It was Mal Evans who not only coined the memorable name 'Sgt Pepper's Lonely Heart's Club Band,' but also make the invaluable suggestion that this fictitious ensemble be presented in the Beatles' alter egos--the entire album as an uninterrupted performance by Sgt Pepper's 'band' "
McCARTNEY: " Sgt Pepper was an idea I had, I think, when I was flying from LA to somewhere. I thought it would be nice to lose our identities, to submerge ourselves in the persona of a fake group. We would make up all the culture around it and collect all out heroes in one place. So I thought a typical stupid-sounding name for a Dr Hook's Medicine Show and Traveling Circus kind of thing would be Sgt Pepper's Lonely Heart's Club Band. Just a word game, really."
McCARTNEY: "...After you have written that down you start to think: "There's this Sgt Pepper who has taught the band to play, and we get them going so that tat least they found one number. They're a bit of a brass band in a way, but also a rock band because they've got the San Francisco thing.' I had the idea that instead of Hell's Angels, they'd put up pictures of Hitler and the latest Nazi signs and leather and that. We went into it just like that that: just us doing a good show."
A high frequency note about 18 kilocycles per second was originally added to the run-out groove on the second side of the album. It is inaudible to humans but dogs can hear it.
A few seconds of gibberish was also included for the run-out groove. McCartney suggested it for the benefit of people who had turntables that would not automatically shut off. The needle would go round and round in the groove without shutting off, and some groove was deemed to be better than hiss. Recording the 2 seconds of gibberish took a full night, from 7pm-3am, more that half the time it too for the Beatles to record their first album.
COMMENTS BY THE BEATLES:
McCARTNEY: " I think the big influence for Pepper was the Beach Boy's album Pet Sounds, That album just flipped me out. Still is one of my favorite albums--the musical invention on that is just amazing. I play it for our kids now and they love it. When I heard it I thought " Oh dear, this is the album of all time. What the hell are we going to do?" My ideas took off from that standard."
Another influence, according to biographer Philip Norman, was Frank Zappa's acidy Freak Out released in 1966. "Throughout the Sgt Pepper sessions, Paul McCartney kept saying: 'This is our Freak Out.'
STARR: "Sgt Pepper" was supposed to have been this complete musical montage with all songs blending into each other. That idea went out the window two tracks in, after 'Sgt Pepper' and 'Little Help From My Friends'
LENNON: "Sgt Pepper is called the first concept album, but it doesn't go anywhere. All my contributions to the album have nothing to do with this idea of Sgt. Pepper and his band; but it works because we said it worked."
While the idea behind Sgt Pepper left Lennon cold ( as did the production of the album), he knew it was a high point of achievement in his collaboration with Paul and for the Beatles.
According to Lennon biographer Ray Coleman, Lennon initially worried that they had gone too far and that it wouldn't be accepted by the public.
McCARTNEY: " We write songs, we know what we mean by them. But in a week someone else says something about it, says that it means that as well, and you can't deny it. Things take on millions of meanings. I don't understand it.
"A fantastic example is the few seconds of gibberish on the back of Sgt Pepper that plays for hours if your automatic turntable doesn't cut off. It's like a mantra in Yoga and the meaning changed and it all becomes disconnected from what it's saying. You get a pure buzz after a while because it's so boring it ceases to mean anything."
"Until this album we'd never thought of taking the freedom to do something like Sgt Pepper. Marijuana started to find its way into everything we did. It colored our perception, and we started to realize there weren't as many barriers as we'd thought, we could break through with things like album covers, or invent another persona for the band."
HARRISON: ( on the compact disc version): " On Sgt Pepper, I keep hearing this horrible sounding tambourine that leaps right out of the right speaker. It was obviously in the original mix but never that loud.
STARR: " With Sgt Pepper, I felt more like a session man because we were interested in making an album with strings and brass and parts. Everyone says that album is a classic but it's not one of my favorites."
COMMENTS BY OTHERS:
Critical reaction was spectacular. Kenneth Tynan said Sgt Pepper represented " a decisive moment in the history of Western civilization."
The New York Review of Books said it ushered in " a new and golden reniassance of song"
Sgt Pepper was selected as the best rock album of all time by critics and broadcasters ( mainly in Britian and the US) in Paul Gambacini's the Top 100 Rock and Roll Albums of all Time, it had won in 1977 and 1987 editions.
MARTIN: " Sgt Pepper was the turning point, something that will stand the test of time as a valid art form, sculpture in music..."
" That was an incredible thing because it took on its own character, it grew despite us. It was a complete change of life, a very long and arduous series of recordings, and I suppose, looking back on it, Pepper would have never formed exactly the way it had had the boys not gotten into the drug scene. and if I hadn't been a normal person. I don't think it would have been as coherent....I just had to be patient. You can't do much with a guy when he's giggling all of the time. If they hadn't been into drugs, it's possible something like Pepper would have happened but not quite so flowery, maybe."
PETE TOWNSHEND describes Sgt Pepper as "incredibly non physical." ( whatever that means LOL)
TIMOTHY LEARY" " The Sgt Pepper album...compresses the evolutionary development of musicology and much of the history of Eastern and Western sound in a new tympanic complexity...the Beatles are the Divine Messiahs.....Prototypes of a new young race of laughing freemen."
AL KOOPER: ( musician and producer): " Sgt Pepper, for one thing, was the album that changed drumming more than anything else. Before that album, drum 'fills' in rock 'n' roll were pretty rudimentary, all much the same, and this record had that I call 'space fills" where they would leave a tremendous amount of air. It was most appealing to me musically. Also the sound of the drums got much better....It will always be a great record...Timeless"
JOHN SEBASTIAN ( of the Lovin' Spoonful): " It was like throwing down a hat in the center of a ring. It was a tremendous challenge....It seemed like an almost insurmountable task to come up with anything even in the same ballpark."
MICHELLE PHILIPS( of the Mamas and the Papas): "Sgt Pepper was what we listened to for the next days and weeks: that record, played over and over again. It was the theme of the people working for the Monterey Pop festival.
ABBIE HOFFMAN,(social critic),: "Hearing Sgt Pepper, smoking reefers and planning the revolution in my friend's loft, we were just overwhelmed by their vision."
DAVID CROSBY, musician: "Somehow Sgt Pepper did not stop the Vietnam War. Somehow it didn't work. Somebody isn't listening...I would have thought Sgt Pepper could have stopped the war just by putting too many good vibes in the air for anybody to have a war around."
STUDS TERKEL ( author): " It's a sort of study...of working class people, of life today."
ROGER McGUINN ( of the Byrds) " I was already into the psychedelic thing when Sgt Pepper came out do it wasn't the big wonderful surprise for me like the rest of the audience, but it really had a strong impact on the world, and it did change a lot of things. But listening to it recently, it didn't have the continuity I at first thought it had.
Bob Dylan reportedly growled "turn that off" when someone played him Sgt Pepper for the first time.
(*whew* hope you didn't fall asleep with all that information LOL)




GET BACK