RUBBER SOUL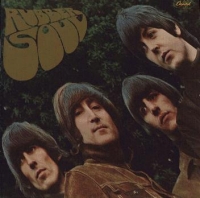 TRACKS
Drive My Car
Norwegian Wood (This Bird Has Flown)
You Won't See Me
Nowhere Man
Think for Yourself
The Word
Michelle
What Goes On
Girl
I'm Looking Through You
In My Life
Wait
If I Needed Someone
Run For Your Life


ALBUM INFORMATION
This album is considered by many ( including me) to be one of the Beatles' best, becomes an even more remarkable feat when one realizes that it was recorded under strict time pressure so it could be released during the 1965 Christmas season. When the sessions started October 12, 1965, Lennon and McCartney had little new material to work with and were forced to write and record a dozen originals in 4 weeks.
The Beatles responded to this pressure by coming up with such innovative pop songs as "Norwegian Wood(This Bird Has Flown), "Nowhere Man", and "In My Life" stretching the sounds of the studio even more, employing the sitar, fuzz bass and harmonium.
CHART ACTION:
UNITED KINGDOM
Released December 3, 1965. It entered the album chart 5 days later at number 1, where it stayed there for 12 weeks.
UNITED STATES
Released December 6, 1965 . After selling 1.2 million copies in the first none days, it rose to number 1 in early January and stayed there for 6 weeks. The US version of the album contained ten tracks from the UK version and 2 tracks from the UK "Help!" LP.
RECORDED
Between October 12 and November 11, 1965 , at Abbey Road. The Beatles ended up one song short so they resurrected " Wait" from the Help! sessions to fill out Rubber Soul.
NORMAN SMITH: "With Rubber Soul, the clash between John and Paul was becoming more obvious. Also George was having to put up with an awful lot from Paul. We now had the luxury of four-track recording, so George would put his solo on afterward. As far as Paul was concerned, George could do no right--Paul was absolutely finicky. So what would happen was that on certain songs Paul himself played the solos. I would wonder what the hell was going on, because George would have done two or three takes, and to me they were quite okay. But Paul would be saying "no no no!!" and he would start quoting American records telling him to play exactly as he'd heard on such and such a song. So we'd go back from the top, and George would get really into it. Then would come Paul's comment, 'Okay, the first sixteen bars weren't bad, but that middle..." Then Paul would take over and do it himself--he always had a left handed guitar with him. Subsequently, I discovered that George Harrison had been hating Paul's bloody guts for this, but it didn't show itself...Mind you, there is no doubt that Paul was the main musical force. He was that in terms of production as well. A lot of the time George Martin really didn't have to do the things he did because Paul was always around and could have done equally as well. The only thing he couldn't do was put musical symbols to chords; he couldn't write music. He could most certainly tell an arranger how to do it, though, just by singing the part--however he didn't know, of course, whether the strings or brass could play what he wanted. Most ideas did come from Paul."
Producer George Martin experimented with a stereo mix that could also reproduce well for mono. That led him to "put lead vocals to the right bass on the left, and not much in the middle."
ALBUM PACKAGE:
Lennon gave credit to McCartney for the title, which he supposed was a pun on " English Soul."
Before deciding on Rubber Soul as the title, the Beatles considered calling it The Magic Circle. Photographer, Robert Freeman shot the front cover. The artist's name did not appear on it, probably the first time for any rock album.
COMMENTS BY OTHERS:
MARTIN: " I think Rubber Soul, really, was the first of the Beatles' albums which presented a new The Beatles to the world. Up till then we had been making albums rather like a collection of singles. Now we were really beginning to think of albums as more of art on their own, as entities of their own. Rubber Soul was the first to emerge that way."
BRIAN WILSON ( of the Beach Boys): : I was sitting around a table with friends, smoking a joint, when we heard Rubber Soul for the very first time; and I'm smoking and I'm getting high and the album just blew my mind because it was a whole album of good stuff! It flipped me out so much that I said, 'I'm going to try that, where the whole album becomes a gas." He then went on to write the songs for the Pet Sounds LP, which, in turn so impressed McCartney, that it spurred the idea for Sgt Pepper's Lonely Hearts Club Band.




GET BACK