REVOLVER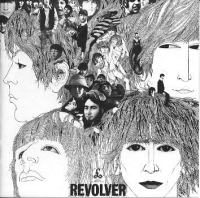 TRACKS:
Taxman
Eleanor Rigby
I'm Only Sleeping
Love You To
Here, There and Everywhere
Yellow Submarine
She Said, She Said
Good Day Sunshine
And Your Bird Can Sing
For No One
Doctor Robert
I Want to Tell You
Got to Get You into My Life
Tomorrow Never Knows

ALBUM INFORMATION
The Beatles' songwriting and use of the studio reached a new peak with Revolver. Many consider it to eb the Beatle's finest album in terms of quality aof the songs. The Beatles' consistent growth in the studio took a quantum leap during the recording of this album, which featured tabla and sitar, tape loops, instruments being played backwards, brass bands and submarine sound effects. Overriding all of this were the most sophisticated and some of the most obscure lyrics the Beatles had ever written.
Revolver, a veritable pop extravaganza, set the stage for the breakthrough single " Penny Lane: b/w "Strawberry Feilds Forever: and of course, the successor Sgt Pepper's Lonely Hearts Club Band .
CHART ACTION:
UNITED KINGDOM
Released August 5, 1966, the album entered the charts at number 1, where it stayed for 7 weeks.
UNITED STATES
Released August 8,1966, The US version was much more McCartney-ish that the UK album--Lennon's "I'm Only Sleeping" , "Doctor Robert" and " And Your Bird Can Sing" were missing. Those tracks had been used less than 2 months earlier on the US only "Yesterday and Today". The shortage of songs didn't hurt Revolver's sales. It was number 1 by September 10 and stayed in the top position for 6 weeks. Revolver was the last album for which a separate US adn UK release was made. MMT was the only exception.
RECORDED:
From April 6-June 21, Abbey Road studios.
ALBUM PACKAGE:
PETE SHOTTEN: claims that the sleeve design was created at Lennon's house. Kenwood: " John, Paul and I devoted an evening sifting through an enormous pile of newspapers and magazines of the Beatles, after which we cut out the faces and glues them all together. Our handwork was later superimposed onto a line drawing by Klaus Voorman."
Voorman and the Beatles had been friends since the early days in Hamburg. Voorman later played bass on some of the Beatles' solo albums. Among many poses, Lennon is shown on the cover in a suit of armor, above the ear of his long drawn face. He had bought the suit of armor, named is "Sidney" and placed it in his house.
MISCELLANEOUS:
The album was originally to be called "Abracadabra" but it had already been used as a title of an album. Other names considered were " Beatles on Safari" , "Squeek, Free Wheelin' Beatles" and "Magic Circles". This album was released a few days before the Beatles began their last tour. No Revolver songs were performed on that tour.
COMMENTS BY THE BEATLES:
McCARTNEY: " Just to show how wrong one can be, I was in Germany on tour just before Revolver came out. I started listening to the album and really got bummed out because I thought the whole thing was out of tune. Everyone had to reassure me that it was OK."
COMMENTS BY OTHERS:
Author Tom Wolfe found the Beatles' music profoundly influenced by the American climate of social drug experimentation. Hallucinogens were figuring prominently in artistic, literary, and intellectual expression. Revolver was the first Beatles' album to reflect that environment, which Wolfe believed was thereafter both a focal point and source for their inspiration.




GET BACK