PLEASE PLEASE ME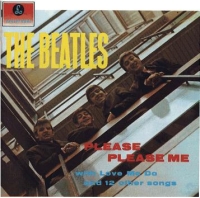 TRACKS:
I Saw Her Standing There
Misery
Anna (Go To Him)
Chains
Boys
Ask Me Why
Please Please Me
Love Me Do
P.S. I Love You
Baby It's You
Do You Want to Know a Secret
A Taste of Honey
There's a Place
Twist and Shout

ALBUM INFORMATION

Though the Beatles' debut single, "Love Me Do", was a moderate success, their
second release, "Please Please Me." was a huge hit. As it neared the top of
the charts, the Beatles took one night off from touring to rush to London to
record most of this album in one daylong session. The following night they
were back on tour and performed in both Yorkshire and Lancashire.

CHART ACTION:

UNITED KINGDOM
Rush-released March 22,1963,shortly after the title song fell from No. 1
position. The album entered the chart March 27 at No. 9 and in 7 weeks it
was No. 1, where it stayed for 29 weeks. It set a record for the longest
continuous run at No. 1 in the NME album chart

UNITED STATES
Capitol refused to release the album. It was released in a different form by
the little Vee Jay record label as "Introducing the Beatles" ,which failed to
place on the American charts. It differed from the UK version by not
including "Please Please Me" and "Ask Me Why"

RECORDED:

February 11. 1963, except for the title song and "Ask Me Why" ( since both
were previously released as a single) and "Love Me Do" and "PS, I Love You"
(another single), at Abbey Road.
Sources disagree significantly on how long it took to record this
album--anywhere from 93/4 hours to 16 hours--but it probably took about 13.
About the only thing the sources agree on is that it required just one
session to complete.

GEORGE MARTIN, producer: "All we did really was to reproduce the Cavern
performance to the comparative calm of the studio."
"At the beginning (of the Beatles' recording career), my specialty was
the introductions and the endings, and any instrumental passages in the
middle. I might say, for instance,: "Please Please Me" only lasts a minute
and 10 seconds, so you'll have to do two choruses, and in the second chorus
we'll have to do such-and-such. That was the extent of the arranging."


PAUL AS THE BUDDING MUSICAL DIRECTOR:

McCartney: "....Then George Martin had a lot of control--we used to record
the stuff, and leave him to mix it, pick a single, everything. After a
while, though, we got so into recording we'd stay behind while he mixed it,
watching what he was doing."

Norman Smith, (engineer): " It was nearly always Paul who was the musical
director, as early as this. Obviously John would have quite a lot to say, but
overall it was always Paul who was the guv'nor. Which is fair, because he
was the natural musician, and even at this stage, the natural producer. On
this session he was trying to figure out everything we were doing with the
controls.

A Two-track tape machine was used, and the recording was entirely live.
None of the vocals were overdubbed, and no more than 4 takes were made of any
song.

NORMAN SMITH: " I kept the sound relatively "dry". I hated all that echo
that everyone was using back then. And I placed the singers' microphones
right there with the rest of the band, although singers were usually hidden
away in a separate recording booth. I thought that was a bad idea, because
you have lost the live feel of the session.
At the Beatles' request, a large candy jar of lozenges and two new packs of
Peter Stuyvesant cigarettes were placed on the piano for the session. So
began a tradition that lasted for years."

INSTRUMENTATION:
McCARTNEY: Bass HARRISON: lead guitar
LENNON: rhythm guitar STARR: drums

ALBUM PACKAGE: The cover photograph was taken on the staircase of EMI House
in Manchester Square, London, by Angus McBean. McBean shot a similarly staged
photo six years later, to adorn the Get Back album( which later became Let It
Be). It wasn't used for that but later appeared on The Beatles 1967-1970
compilation album. A Photo from the original shoot was used for The Beatles
1962-1966.

MISCELLANEOUS:
McCartney had designed a cover for the album with the name "Off The Beatle
Track" This title was later used for producer George Martin's album of
orchestral Beatles hits.

COMMENTS BY THE BEATLES:
Lennon: " We were just writing songs a la Everly Brothers, a la Buddy Holly,
pop songs with no more thought to them than that--to create a sound. And the
words were almost irrelevant.






GET BACK