LET IT BE
(originally titled " Get Back"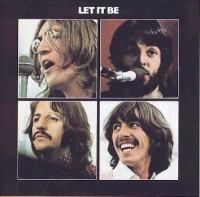 TRACKS:
Two of Us
Dig a Pony
Across the Universe
I Me Mine
Dig It
Let It Be
Maggie Mae
I've Got a Feeling
One After 909
The Long and Winding Road
For You Blue
Get Back


ALBUM INFORMATION
The Let It Be project was the nadir of the Beatles' career. Disagreements that had surfaced during the lengthy recording sessions for the White Album now blossomed into full-fledged fights. The Beatles could barely agree on anything except that their next album would be produced without the unending number of overdubs that had adorned all their tracks for the preceding several years ( hence the original name for the album, Get Back).
After recording take after take of each song, none of the Beatles had the desire to go through the tapes to select the best versions. So the task was passed on to producer Glyn Johns and later to producer Phil Spector, and the album finally appeared more than a year later as Let it Be, after the group's demise.
CHART ACTION:
UNITED KINGDOM
Released May 8, 1970, more than fifteen months after it was recorded. In a week, the album was No> 3 on the album chart. It hit No. 1 by June 3 and stayed in that position for three weeks, fell to number 2 for 2 weeks, rose to No. 1 for one week, fell to No. 3 and the recaptured the top spot for two more weeks.
UNITED STATES
Released May 18, 1970. Advance orders were huge 3.7 million, the largest in the history of the US recording industry. The album reached No. 2 in early June and the following week was at No. 1, where it stayed for 4 weeks.
There was a big fight over the release date of this album. McCartney was asked to postpone the release of his first solo album to avoid its competing with it competing with Let It Be. McCartney refused. Starr was sent over to sort everything out, because only he had a fairly good relationship with Paul.
STARR: " To my dismay, he went completely out of control, shouting at me prodding his fingers toward my face saying 'I'll finish you all now!' and 'you'll pay!'. He told me to put on my coat and get out." McCartney got his way. His album was issued first, in April. With its released, he then announced that he was leaving the Beatles.
RECORDED:
Intensive recording sessions were held January 2 to 30, 1060. Sessions through January 16 were at Twickenham Film Studios, from January 20 to 30 at Apple Studios, and January 30 live on the Apple rooftop. Some material was recorded in January 1970. Originally the early January 1969 sessions were to be rehearsals for a live performance to be filmed and shown worldwide on television. The rehearsals would be filmed for a separate documentary.
MARTIN: " Right from the beginning everything about Let It Be seemed to be out of sync with what we had done before. It was not at all a happy recording experience. It was time when relations between the Beatles were at their lowest ebb.
" The idea of Let It Be was a brilliant one, and I think it was Paul's. The original idea was that we should record an album of new material and rehearse it, then perform it before it before a live audience for ht every first time--on record and film. In other words make a live album of new material, which no one had ever done before!...The trouble was that it was winter in England and, to get the kind of audience that that Beatles required, you needed a vast auditorium. We simply didn't have one to use. At one point, we were even talking about doing a concert in the Tunisian desert!..."
LENNON: " Someone mentioned to me the Coliseum in Rome, and I thins at one point that Paul might have even suggested a bloody boat in the middle of the ocean. As for me, I was rapidly warming up to the idea of an asylum!"
MARTIN: " The thing that John had insisted upon from the start was that he didn't want any of the old recording rubbish ( overdubs)...and so, they rehearsed and we just recorded. Endless hours of recording. We never got anything really on the spot, as good as it should be, in spite of take after take...We'd get up to sixty-two takes takes of one track alone." "In order to get things together, Paul would try to get everybody organized and would be rather over-bossy, which the other boys would dislike. But this was the only way to get everyone together. John would go wafting away with Yoko. George would say he wouldn't be coming in the following day. It was just a general disintegration--disenchantment if you like."
Finally on January 10, Harrison announced that he opposed to the plan for the album and left the studio. Shortly before the sessions began, Harrison had returned from the United States where he had played with various musicians in a relaxed, cooperative atmosphere.
HARRISON: " This cooperation dramatically with the superior attitude which for years Paul; had shown toward me musically. In normal circumstances, I had not let this attitude bother me and, to get a peaceful life, I had always let him have his own way, even when it meant that songs that I had composed were not being recorded. When I came back from the US...I was in a very happy frame of mind, but I quickly discovered that I was up against the same old Paul...In front of the camera , as we were actually being filmed, Paul started to 'get at' me about the way I was playing."
"....There's a scene in the film where Paul and I are having an argument...and we're trying to cover it up/ The next scene I'm not there, and Yoko's just screaming, doing her screeching number. Well that's where I'd left, and I went home and wrote " Wah-Wah". It'd given me a 'wah-wah', like I had a headache with that whole argument., it was such a headache..."
"It was just weird vibes. You know, I found I was starting to be able to enjoy being a musician, but the moment I got back with the Beatles, it was just too difficult. There were just too many limitations based upon our being together for so long. Everyone was sort of pigeonholed, it was frustrating.
STARR: " In the end, he was in the most difficult position, because John and Paul even wanted to write his solos. Paul was very definite about how he wanted his solos, and George was getting very frustrated. Harrison stayed away for three days. He felt that McCartney treated him as more of a musical equal after the fight. Since the original project could not progress with Harrison gone, the four Beatles then agreed that the sessions should continue but he used for an album instead, without the heavy overdubbing of previous albums, and that they continue to be filmed."
HARRISON: "...I pulled in Billy Preston on Let It Be--it helped because the others would have to control themselves a bit more. John and Paul mainly, because they had to, you know, act more handsomely."
LENNON: "Paul had the mistake impression that he was going to rehearse us. Of course by that time we'd been playing together for about 20 years or something, and we just couldn't get into it. So anyway, we laid down a few tracks, but nobody really was really into it al all. It was just such a very, very dreadful feeling being there in Twickenham Studios at eight o'clock in the morning with some old geezer pointing a camera up your nose expecting you to make good music with colored lights flashing on and sounding like a goddam bootleg version of an 8mm home movie, so I didn't want to know about it. None of us did.
INSTRUMENTATION:
McCARTNEY : Hofner bass, Martin D-28 guitar
LENNON: Sunburst, Epiphone Casino, Martin D-28 guitars,
HARRISON: Gibson Les Paul, Gibson J-200 acoustic, rosewood Fender Telecaster guitars
STARR: Drums
About 96 hours of film and 30 hours if music were accumulated during the sessions. The music included many old rock standards
STARR: "We did get back to being a band again on Let It Be. We were playing live on top of this building and that's what was being recorded. But it was getting too late to keep the Beatles together.
ALBUM PACKAGE:
The black, almost funeral design of the album sleeve was by John Kosh. The album was originally released ub the UK as a boxed set with a paperback book entitled The Beatles Get Back (the original title of the album). The book included unreleased stills and unused dialogue of the film. The original photo for the album was to be taken at the same location where the cover for Please Please Me. The photo was later used for the compilations 1962-1966 and 1967-1970.
McCARTNEY: " There was a little bit of a hype on the back of the sleeve for the first time ever on a Beatles album. At the time the Beatles were very strained with each other and it was not a happy time. It said it was a new phase Beatles album and there was nothing further from the truth. That was the last Beatles album to be released and everyone knew it.
MISCELLANEOUS:
An album from the sessions was scheduled to be released August 1969 with the title: The Beatles Get Back. The song list: " One After 909",(rooftop session), "Save the Last Dance For Me", "Don't Let Me Down" ( different from the single version), "Dig a Pony", "I've Got A Feeling", "Get Back", "For You Blue", "Teddy Boy" ( later to be released for the McCartney album), "Two of Us on Our Way Home," " Maggie Mae", "Dig It" (unedited), "Let It Be", "Long and Winding Road "But the album's release was held back to coincide with the release of the film. Because of the delay, the band went back into the studio and recorded Abbey Road. Lennon wanted to release the album just as it was without any studio tricks to show that the band was falling apart. Later, Lennon and Harrison decided to let Phil Spector re-produce and remix the tapes from the sessions. Instead of showing the Beatles without any studio sweetening, Spector added a female choir to 4 tracks: Across the Universe, I Me Mine, Let It Be and Long and Winding Road.
MARTIN" " i thought the orchestral work on it was totally uncharacteristic, We had established a particular style over the years--generally overlaid music on most Beatle tracks. I felt that not only what Phil Spector had done was , uncharacteristic, but also wrong....I was totally disappointed with Let It Be.
LENNON : "It was hell making Let It Be.....it was the most miserable session on earth"
McCARTNEY: " Let it Be was very sticky"
HARRISON: " I couldn't stand it! I decided, this is it! It's just not fun anymore; as a matter of fact, it's very unhappy being in this band at all."
\




GET BACK