BEATLES FOR SALE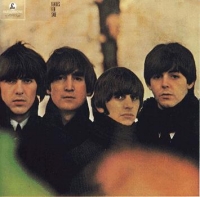 TRACKS:
No Reply
I'm A Loser
Baby's In Black
Rock and Roll Music
I'll Follow the Sun
Mr. Moonlight
Medley: a. Kansas City b. Hey, Hey, Hey, Hey
Eight Days a Week
Words of Love
Honey Don't
Every Little Thing
I Don't Want to Spoil the Party
What You're Doing
Everybody's Trying to Be My Baby


ALBUM INFORMATION
"A Hard Day's Night composed of all Lennon and McCartney originals, had been out for only 2 months when the Beatles began recording this album. Although some of its songs were more sophisticated-- " I'm a Loser", "No Reply" -- Lennon and McCartney were just not ablle to write a whole album's worth. They did come up with 8 originals, however, and padded out the album with 6 versions of Beatle cover songs that were stage favorites.
CHART ACTION:
UNITED KINGDOM
Released December 4,1964, and 5 days later it was No. 1, replacing "A Hard Day's Night" It was No. 1 for 9 weeks.
UNITED STATES
The first US equivalent, "Beatles 65", was released December 15, 1964. It contained 8 songs from the UK album, one from "A Hard Day's Night" and both sides of a single. It sold more than a million copies in its first week of release.
RECORDED:
August 11- October 26, 1964, at Abbey Road
ALBUM PACKAGE:
The cover photo shows the Beatles with weary looking faces. Was Beatlemania taking its toll?




GET BACK