A HARD DAYS NIGHT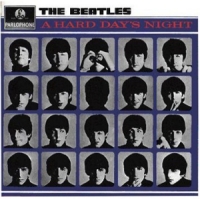 TRACKS
A Hard Day's Night
I Should Have Known Better
If I Fell
I'm Happy Just to Dance With You
And I Love Her
Tell Me Why
Can't Buy Me Love
Any Time at All
I'll Cry Instead
Things We Said Today
When I Get Home
You Can't Do That
I'll Be Back


ALBUM INFORMATION
Back from their triumphant first visit to the United States, the Beatles faced a deadline for producing another album, this time a tie-in with a feature film. This necessitated immediate recording of some songs for the soundtrack, followed by filming for the movie and more recording to fill out the album. Despite the harsh time pressures, the Beatles even found time for a few live gigs and several BBC-TV and radio appearances. This album, the only one that featured Lennon and McCartney originals, proved a huge success. It was, in fact, a tour de force for Lennon since he wrote the vast majority of the songs. In Addition, "A Hard Day's Night" heralded the Beatles' increasingly more sophisticated use of the studio.
CHART ACTION:
UNITED KINGDOM:
Released July 10, 1964, it was No 1 five days later and remained so for 21 weeks, until it was knocked off by Beatles For Sale.
UNITED STATES:
A version of the album was released June 26, 1964. By late July it was No. 1 on the album chart, where it stayed for 14 weeks. It was one of the fastest-selling albums in history, and sold millions of copies by October.
The US version, released on United Artists, contained only 8 Beatles performances--the 7 used with the film ( the first 7 on the UK release) and " I'll Cry Instead" ( with an extra verse, which was dropped from the film. The other 4 selections were George Martin orchestrations of Beatle songs. The UK version contained another 5 Beatle performances instead of the orchestrations. In the US , Capitol used them on "Something New"
RECORDED:
The songs were basically recorded in 2 batches: songs for the film, February 25 through March 1, and most of the rest June 1 and 2.
Starr collapsed in the morning of June 3 after the busy sessions. He was admitted to a hospital suffering from exhaustion. He was discharged June 11, after missing a performance in Denmark, the Netherlands, Hong Kong, and Australia.
Harrison used a Rickenbacker 360/12 (12 string) guitar throughout most of the sessions.
MISCELLANEOUS:
The title came from something Ringo said to describe a particularly heavy night. Lennon had also used the phrase in a short story "Sad Michael," part of the "In His Own Write" collection of writings. The story contains the line "He'd had a hard day's night that day, for Michael was a Cocky Watchtower."
Filming of the movie began March 2, 1964, at Twickenham Studios. George and Patti Boyd, his future wife, on the first day, she was an extra in the film, can be seen in the dining car scene. Filming ended April 24




GET BACK