Why you scrolled so far, the teleological narrative reaches its thrilling conclusion: Yes, I am going somewhere with this. As I was doing the mock-up just mentioned, a vision came to me of a different way to do this. More gores! Let's just go crazy! What I ended up with looks a little something like this: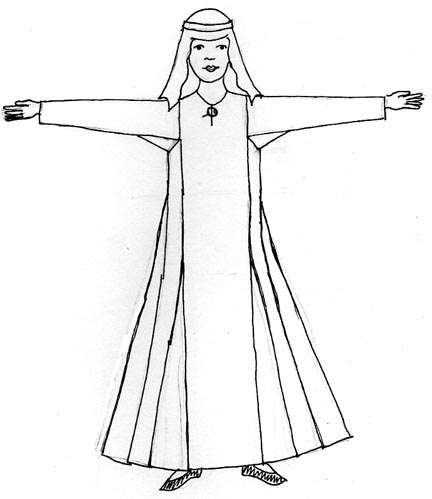 If you have no idea what I'm trying to show, here is a different image, this time showing all of the pieces, laid out on your rectangle of fabric: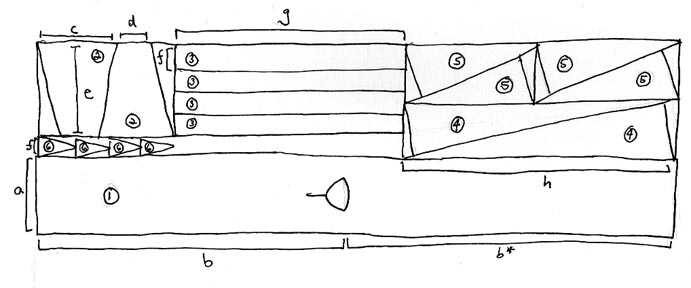 The pieces:
1) Main body
2) Sleeves
3) Rectangular side gores
4) Large triangular side gores
5) Small triangular side gores
6) Tiny triangular sleeve gores
If you count, you might notice that this has a total of ten gores. I swear this is purely coincidental.
Measurements (add seam and hem allowances!)
a) Shoulder to shoulder
b) Shoulder to floor (b*: if you want your dress longer in the back, this will differ from b, otherwise the same)
c) Arm circumference
d) Fist circumference
e) Shoulder to wrist
f) This is the difference between (a) multiplied by 2 and subtracted from your chest circumference, then divided by two
g) Armpit to floor (I measure this after I put the sleeves on main body piece)
h) From where you want the dress to start flaring out to the floor.
The length of the small triangular gores is not critical. They add fullness at the base of the skirt. Similarly, the length of those sleeve gores is not so important. Mine ended up being about 10" long.
How does everything go together?
Sew the sleeves to the body. Sew each sleeve gore to a short end of a rectangular gore. Sew each of the large triangular gores to one of the rectangular gores. Sew each small rectangular gore to the main body piece at the base. Sew each of the rectangular gores with triangular gore attached to the main body, making sure that each large triangle will end up in the middle of each side. Sew the other rectangular gore to the other side of the body. You should just be able to start at the ends of the sleeves now and sew up the sides with little trouble. Do the head opening and hem everything.
Pros: Drapes nicely, fits well. Because of the larger number of smaller gores, the skirt is somewhat more circle-like at the hem, which makes it hang better. It wastes an appallingly small amount of fabric. The measurements and actually sewing are not too complex (if I can do it, you can do it). Basically, it allows you to achieve a nice fit while still using all triangles and rectangles. Also, check out this surving garment: St Claire's gown. Although not identical, it follows a similar general construction, with gores extending from the hem to under the arm, and with additional gores on the sleeve. Overall, if you study the evidence of surviving medieval clothing (leaving aside for the moment some of the questions raised by the very survival of these garments), the general trend seems to be more seams than one would necessarily expect.
Cons: I can't prove it's period. I haven't found any evidence of surviving garments that looked quite like this. The best I can say is that it gives a similar silloutte to the pictures and uses the general techniques that we have accepted as accurate for this period. That's about as good as saying "I can't prove it's not period," though. I have pretty well spit in the face of any notion of keeping things simple. However, that may not make this inaccurate: after all, a T-tunic is simple.
For now, I'm going to say that this cut is the first I've found that meets all three of my criteria noted at the very start of this page, and it is at least conjecturally period enough for me.