Rurouni Kenshin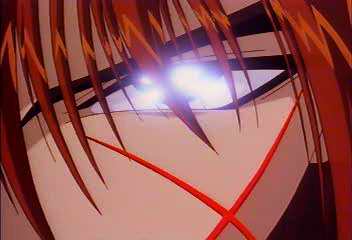 What: Rurouni Kenshin is the tale of a former assassin, Himura Kenshin, trying to live a peaceful life in the Meiji era. Kenshin gave up his ways as the "Hitokiri Battousai" and vowed never to kill again, becoming a "Rurouni", wandering Japan. Kenshin meets a young woman named Kamiya Kaoru, and the story begins. Kenshin, using his Hiten Mitsurugi Ryu swordtechniques and a Sakaba sword (a sword with the blade reversed to avoid mortal wounds), Kenshin fights whenever neccesary to protect the peace and the ones he cares for. Kenshin meets many interesting characters on his journey, Sagara Sanosuke, Shinnomori Aoshi, Saitoh Hajime, and many more. This epic, 95 episode series has won the acclaim of many.
The Good: Hell yes it won the accliam of many. There's a reason. IT'S DAMN GOOD. First and Foremost, it's plot is beautifully done. It ties an original story with some historical facts and it's done well. Many of the series story arcs (i.e. the Kyoto Arc, the Shougo Arc) are encaptivating and extremely interesting. Second is it's action. These are some of the greatest swordfights I've ever seen animated. Not just the ones that look great, but the fights are extremely well thought out. A stereotypical powerhouse that is as dumb as a rock wouldn't last a minute in these fights. They require wits, skill, and intelligence. Third, it's music is simply devine. The plethora of great songs found in the openings and endings of this series are a great reason to take a look. There is some catchy stuff to be heard. Lastly, there are actually some hilarious parts. Granted, they are usually in filler episodes (I'll get to those in a second), but they are actually funny (seeing Kenshin use Hiten Mitsurugi Ryu techniques to cut a slice of steak with a knife and fork is just hilarious).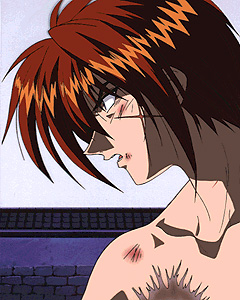 The Bad: Here's a happy fun anime math equation. Lots of episodes + Multiple story arcs = Lots of Filler. If given a choice between a filler episode and an episode where something actually happens important to the plot, I'd choose the plot episode anyday. There is so much added to the anime series that could have been used to animate a great story arc in the manga, the Revenge Arc. Sadly, the Revenge Arc was never animated and the series ends abruptly at episode 95. An actual ending like the manga had would be the best way to end the series, but alas, there was no definte anime ending. An OAV series could be introduced animating the Revenge Arc and ending the series, but until then, this is going to give the series a few bad marks in my book.
The Bottom-line: There is filler. The series gets it's most interesting at about episode 29. But trust me. IT'S WORTH THE WAIT. This is my personal favorite series because of it.
Dub: The english dub is alright (despite popular belief). I'd really prefer to watch the sub, however. This isn't a time wether watching to watch the sub or dub is an anomalous decision. If you can get your hands on the sub, do it.
Reviewed by Magus Darkstar
Edited and Converted into HTML by Dr. Evil


(c) September 20, 2000
All names, logos, and pictures used are the of their respective owners, and companies.