Seagrave Fire Engines
by Jason Todd
---
Chapter 7
Seagrave "Water Fall" Fire Engines

Seagrave ad, circa-1940 (above), shows the sleek styling that made the "waterfall grille" design of pumpers popular among fire departments for 14 years (1937 to 1951), and popular among collectors of antique fire engines for about the past 30 years (ever since the fire engine hobby really gained popularity, around 1970). This design also translated well into 4-wheel and tractor-trailer aerial ladder trucks, service ladder trucks and quads (as in the Seagrave ad below), and even rescue units.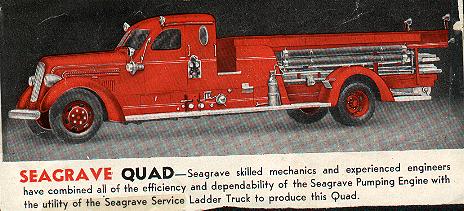 ---
During the era of the "waterfall grille", Seagrave also built some fire engines on commercial truck chassis. Mounted on Ford V-8 chassis, Seagrave #81345 was completed November 13, 1935 for East Hampton, NY. It is now owned by Charles Hiscock of Lake Worth, FL, who operates it under the name "Ancient Maidstone Fire Department." Above is Ancient Maidstone's postcard depicting this rig. Below is a photo my dad (Ed Hass) took of this rig when we both attended the SPAAMFAA National convention at Kissimee, FL, in February, 1999.
---
Gardenerville, NV, has owned this Seagrave pumper, serial #87325, since it was built on September 29, 1937. It is one of the earliest and most authentic surviving examples of the Seagrave "waterfall" grille style that eventually supplanted the short-lived "sweetheart" grille. Both the sweetheart and waterfall styles made the ever-popular Suburbanite design disappear after 14 years of production (1922-1936). Ed Hass photo
---
Seagrave Model 66 sedan pumper #91397 was completed September 10, 1938. The "safety sedan" made its appearance on the sweetheart and waterfall style chassis in 1936, and almost immediately proved its safety features when the rig and its crew survived a collision that overturned one of the first of these sedan pumpers in Detroit in 1936. By the time this one was made, Seagrave had switched from wood to all-steel bodies, making the sedan design even stronger and safer than the one that proved itself in Detroit in 1936. Although Seagrave made more sedan pumpers than any other manufacturer, Mack originated the idea when they delivered a sedan pumper to Charlotte, NC, in 1935. The Seagrave sedan shown here was delivered October 13, 1938, and it served as Engine 3 in Wakefield, MA. On February 15, 1961, it was resold to Effingham, NH, who got another 20 years of service from this venerable rig. Sadly, this unusual pumper was cut-up for scrap in 1981. Charles Beckwith photo
---
This Seagrave pumper, at a parade in Sacramento, CA, about 1982, was possibly misidentified in my dad's notes as a 1940 of "Fort Travis, CA". It does not appear to be the 1942 Seagrave #B4224 of Travis Air Force Base (shown further down this web page), which has a split windshield and World War II "blackout" grille. But it does look suspiciously like the 1939 Seagrave of UC Davis (below), even to the varnished wood running-boards and the unusual location of the axe. Ed Hass photo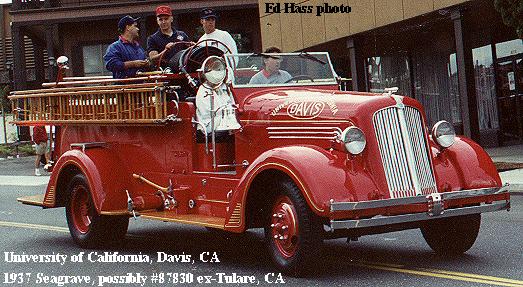 University of California at Davis, CA, owned this 1939 Seagrave pumper in the early 1980s. It is seen on parade at Benicia, CA, about 1983. Ed Hass photo
This Seagrave Model 80E10 pumper #A290 was built for Berkeley, CA, March 13, 1939. It now belongs to the University of California ast Davis (near Sacramento), CA. When photographed at Woodland, CA, on August 17, 2002, it had no motor. Ed Hass photo
---
Seagrave pumper #A1630 with canopy cab was completed September 19, 1939 for Ypsilanti, MI. In the 1980s, this rig belonged to Dan Patterson of Auburn, CA, who operated a fleet of antique fire engines under the name "Past Prime Engine Company" at events all over California. Sadly, he was struck and killed by a truck while driving to look at another fire engine that he was considering adding to his fleet. His widow, Penny Patterson, has kept alive the Past Prime Engine Company and the various fire engines in the Past Prime fleet.Ed Hass photo
---
Seagrave completed this Model 12JT tillered aerial ladder truck #A9940 for Bakersfield, CA, on December 23, 1940. Although it has an all-steel, hydarulically-raised 85-foot aerial ladder, all of its ground ladders are wood. Upon its retirement in 1977, Bakersfield sold this rig to Leonard Williams of Sunnyvale, CA. Len gathered up a group of his friends for the more than 200-mile drive home. A hydraulic leak in the aerial's raise mechanism has prevenmted Len from raisng the aerial ladder in recent years, but this rig makes frequent appearances at parades and fire apparatus musters within 50 miles north or south of San Jose, CA (where it is stored). Ed Hass photo
---
During the SPAAMFAA National convention in Lynnfield, MA, in 1990, the New Hampshire chapter of SPAAMFAA treated fire apparatus buffs to a bus ride to New Hampshire to see some of the fire engines that chapter members own. G.A. Lopresti showed off his 1941 Seagrave model 80E10 pumper #A9470, originally used in Plymouth, MA. Ed Hass photo
---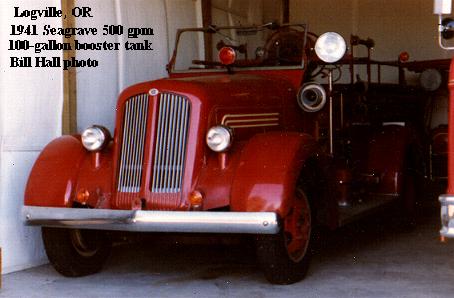 Seagrave pumper now at Logville, OR, is supposed to be a 1941. Serial number and original owner are not known. Bill Hall photo
---
On Sunday, February 9, 2003, Ed Hass of Elk Grove, CA, was driving southbound on Highway 99, about ten miles south of Yuba City, CA (or about 25 miles north of Sacramento, CA), when he found a Seagrave quad (combination pumper and service ladder truck) parked between several very large farm trucks just off the edge of Southbound Highway 99, just a few blocks south of the junction with Highway 113. The Seagrave serial number plate was still attached to the firewall on the officer's side under the hood: Seagrave serial number B-4821, delivered January 11, 1942. It still has its original 750-GPM Seagrave centrifugal pump (two pump discharge gates on the driver's side, and one on the officer's side). It also still has its original 6-cylinder Seagrave motor, dual ignition (two spark plugs per cylinder; all 12 plugs and plug wires are still there). This motor looks dusty, and probably hasn't been started in a very long time, but it looks intact and could probably be made to run again without too much effort. The ladders and most of the firefighting equipment are missing, but the ladder racks are still there and in good shape. At some time in the distant past, the whole truck was repainted, and the hood was amateurishly re-lettered "WALTON." Can't tell what name was ORIGINALLY on the hood. The body is lettered for Ladder 1, just behind the seat, and that lettering looks more professional, but also NOT the original Seagrave factory lettering. All paint and gold leaf are faded, but there doesn't appear to be any body rust anywhere on the rig. Ed didn't find the owner, so no idea what he intends to do with it or whether he might be willing to sell it to a fire engine collector for restoration. Ed didn't have his camera with him that day, so no photos of it. Maybe another fire engine buff can go there and investigate further.
---
This Seagrave Model 80E10 pumper, serial #B330, bears a factory date of February 4, 1942. It served as Engine 3 in New Market, NH.
------------------------
At the 1990 SPAAMFAA National convention, Andy and Vince Jarosz displayed this same 1942 Seagrave pumper #B330, ex-New Market, NH. This display was hosted by Amoskeag Reserve Engine Company, the New Hampshire chapter of SPAAMFAA. (Ed Hass photos)
Even in its earliest days, Seagrave was known for its artistic decorations on its fire engines, often depicting a scene in the town where the fire engine was used. This emblem on the cab door of the ex-New Market, NH 1942 Seagrave pumper #B330 is a typical example. Ed Hass photo
---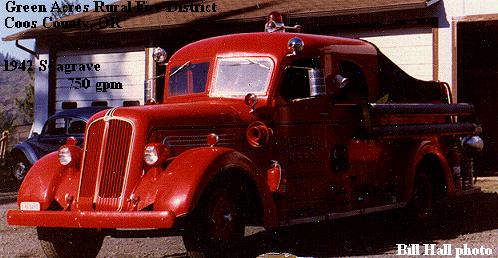 Origins and history of this 1942 Seagrave pumper are a complete mystery. It now belongs to Green Acres Rural Fire District in Coos County, OR. Bill Hall photo
---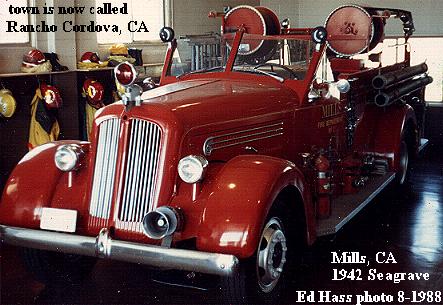 The community of Mills, CA, bought this Seagrave pumper new in 1942. The town is now called Rancho Cordova, and Rancho Cordova Fire Department still owned this rig when photoed in 1988. In the late 1990s, Rancho Cordova Fire Department was folded into the Sacramento Metropolitan (Sac-Metro) Fire District, which apparently still owns this pumper. Ed Hass photo
---
---
Travis Air Force Base in Solano County, CA, still owns this Seagrave pumper #B4224, with a factory date of August 26, 1942. (Ed Hass photo)
---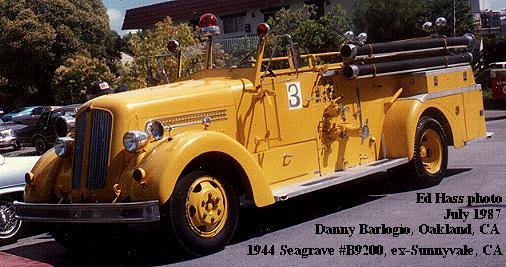 Seagrave completed this Model 81-500 pumper #B9200 for Sunnyvale, CA, on December 22, 1943. It was originally painted with Dupont Duco red paint and gold striping. In the 1960s, it was rebuilt with a new body from Coast, a local northern California fire apparatus manufacturer (successor to FABCO), who repainted it school-bus "chrome yellow" to match Sunnyvale's newer fire engines. Retired in 1981, B9200 was sold to Peter Rowe of San Jose, CA, who in turn sold it to Bob Garrigan of Danville, CA, and Danny Barlogio of Oakland, CA. Barlogio later bought-out Garrigan's half-interest in this rig, and Danny owns it to this day. Ed Hass photo
---
Seagrave was one of the few fire apparatus manufacturers given prority to make new fire engines during World War II. Steel, rubber, and glass were mostly needed for military vehicles, from troop transports down to the humble but tough little Jeep. One reason for Seagrave's exemption from wartime restrictions was that the company made huge numbers of fire engines for the U.S. Army and Navy. This Model 66E7, serial #B4809, started life as a service ladder truck for the U.S. Navy on February 16, 1944. Shortly after the war ended a year later, the Navy sold this quad to the fire department of Colton, CA. In 1950, Colton installed a new Memco 50-foot aerial ladder onto this quad. Owner David Molner of Norwalk, CA, diaplayed it at an antique fire engine show in Long Beach, CA, in October, 1988. Ed Hass photo
---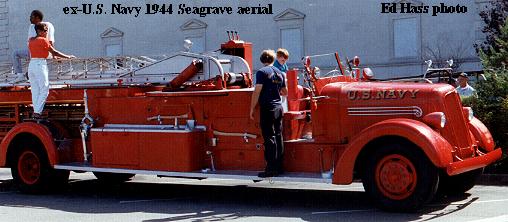 Another ex-U.S. Navy Seagrave, this one was actually built as an aerial ladder truck, in 1944. Ed Hass photo
---
Seagrave Model 66E7 pumper, serial #B8721, was completed for the U.S. Navy on February 14, 1944. Owner Alan Gilliam of Riverside, CA, displayed it at an antique fire apparatus muster in Redlands (near San Bernardino), CA. Ed Hass photo
---
Another U.S. Navy pumper from World War II (nearly identical to Alan Gilliam's #B8721) is this Model 66E7 serial #B8733. But this pumper is at the far opposite end of the country from Gilliam's rig. Originally used by the U.S. Navy at Portsmouth, NH, it belongs to the fire department in Mason, NH. Much to the chagrin of the fire chief at Mason, the Navy had repainted this rig two-tone green before selling it, and the small town of Mason has not had the budget to repaint it. During the SPAAMFAA National convention at Lynnfield, MA, in 1990, a chartered bus transported fire apparatus buffs to nearby New Hampshire, where this was one of several antique fire engines on display. Ed Hass photo
---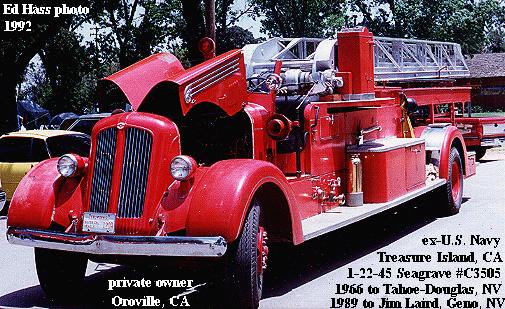 Like most Seagrave apparatus built for military use in World War II, Seagrave Model 66E aerial ladder truck #C3505 is not listed in the Seagrave painter's log. This was a deliberate if paranoic move that was supposed to protect the privacy of military maneuvers from prying enemy eyes who might happen to break into the Seagrave paint shop and discover where various military bases and troop movements were. This rig bears the factory date of January 22, 1945. A private owner from Oroville, CA, owned this rig when Ed Hass snapped this photo in 1992. The owner related that it was used by the U.S. Navy at Treasure Island, San Francisco, CA, from 1945 to 1966, when it was sold to the Tahoe-Douglas fire district in Nevada. After 44 years of continuous fire service, C3505 was sold in 1989 to Jim Laird of Geno, NV, from whom the man from Oroville purchased it two years later.
---
---

This red aerial ladder truck, serial #C7645, was painted on October 9, 1946, and shipped to Menasha, VA.
---

On November 26, 1946, Seagrave completed this red aerial ladder truck, serial #C7165, for Bangor, Maine.
---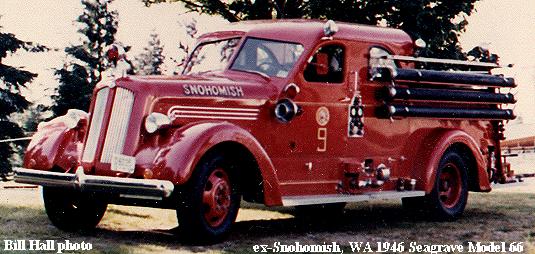 Seagrave model 66 pumper #C7760 was completed December 13, 1946, and served in Snohomish, WA. It is now privately owned at Twisp, WA. Bill Hall photo
---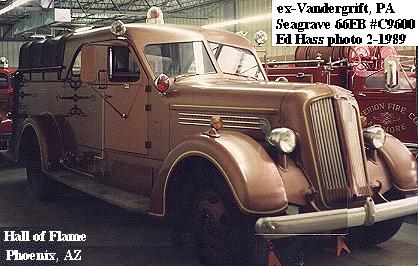 This Model 66EB pumper received its coat of brown paint on April 9, 1947. Vandergrift, PA, traditionally painted its fire engines a color known as "fawn tan," which is similar to the U.S. Army's traditional olive drab. But Seagrave serial #C9600 appears more the color of a copper penny. Today, this 750-GPM canopy-cab pumper rests at the Hall of Flame fire museum in Phoenix, AZ. (Ed Hass photo)
---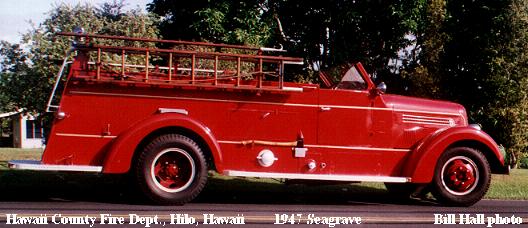 Seagrave completed two Model 66-750 pumpers for Hilo, in what was then the Territory of Hawaii (TH), on June 7, 1948. Serial numbers were D7500 and D7501. Bill Hall of Portland, OR, found this one still at Hilo, HI, in the 1990s.
---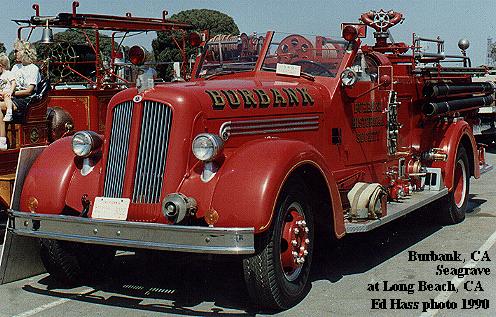 Burbank, CA, brought this clasic and classy Seagrave to an antique fire apparatus display at Long Beach, CA, about 1987. It is probably Model J-1250 #E1885, completed for Burbank on September 29, 1949. Ed Hass photo
---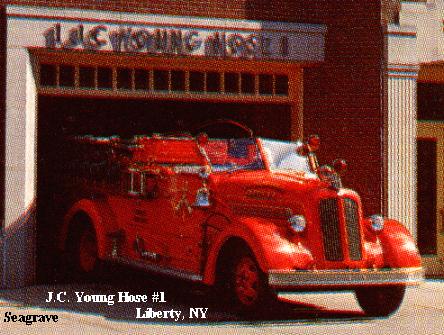 Seagrave pumper of J.C. Young Hose Company #1, Liberty, NY,, was featured on not one, but two postcards. This is probably model 66-750 serial #E9225, completed for Liberty, NY, on January 28, 1950. Driver in the lower card was a well-known fire apparatus buff and builder of fire engine models, C. Kennard "Ken" Robinson of Peekskill, NY, who owned a Seagrave aerial ladder truck of similar vintage.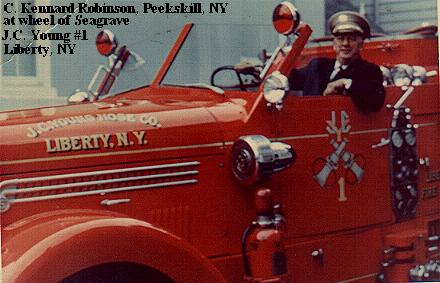 ---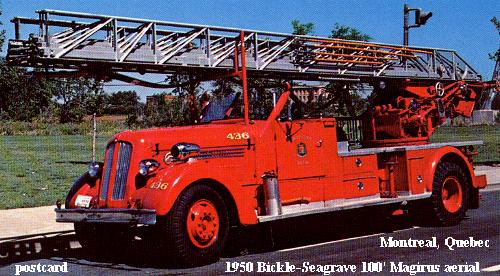 Bickle Fire Engine Company of Woodstock, Ontario, Canada, began building and mounting fire engines on commercial chassis about 1906. Throughout the 1920s and 1930s, Bickle built many fire engines on commercial chassis, most notably those made by Gotfredson, also of Woodstock, Ontario. In 1923, Bickle arranged with the Ahrens-Fox Fire Engine Company of Cincinnati, OH, to build fire engines on Ahrens-Fox chassis, with Ahrens-Fox motors for the bigger rigs and Waukesha engines for the smaller vehicles. This arrangement lasted until 1939, when Bickle changed loyalty from Ahrens-Fox to Seagrave, perhaps because Seagrave originated in Detroit, just across the border from Woodstock, and members of the Seagrave family still lived in Woodstock. In 1950, Bickle mounted a German-made 100-foot Magirus aerial ladder on a new Seagrave chassis for Montreal, Quebec.
---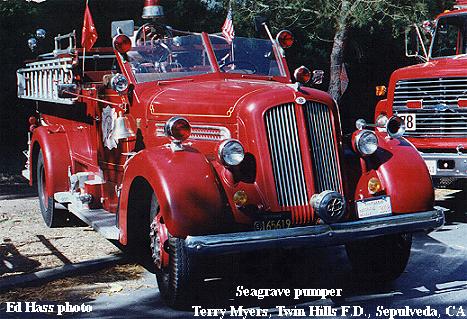 Terry Myers of Sepulveda, CA, runs a number of antique fire engines under the name Twin Hills Fire Department at various antique fire engine "muster" competitions all over California. For a few years, he used this circa-1950 maroon-red Seagrave, before selling it to Radio Station KLCQ 92.9 in Santa Rosa, CA. Ed Hass photo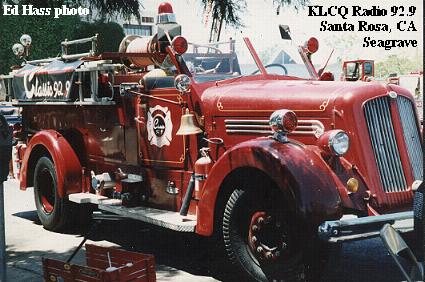 Radio Station KLCQ 92.9 of Santa Rosa, CA, brought this deep-red or maroon Seagrave pumper to a firefighters parade in Santa Rosa about 1995. The station bought it from Terry Myers. Ed Hass photo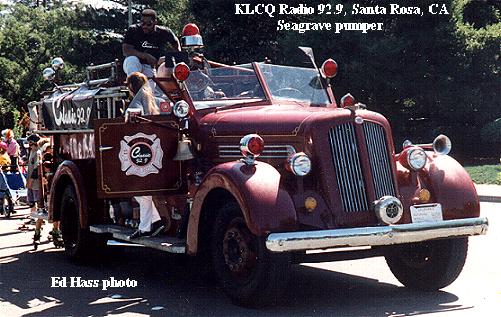 ---
Tucson, AZ
Tucson, AZ, was a long-time Seagrave customer, and several of their old, retired Seagrave pumpers were at the SPAAMFAA National convention in Tucson in February, 1989.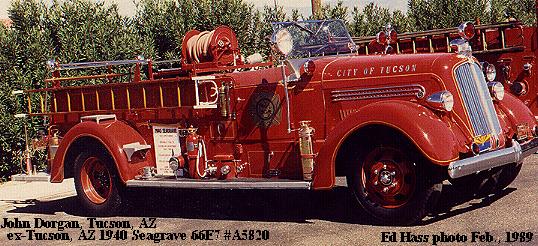 Well-known fire apparatus enthusiast John Dorgan of Tucson, AZ, is called The Siren Man because he runs a business restoring antique lights and sirens for fire apparatus collectors nationwide. At the SPAAMFAA National convention in Tucson in February, 1989, he brought his model 66E7 pumper #A5820, which Seagrave completed for Tucson on July 23, 1940. Sadly, a few short years later, this rig was completely consumed by a fire in the building where Dorgan stored it, an ironic and tragic end for a vehicle designed to put out fires. Ed Hass photo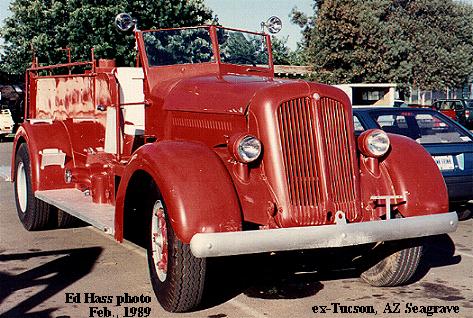 "Mystery" Seagrave, believed to be ex-Tucson, is probably the model 81-500 pumper, serial #B8800, that Seagrave completed for Tucson on November 17, 1943. It has the painted grille and plain hood louvres typical of Seagrave's wartime production. This rig appeared at the SPAAMFAA National convention in Tucson in February, 1989. Ed Hass photo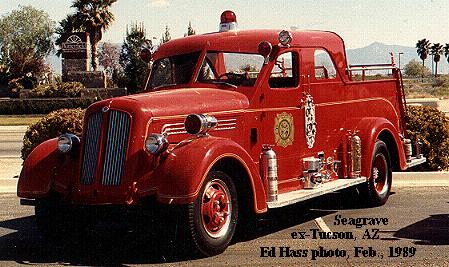 Yet another member of the retired Tucson fleet of Seagrave pumpers that attended the SPAAMFAA National convention in Tucson in February, 1989. This one is probably one of the pair of Model 66-1000 pumpers completed for Tucson on December 12, 1947. Serial numbers were D0945 and D0946. Note the canopy-cab and the fact that the front bumper was missing. Ed Hass photo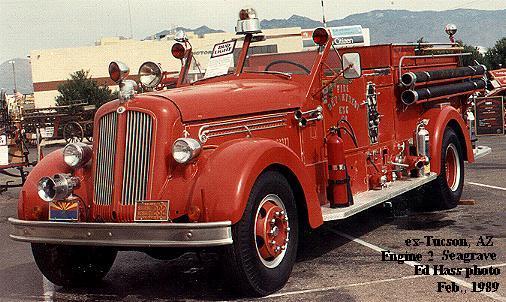 William F. Thomas of Tucson owns this Seagrave model 12JB 1000-GPM pumper, formerly Engine 2 in Tucson, AZ. Serial #E3860 was completed November 2, 1949. Bill Thomas showed it at the SPAAMFAA National convention in Tucson in February, 1989. Ed Hass photo
---
Mystery Rigs
Very little is known of the manufacturing date, origin, and history of the Seagrave "waterrfall grille" fire engines shown below. Any information on these would be most welcome.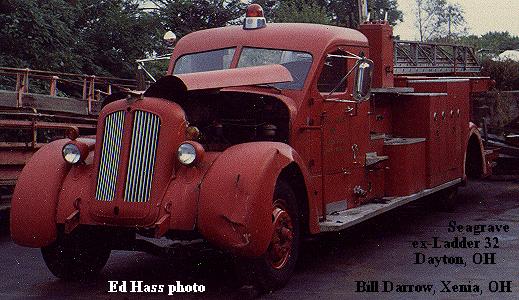 Bill Darrow of Xenia, OH, owns Hawker Manufacturing, which manufactures machinery that woodworking companies use to make wooden dowels, chair legs, screwdriver handles, and so on. Whatever profits he makes seem to go into buying rusty or dented old fire engines (he has a couple dozen of them) that he hopes "some day" to restore. Sitting outside his Hawker plant at Kettering, OH, is this Seagrave aerial, lettered for Ladder 32 in Dayton, OH. To the left is an even older ladder truck, also from Dayton: a 1930 Ahrens-Fox 85-foot tillered aerial that Bill bought in the 1970s. Ed Hass photo

Ladder 27 in Detroit, MI at the Detroit Fire Department repair shop. Note the Seagrave sedan pumper at left with the Sweetheart grille of the mid-1930s. Other interesting rigs partly visible are a GMC panel truck used as a rescue squad, and what would today be called a Heavy Rescue truck, a Civil Defense van on Reo Comet chassis. Civil Defense (CD) was a U.S. Goverenment program that made fire and rescue equipment available to cities large and small all across America; this style of CD Rescue truck was popularly known as a "Calamity Jane". Photo courtesy Clarence Woodard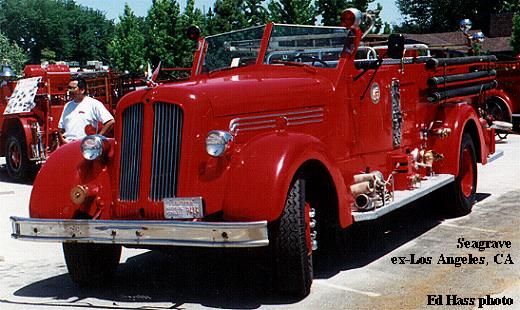 Segarave pumper formerly used in Los Angeles, CA, put an apperance at an antique fire apparatus muster in Atascadero, CA, in the early 1990s. Ed Hass photo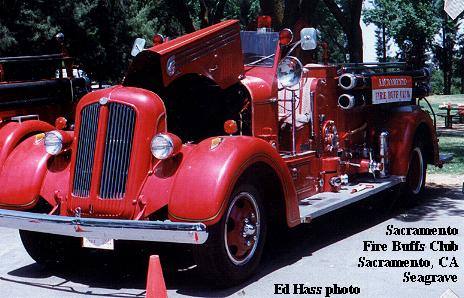 One of several Seagrave pumpers owned by members of the Sacramento Fire Buffs Club, Sacramento, CA. Ed Hass photo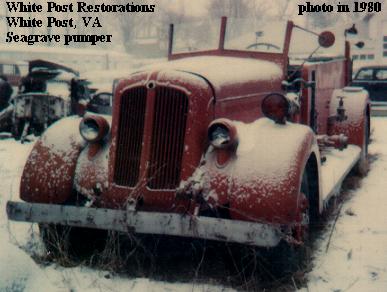 In the early 1980s, White Post Restorations of White Post, VA, gained notoriety among fire apparatus enthusiasts for its superb restoration of the only known surviving Robinson Jumbo piston pumper, built in 1911. In 1980, this 1940s Seagrave pumper sat behind White Post's shop, awaiting its turn at what was likely an equally-high-quality restoration. Photo courtesy White Post Restorations
---
1939 Seagrave pumper of Camp San Luis Obispo, CA, retired, slated for restoration, February 20, 2002
6-17-1942 Seagrave Model 66E7 pumper #B3183 on April 22, 2003
1947 Seagrave pumper, ex-San Diego, restored at Carlsbad, CA
1938 Ford/Seagrave pumper owned by the Todd family (no relation to Jason Todd who started this web site)
1951 Seagrave quad of Valparaiso, IN
---
This page was last updated on February 9, 2003.