---
DEAR FRIENDS, HAPPY NEW YEAR TO ALL!!! (top of page)
28.DEC. 2001 NEW DELHI-INDIA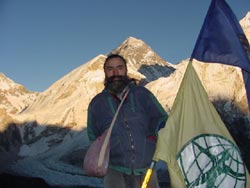 This message is still from India, but after the middle of January, I will be returning to California.
It has been a hard year for the world and for my walking too. The walk in India was about 4000 kilometers in six months and in Nepal I walked at least 750 kilometers in the two months there. In Nepal the second route I walked was to Mt. Everest base camp and climbed the highest peak for me ever - Kala Pattar, 5540 meters - with the closest view of Everest.

(Click on image or HERE for larger version.)
To all of you my best wishes, love, blessings and constant prayers for World Peace, wellbeing and goodwill!!!
OM SHANTI SHANTI SHANTI SHALOM MIR
PAZ PAIX FRIEDEN PACE
MITAKUYE OYASIN
ARTHUR B. BURTON

---
NAMASTE, DEAR PILGRIMS AND ALL FRIENDS!!! 09 November, 2001 (top of page)
This is a short message to let You All know that I walked alone across Nepal from Kodari on the Tibetan /Chinese/ border to Kathmandu, Pokhara and then to Lumbini in three weeks. For some untold reason Utsumi-Shonin and Sr. Denice did not want me to be with the group so I walked alone... In some
ways this was much better as I could meet many more people directly and speak with them one to one.
In Lumbini met many old friends from the Middle Passage Pilgrimage and from U.S. and Japan. It was like a reunion for a few days. Now Sato-Shonin is the caretaker of the Peace Pagoda and Nipponzan Myohoji's Temple in Lumbini, so he will be happy to see Any of You there!

I am awaiting more information about three Interfaith Walking Pilgrimages /one from St.Petersburg to Jerusalem, the other from Moscow to Jerusalem and the third from the Capital of Kazachstan to Lhasa - Tibet/ from a friend in Moscow who sent an e-mail message earlier asking if I want to participate.
Do not feel returning to the U.S. now as I was thinking earlier, because the bombing on Afghanistan continues!
MAY YOU ALL HAVE A BLESSED THANKSGIVING AND
MAY PEACE PREVAIL ON EARTH!!!
Please see the Internet site one friend made for me /he came to the opening of the Middle Passage Pilgrimage in Leverett and then in New Rochelle,NY/ at http://www.geocities.com/satyaspirit.
OM SHANTI SHANTI SHANTI SHALOM MIR PAZ PAIX FRIEDEN PACE ...
9 November,2001 Kathmandu,Nepal LOVE, PEACE AND BLESSINGS ALWAYS-
Your Friend - Arthur B. Burton

---
HELLO, DEAR FRIENDS! NAMASTE! - 23 September,2001 (top of page)
Finally I am on the way to Kashmir from the city of Jammu. With the view of the possible war in the area and the connection of Kashmiri militants to the list of terrorist organizations, things might be even more complicated and dangerous for my Walking these last 300 km. I am being checked by the police all the time on the way and they might eventually stop me from proceeding further...
Anyway, I am going forward, so please PRAY FOR PEACE!!! We have to realize that this time might be just like before 1939 when most people did not see the approaching World War 2...
ALL THE BEST TO YOU AND ALL YOUR FAMILIES!!! THANK YOU FOR THE LOVE, FRIENDSHIP AND SUPPORT! HOPE TO BE IN NEPAL FOR THE WALK IN OCTOBER!
23 September,2001
Jammu, J&K, INDIA PEACE AND LOVE -
Your Friend Always - Arthur B. Burton
---
DEAR FRIENDS, NAMASTE! - Aug. 20, 01 (top of page)

This is a note to let All know that I have reached New Delhi by Walking from the most southern point of India. It has been quite a bit of "Tapasya"/'penance' in Sanskrit/ on the body... I have about 900-1000
km /one more month/ Walking to Srinagar, Jammu and Kashmir State - GOD WILLING!
Thank You to All Who have kept in touch! That is Greatly Appreciated!If any of You can send me right now the meeting arrangements in Kathmandu, Nepal, for the Nipponzan Myohoji's Walk to Lumbini, Please DO! I need to obtain Nepal's visa before leaving Delhi to continue North. There has been
tension between India and Nepal on the border next to Lumbini, because of the construction of an irrigation dam.
Awaiting to hear from You!
WITH MUCH LOVE, PEACE AND FRIENDSHIP!
OM SHANTI- Arthur B. Burton
20 August,2001 New Delhi - India

---
BRIEF MESSAGE FROM ARTHUR B. BURTON - July 9, 01 (top of page)

Dear Friends, only have a few minutes to say HELLO! I have made it from the southern most point of India to the city of Nagpur, state Maharashtra, and it has been dificult and intence Walk. Just stayed about a week in the central ashram of M.K.Gandhi in Sevagram and Vinoba Bhave ashram in Paunar.
They are very near the town of Wardha and 6 km from each other. I have many Gandhian Friends there.
Struggling at the moment with something I had never had before in any other country - according the doctor 'amebic disentery'. I even do not know how to spell it, but I must have caught it from contaminated water or food. With The Supreme Spirit's Help will continue soon FORWARD NORTH!!!

LOVE AND PEACE TO ALL!!! WILL TRY TO WRITE AGAIN SOON!
Your Friend - Arthur B. Burton
9 July,2001 Nagpur - INDIA
---
April 14, 01 (top of page)
ALL DEAR FRIENDS, NAMASTE, FROM INDIA!!!
TO THOSE WHO OBSERVE EASTER - HAPPY EASTER!!!
Twelve years ago on Easter Sunday I was all day in New Delhi at the place of Gandhi assassination and now I am in the Gandhi Museum Campus in the city of Madurai, Tamil Nadu State, South India. This is the biggest such Gandhi Museum Complex and Peace Center in India and I have been welcomed by many Gandhian Friends and Activists, including the resident Nipponzan Myohoji Buddhist monk, Ishitoni-Shonin. Already several English and Tamil newspapers and earlier a TV station reported my Peace Walking, so now wherever people see me on the road and the streets want to take pictures, authographs, my address, etc. I do not usually seek media coverage, but they soon appear and then cannot hide on the road.
For eight days I have walked 240km from the southern most point of India - the beautiful Kanniyakumari on the Indian Ocean - to Madurai and at least 3500km remain to Srinagar in Kashmir, so I hope to walk that till the end of July - GOD WILLING!
Already before leaving from Alaska I was invited by Sister Clare to attend the dedication of the Peace Pagoda in Lumbini, Nepal, the Birthplace of Siddartha Gautama /Lord Buddha/ in November and now found out that it will be preceded by a walk from Kathmandu in October, 2001. I will try my best to be there and will rejoice to see any of You and All Old Friends at such an auspicious site! The world is a small place -as we were walking with the Bulgarian friend and journalist in Varanasi /Benares/ on the bank of Ganga River our Middle Passage Pilgrim, Shalini, recognized me with the flags. Then in Mayapur, West Bengal, at the Hare Krishna big Annual Festival, several of the devotees remembered me with the flags - one from Helsinki, Finland, one from Denmark, one from Puerto Rico, one from Amsterdam, one from Johannesburg, South Africa; and in Vrindaban - the childhood place of Lord Krishna - even one from Suriname and one from Bulgaria.
Please write when You can - in Spirit We Are Walking Together Always FOR WORLD PEACE!!! I EMBRACE YOU IN FRIENDSHIP, PEACE, LOVE, APPRECIATION AND WITH BLESSINGS ALWAYS!!! BE WELL AND ALL THE BEST FOR NOW!
OM SHANTI SHANTI SHANTI - SHALOM - MIR - PEACE - PAZ - PAIX
FRIEDEN - SAALAAM - ALLAYKUM - ASHE - AHO MITAKUYE OYASIN
NA-MU-MYO-HO-REN-GE-KYO
14 April, 2001 Madurai-INDIA
Arthur Bogomil Burton