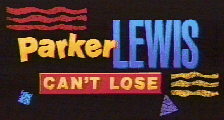 SEASON 1
| | | |
| --- | --- | --- |
| Actor | Abbrev. | Character |
| Corin Nemec | CN | Parker Lloyd Lewis |
| William Jayne | WJ | Michael Patrick "Mikey" Randall |
| Troy W. Slaten | TS | Jerry Steiner |
| Maia Brewton | MB | Shelly Ann Lewis |
| Melanie Chartoff | MC | Grace Musso |
| Taj Johnson | TJ | Frank Lemmer |
| Abraham Benrubi | ABe | Francis Lawrence "Lar(r)y" Kubiac III |
| Anne Bloom | ABl | Judy Lewis (except pilot) |
| Timothy Stack | TSt | Martin Lloyd "Marty" Lewis (except pilot) |
[1.01] "Pilot" {refrigerator}
Synopsis: After Parker kisses the girl Mikey is chasing, the best buds are on the outs. Their friendship is restored when both are threatened by the monstrous Kubiac.

Air dates: Sept. 2, 1990; Sept. 6, 1990

Written by: Lon Diamond and Clyde Phillips
Director: Thom Eberhardt
Starring: CN, WJ, TS, MB, TJ, ABe

Also starring: Mary Ellen Trainor (Judy Lewis), Sherman Howard (Marty Lewis), Milla Jovovich (Robin Fecknowitz), Clyde Kusatsu (Mr. Loopman)

Featuring: Scott Thomson (Mr. Kornstein), Lisa Canning (Andrea Russell), Zachary Bostrom (Bobby Kubiac), Christopher Faulk (grad school genius), Evelina Fernandez (registrar)

[1.02] "Operation Kubiac" {attic}
Synopsis: After Lemmer points out Kubiac's lack of mathematical skill, Parker must help the highly recruited football star pass the math test he needs to graduate.

Air dates: Sept. 9, 1990; Dec. 30, 1990; June 16, 1991

Written by: Clyde Phillips and Lon Diamond
Director: Andy Tennant
Starring: CN, WJ, TS, MB, ABe, TSt, TJ, MC

Co-Starring: Patrick T. O'Brien (Mr. Kubiac), Melanie MacQueen (Mrs. Kubiac)

Featuring: Stephen Burrell (scout 1), Jack Jozefson (scout 2), Steven Whiteford (reporter 1), Susan Angelo (reporter 2), Deborah Stern (teen babe)
[1.03] "Power Play" {washing machine}
Synopsis: A new student threatens Parker's popularity by besting his every move and recruiting Jerry into his camp.

Air dates: Sept. 16, 1990; Nov. 25, 1990

Written by: Alan Cross and Tom Spezialy
Director: Max Tash
Starring: CN, WJ, TS, MB, ABe, TSt, ABl, TJ, MC

Guest Starring: Kevin Wixted

Co-Starring: Julie Condra (Donna Sue Horton), Keith Williams, Vernon Weddle
[1.04] "Parker Lewis Must Lose" {medicine cabinet}
Synopsis: Parker tanks the election for junior class president after seeing how sincere -- and pretty -- his opponent is.

Air dates: Sept. 23, 1990; Nov. 11, 1990

Written by: Tom Straw
Director: Randall Miller
Starring: CN, WJ, TS, MB, ABe, TSt, ABl, TJ, MC

Guest starring: Kim Valentine (Becky Grant)

Featuring: Lawrence Spinak (Conrad Fleck), Torri Whitehead (Jamie), B.J. Barie (Badge), Scott Egan (Jock), Tiffanie Poston (cheerleader), Scott Jensen (man in body cast)
[1.05] "Close, But No Guitar" {Parker's locker}
Synopsis: Mikey drops out of school and picks up the guitar full time, striking the wrong chord with Parker.

Air dates: Sept. 30, 1990; Dec. 9, 1990; April 21, 1991

Written by: Clyde Phillips and Lon Diamond
Director: Bryan Spicer
Starring: CN, WJ, TS, MB, ABe, TSt, ABl, TJ, MC

Special appearances by: Ziggy Marley, Kool Moe Dee

Co-starring: Alla Korot (Mary Lou), Mina Kolb (Aunt Celia), Macka Foley (gym coach), Rodney Allan Rippy (student), Robert Greenberg (teacher 1), Irina Cashen (little girl)

Notes:
Prod. #161955; Walker #T22067-91-004
Final Draft: Aug. 17, 1990; 4 revisions to 8/27/90

[1.06] "G.A.G. Dance" {television set}
Synopsis: The annual "Girls Ask Guys Dance" at Santo Domingo High has Parker all jazzed up to win the affections of the beauteous Tracy Lee Summers.

Air dates: Oct. 7, 1990; Dec. 23, 1990

Written by: Clyde Phillips & Lon Diamond
Director: Lyndall Hobbs
Starring: CN, WJ, TS, MB, ABe, TSt, ABl, TJ, MC

Guest starring: Robyn Lively (Tracy Lee Summers)

Co-starring: Alla Korot (Penina Segall)

Featuring: Lawrence Spinak (Conrad Fleck), Laurie Plaxen (Stacy), Caroline Gilshian (girl 1)
[1.07] "Love's a Beast" {slide projector screen}
Synopsis: Mikey has a secret admirer nicknamed "Breathless," and Parker has the wind knocked out of him when he realizes it's his sister Shelly.

Air Dates: Oct 14, 1990; Jan 27, 1991

Written by: Peter Ocko & Adam Barr
Director: Max Tash
Starring: CN, WJ, TS, MB, ABe, TSt, ABl, TJ, MC

Guest Star: Keely Christian (Kristen)
Co-Starring: B. J. Barie (Badge), Laurie Plaxen (Stacy)
[1.08] "Saving Grace" {microwave}
Synopsis: Parker has to choose between the lesser of two evils when Musso is ousted and her replacement (Gerrit Graham) turns out to be at least twice as bad.

Air Dates: Oct 21, 1990

Written by: Russell Marcus
Director: Bryan Spicer
Starring: CN, WJ, TS, MB, ABe, TJ, MC

Guest Stars: Ron Canada (Man #1), Wesley Mann (Man #2), Gerrit Graham (Dr. Pankow)
Featuring: Monty Bane (Cook), Robert Greenberg (Loopman), Phyllis Flax (Librarian), Tiffanie Poston (Cheerleader)
[1.09] "Musso & Frank" {portrait photographer's camera}
Synopsis: In exchange for Lemmer's tutoring of Jerry, Parker is resigned to helping Lemmer find a date so he won't have to go out with Musso's niece.

Air Dates: Oct 28, 1990; Jan 6, 1991

Written by: Clyde Phillips & Lon Diamond
Director: Max Tash
Starring: CN, WJ, TS, MB, ABe, TSt, ABl, TJ, MC

Special Appearance by: David Faustino
Guest Stars: Andrea Elson (Denise), Paige French (Audrey), Larry Spinak (Conrad Fleck), B.J. Barie (Badge/Hard Guy)
[1.10] "Deja Dudes" {front door peephole}
Synopsis: Parker gains new respect for his old man when, at his dad's 20th reunion, he discovers his father (Timothy Stack) once slimed student-at-the-time Musso.

Air Dates: Nov 4, 1990; Jan 20, 1991; Jun 2, 1991

Written by: Tom Straw
Director: Bryan Spicer
Starring: CN, WJ, TS, MB, ABe, TSt, ABl, TJ, MC

Guest Stars: David Morin (Vic), Gary Grossman (Gary), R. A. Mihailoff (Bronc Adelson), Michele Buffone (Tina), J. Frank Stewart (George), Joel Swetow (Rod)

Notes:
Prod. #161960
Walker #T22067-91-009
Rev. Final Draft: September 21, 1990; 2 revisions to 09/25/90 PM

[1.11] "Radio Free Flamingo" {car trunk}
Synopsis: The buds power up a long-hidden pirate radio station, which isn't music to Musso's ears, and has Parker receiving static from a neglected Donna Sue (Julie Condra). Mr. Loopman: Robert Greenberg.

Air Dates: Nov 15, 1990; Mar 17, 1991

Written by: David Caplan & Brian Lapan
Director: Jeff Melman
Starring: CN, WJ, TS, MB, ABe, TJ, MC

Guest Starring: Julie Condra
Featuring: Robert Greenberg (Mr. Loopman)
[1.12] "Science Fair" {coat closet}
Synopsis: The science fair is an experiment in terror for Jerry whose buds have to invent a way to bolster his confidence for the district contest. Young Jerry: Luke Edwards. Dr. Pankow: Gerrit Graham. Judge: Jack Tice.

Air Dates: Nov 18, 1990; Mar 3, 1991

Written by: John Debellis
Director: Max Tash
Starring: CN, WJ, TS, MB, ABe, TJ, MC

Guest Star: Gerrit Graham, Luke Edwards
Featuring: Jack Tice (Judge), Kevin Krakower (Sam)
[1.13] "Teacher, Teacher" {yearbook photo camera}
Synopsis: After Parker breaks the golden rule one too many times, his favorite teacher (Penny Johnson) quits, and he's going to need more than an apple to win her back.

Air Dates: Dec 2, 1990; Mar 31, 1991

Written by: Clyde Phillips & Lon Diamond
Director: Bryan Spicer
Starring: CN, WJ, TS, MB, ABe, TJ, MC

Guest Starring: Penny Johnson
Co-Starring: Jamie Cardriche (Luke MacDonald), John Horn (Mr. Krantz)
Featuring: Delana Michaels (Mother #1), Parker Whitman (Father #1), Lyndsey Fields (Mother #2), Lee Anthony (Father #2)
[1.14] "Rent-A-Kube" {soft drink vending machine}
Synopsis: Parker hires Kubiac to help curb shoplifting at his parents' video store, but "Robo-Kube" scares away the customers.

Air Dates: Dec 16, 1990; Apr 14, 1991; Oct 12, 1991 (Sat 9:30 PM)

Written by: Tom Straw
Director: Andy Tennant
Starring: CN, WJ, TS, MB, ABe, TSt, ABl, MC

Special Appearance by: Ozzy Osbourne
Co-Starring: B. J. Barie (Badge), Gary McGurk (Officer Donovan)
Featuring: Dani Lee (Gina Lang), Paul Wiley (Reverend Rafferty), Kymberleigh St. Peter (Pretty Girl), Rodney Allan Rippy (Rodney), Robert Cavanaugh (Tim)
[1.15] "Heather the Class" {Pictionary pad}
Synopsis: Shelly joins the snobby Vogues, whose style is to humiliate, so they fashion a trap for Parker by setting up Jerry.

Air Dates: Jan 13, 1991; May 26, 1991

Written by: Tom Spezialy & Alan Cross
Director: Max Tash
Starring: CN, WJ, TS, MB, ABe, TJ, MC

Guest Starring: Michele Abrams (Jamie), Tiffany Brissette (Annie Ricker), Malaika (Merlene)
Featuring: Macka Foley (Gym Coach), Randy Murzynski (Sports Reporter)


[1.16] "Jerry: Portrait of a Video Junkie" {photo booth}
Synopsis: Parker tries to cure Jerry of his video-game addiction, while Musso wishes she could zap her visiting mother (Barbara Billingsley of "Leave It to Beaver"). Jerry Mathers (the Beaver) has a cameo.

Air Dates: Feb 3, 1991; Jul 14, 1991

Written by: Lon Diamond & Clyde Phillips
Director: Bryan Spicer
Starring: CN, WJ, TS, MB, ABe, TJ, MC

Special Guest Star: Barbara Billingsley
Special Appearance by: Jerry Mathers
Guest Starring: Bruce Jarchow (Group Leader)
Co-Starring: B. J. Barie (Badge), Jeffrey Arbaugh (Todd), Aron Eisenberg (Steven), Donna Eskra (Darla), Ken Exner (Alan)


[1.17] "Splendor in the Class" {aquarium}
Synopsis: Parker's new girlfriend (April Lerman) wants him all to herself, leaving Mikey and Jerry a bud short.

Air Dates: Feb 10, 1991; Jun 23, 1991

Teleplay by: Tom Spezialy & Alan Cross
Story by: Michael Swerdlick
[Written by: Michael Swerdlick <-- in the script]
Director: Lawrence Jay Lipton
Starring: CN, WJ, TS, MB, ABe, TSt, ABl, TJ, MC

Guest Starring: April Lerman
Featuring: Robert Greenberg (Mr. Loopman)

Notes:
Prod. #161968
Walker #T22067-91-017
Final Draft: November 28, 1990; 1 revision to 12/03/90

[1.18] "The Human Grace" {garbage can}
Synopsis: Parker plays Cupid for Musso and archenemy Dr. Pankow (Gerrit Graham), but he realizes his aim is off when he overhears Pankow plotting against her.

Air Dates: Feb 17, 1991; Jun 9, 1991

Written by: Tom Straw
Director: Max Tash
Starring: CN, WJ, TS, MB, ABe, TSt, TJ, MC

Guest Starring: Gerrit Graham
Co-Starring: Takayo Fischer (Chairwoman), Charles Wahleheim (Randy)
Special Appearance by: "Weird Al" Yankovic

Notes:
Prod. #161967
Walker #T22067-91-016
Final Draft: November 20, 1990; 2 revisions to 11/27/90

[1.19] "Citizen Kube" {arcade game}
Synopsis: After running out of money -- and food -- Kubiac is saved when he wins millions, but sunk when his friends feast on his generosity.

Air Dates: Feb 24, 1991; Jun 30, 1991

Teleplay by: Tom Spezialy & Alan Cross
Story by: Clyde Phillips & Lon Diamond
Director: Max Tash
Starring: CN, WJ, TS, MB, ABe, TJ, MC

Special Guest Star: Taime Downe (Young Bum/Rock Star) Guest Starring: Wesley Mann (Man #1) Co-Starring: B. J. Barie (Badge), Larry Spinak (Conrad Fleck), William Lester Collins (Yuppie Guy)
And Featuring: Jeanne Wolf (herself), Randy Murzynski (Sports Reporter)
Notes: The show-within-the-show on which Larry was profiled was named "Portraits of the Big and Wealthy."
Prod. #161971
Walker #T22067-91-021
Rev. Second Draft: December 19, 1990; 1 revision to 01/08/91
[1.20] "Randall without a Cause" {clapper in the hangout}
Synopsis: Mikey figures he was born to be wild when he joins a biker gang, but he finds it's not such an easy ride after he's arrested. Sgt. Jake Melman: Charles Rocket.

Air Dates: Mar 10, 1991; Jul 7, 1991

Written by: Lon Diamond & Clyde Phillips
Director: Max Tash
Starring: CN, WJ, TS, MB, ABe, TJ, MC

Guest Starring: Charles Rocket
Guest Starring: Brad Tatum (Sammy), Dennis C. Stewart (Mean Guy), Ron Dortch (Officer #1)
[1.21] "Jerry's First Date" {photocopier glass}
Synopsis: The buds agree to be Jerry's professors of love when his first date takes him to a college campus with the academically advanced girl of his dreams (A. J. Langer).

Air Dates: Mar 24, 1991; Jul 21, 1991 (7 PM)

Written by: Peter Ocko & Adam Barr
Director: Bryan Spicer

Guest Starring: A. J. Langer (Melissa), Jan Rabson (Future Jerry) Co-Starring: Joshua Lucas (Evan), Bob Tzudiker (Doctor), Noni White (Questioner)
[1.22] "Against the Norm" {drive-up window at Sparky's}
Synopsis: When the dastardly Dr. Pankow (Gerrit Graham) returns with another evil scheme to oust Musso, can Parker rescue the unfair maiden?

Air Dates: Apr 7, 1991; Oct 20, 1991

Written by: Tom Straw
Director: Bryan Spicer
Starring: CN, WJ, TS, MB, ABe, TJ, MC

Guest Starring: Gerrit Graham
Co-Starring: B. J. Barie (Badge)
Featuring: Kymberleigh St. Peter (Waitress)

Notes:
Prod. #161973
Walker #T22067-91-022
Final Draft: February 13, 1991; 4 revisions to 02/25/91
[1.23] "King Kube" {baby pictures}
Synopsis: Jerry, flying solo, gets Kubiac elected King of the Prom as a joke, but this year's theme will be fear unless the buds find a way to break it to him gently.

Air Dates: Apr 28, 1991; Jul 28, 1991

Written by: Tom Spezialy & Alan Cross
Director: Bryan Spicer

Special Appearance by: Donny Osmond
Guest Starring: Yohanna Yonas (Eileen Larson), Joy Crell (Amber), Leanna Crell (Kandy), Monica Crell (Barbie)
[1.24] "Teens from a Mall" {vocational counselor interviews}
Synopsis: It's a mall world: Parker, searching for the girl of his dreams, is accused of shoplifting; Jerry shops for a job; shopaholic Musso fights excessive spending. Sarah: Josie Bissett. Lefko: Don Lake.

Air Dates: May 5, 1991

Written by: Clyde Phillips & Lon Diamond
Director: Andy Tennant
Starring: CN, WJ, TS, MB, ABe, TJ, MC

Guest Starring: Josie Bissett (Sarah), Don Lake (Ira Lefko), Bruce Jarchow (Dr. Carroll), Wesley Mann (Credit Man)

Co-Starring: Cynthia Mann (Grodnik Griddle Girl), Larry Spinak (Conrad Fleck)

Featuring: Rusty Schwimmer (Lady), Simon Hart (Dave, Store Manager), Venus Thomas (Clerk)

Notes:
Prod. #161974
Walker #T22067-91-023
Final Draft: February 20, 1991; 3 revisions to 03/01/91
[1.25] "My Fair Shelly" {front door of date's home}
Synopsis: Shelly blackmails Parker into finding her a date for a major party, and the guy his makeover attracts is no minor leaguer.

Air dates: May 12, 1991; July 21, 1991

Written by: Peter Ocko and Adam Barr
Director: Andy Tennant
Starring: CN, WJ, TSl, MB, ABe, TSt, TJ, MC

Guest stars: Jonathan Ward (Brad Donovan), Brooke Theiss (Melinda Harris)
Featuring: Malaika (Caroline), Sharon Case (Joanne), Todd Shawn (Dude)
[1.26] "Parker Lewis Can't Win" {Valley Medical Tower elevator}
Synopsis: On the last day of school, the last thing Parker wants to do is have a really bad day, but for the first time, Parker Lewis can't seem to win. Augie: Ray Walston. Becky: Kim Valentine.

Air Dates: May 19, 1991; Aug 4, 1991

Director: Bryan Spicer
Starring: CN, WJ, TS, MB, ABe, TJ, MC

Guest Star: Ray Walston (Augie)

Guest Starring: Kim Valentine (Becky Grant), Larry Spinak (Conrad Fleck)
Featuring: Robert Cavanaugh (Silhouette #1), Richard Feldman (Silhouette #2)
Special Appearance by: Jim Lange (Host)

Notes: A number of production VIF's appear in cameos at the end of the show. As the camera pulls back, we see Lon Diamond and Tom Straw do a 'cool-handshake' (they're both sitting in chairs with names on them.) Bryan Spicer appears (in the shirt with 'Director' on the back) but we only see him from behind. Clyde Phillips appears right at the end with a clapboard and says "End marker" just before the final mosaic out.