SANTANU DATTA
---
---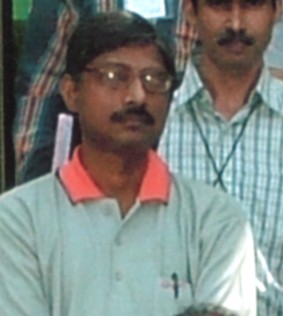 Name
Santanu Datta
Address
Nabadiganta Housing Estate
MIG ( U )Building 1 Flat 14 ,
M B Road,Calcutta 700049,India
tel:++91-33-2513-8969(res)
Click here to E-mail to me
or send it to

[email protected]
Date of Birth
17.10.1957

Nationality
Indian
Gender
Male

Marital status
Divorced
TOP
Academic Qualifications
DEGREE
YEAR OF
AWARD
BOARD/UNIVERSITY
SUBJECTS STUDIED
High
School
Exam
1975
W.Bengal Board
of Secondary
Education
Physics,Chemistry
Mathematics,English
Bengali
B.Sc
(Honours)
1978
Calcutta University
St.Xavier's College
Physics (Honours)
Chemistry, Mathematics
M.Sc
1981
Calcutta University
Physics
Ph.D (sc)
1990
Calcutta University
Physics (Topics:Coalescence
model analysis of complex
particle spectra from
energetic Heavy-Ion collision)
Further Studies
After passing my M.Sc Exam. I joined as a research scholar under Prof. Aparesh Chatterjee and was engaged in the construction of a 14 MeV(DT) neutron generator . On it's completion in June 1986,I joined the Laboratory for Nuclear Spectroscopy, Rudjer Boskovic Institute, Zagreb, Croatia to do research on Heavy Ion reaction mechanisms under Prof. N. Cindro. Returning to India on March 1989, I submitted my Ph.D thesis on the above topics for evaluation to Calcutta University. From Oct. 1990 to Oct.1995 I was a post-doc in Calcutta University. From oct.1995 I am working as a part-time faculty in the post- graduate and under-graduate sections of the Physics Department, Presidency College,Calcutta 700073. I was also a guest faculty in the Inter-University Consortium-DAEF,Calcutta 700091(session 2000). I was the Principal Investigator of a gamma spectroscopy project(no. A21) in the Nuclear Science Centre,N.Delhi.I am empanelled as a Counsellor for Physics in Indira Gandhi Open University (IGNOU). I am interested in space science and technology and its promotion in India. Currently I am the President and Director of the newly formed Kalpana Chawla centre for Space and Nano Sciences, Calcutta ( http://www.kccsns.netfirms.com/index.html ).I am life member of Indian Physics Association, Indian Physical Society,Astronautical Society of India,Indian Statistical Institute,Kolkata
TOP
Publications
1)Santanu Datta & Aparesh Chatterjee:Construction of a fast neutron generator-Physics Teacher(Bulletin of the Indian Physical Society) Vol.28,(1986)134.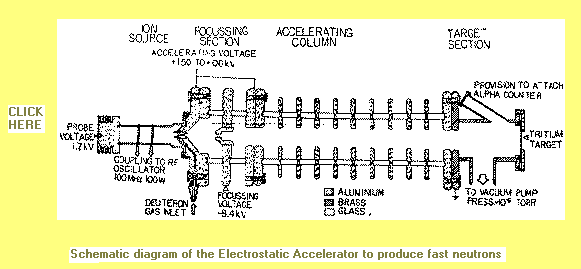 2)S.Datta et.al.:Coalescence model analysis of alpha particle and deuteron spectra from energetic H.I. colli- sions-Phys.Lett. B vol.192(1987)302.
3)S.Datta et.al.:Optical model analysis of 13C(16O,16O)13C in the range 19-30 MeV,Fizika vol.19(1987)445.
4)R.Caplar,S.Datta et.al.:Emission mechanism of nucleons and complex particles in H.I. collisions-Proc. of the 6th Adriatic Int. Conf. on Nucl. Phys.-Ed. N. Cindro et. al. (World Scientific,1987).
5)S. Datta et.al.:A refined Coalescence model for Inter- mediate energy H.I. collision- J.Phys. G vol.14(1988)937.
6)S.Datta et.al.:Systematics of Coalescence Radii for light-fragment emission.-Nuovo Cim. vol.104(1989)1091
7)U.Abondanno,S.Datta et. al.:Potential well approach to the analysis of 12C+16O and 16O+16O resonances-J. Phys. G vol.15(1989)1845
8)S.Datta et. al.:Entrance channel effects on pre-equili brium emmision and incomplete fusion in promptly emitted particle model-Z.Phys. A vol.353(1995)49
9)G.Mukherjee,S.Datta et. al.:Spectroscopy and lifetime measurement of Hi-spin states in 73Se-Z.Phys.A vol.359 (1997).
10)S.Mandal,..,S.Datta, et.al.:A microscopic complex potential description of elastic, inelastic cross-section in the coulomb nuclear interference region in the 28Si on 28Si-Nucl. Phys. A Vol.634(1998)284.
11)G.Mukherjee,..,S.Datta,et.al.:Transition strengths and shapes of 2-qp bands in 76Se and 76Kr -Pramana Vol.53 (1999)63
12)S.Mandal,..,S.Datta,et.al.:Coupled Channel description of 16O + 142,144,146 Nd scattering around the Coulomb barrier using a complex microscopic potential- Nucl.Phys. A Vol.720(2003)222
TOP
Teaching
From Oct.1995 I am taking courses on Electronics & Nuclear Instrumentation in the post-graduate and under- graduate section of the Physics Dept.,Presidency College, Calcutta 700073 as a part-time faculty. I was also a guest faculty (session 2000) in the initiation course for research scholars in the Inter-University Consortium-DAEF, Calcutta 700091. Currently I am an empanelled Counsellor for Physics in Indira Gandhi Open University (IGNOU)
TOP
Organisational Experience
I was the Treasurer of the Indian Physics Association, Calcutta Chapter from 1994 to 1996.After that it's Secretary.I was also the zonal representative in the National Executive Body. Currently I am it's Vice-Chairperson. I have held numerous Symposiums, workshops at regional and national level.I am interested in space science and technology and its promotion in India. Currently I am the President and Director of the newly formed Kalpana Chawla centre for Space and Nano Sciences, Calcutta ( http://www.kccsns.netfirms.com/index.html ).
TOP
Experiences abroad
I have been working as a Junior research associate under Prof. Nikola Cindro in Rudjer Boskovic Institute,Zagreb, Croatia from June 1986 - March 1989.
TOP
Hobbies
My hobbies are Photography, Computers,Travelling, Aquarium Fishes Animals specially Dogs and making Friends.
TOP
MY PICTURES-CLICK BELOW TO VIEW
MY MENTOR

MY SCHOOL,COLLEGE,UNIVERSITY

Myself
Image Gallery