KARTIKEYAJI-GOD OF WAR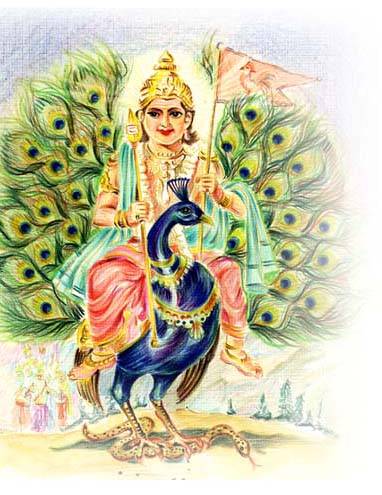 According to Hindu mythology, he resides on the KRAUNCHA MOUNT in the south, hence more popular and worshipped there, than in the northern parts of India. Ditto with the festivals related to Kartikeyaji, such as SKAND SHASTHI, as well as the temples devoted to him.
ORIGIN
The elder of the two sons of Shivji and Parvatiji. Kirthikas, wives of six sages acted individually as surrogate mothers with the seed of Shivji, delivering six boys. At birth, these boys were thrown off together by these surrogate mothers. Lying in the forest, these six boys merged into one and became Karthikeya.
ABODE
Mount Kailash, along with Shivji, Parvatiji & Ganeshji. Also Krauncha Mount in the South (after his tiff with his parents over their being more favourable to Ganeshji, he left and went to Mount Krauncha).
IMPORTANCE
He was born with the clear objective of slaying one demon TARAK who was causing great disturbance in the gods domain way of disturbing the rhythm in seasons. Kartikeya was, for this reason, appointed as Commander-in-Chief of the divine forces.
Kartikeya had more of destructive inclination, being born out of Shivji's seed as compared to Ganeshji who was born out of Parvatiji's sweat
SOME OTHER NAMES/EPITHETS
1. SHADANAN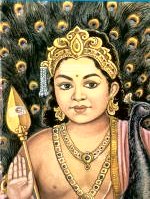 2. SUBRAMANYAM
3. TARAKAJIT
4. SKAND
5. AGNIBHOO
6. KUMAR
7. MURUGAN
8. GANGAPUTRA
9. SENAPATI
10. NAYAK
TYPICAL DEPICTION
Kartikeya is generally depicted as very handsome, bright complexioned and holding spear, arrow, sword, discus, noose, shield & conch in one hand in a gesture of blessing.
Rides a peacock, which was also his vehicle during fight against demon TARAK.
Also shown as a guardian deity in Shivji's temples.
SOME TEMPLES
-Shree Mallikarjun, Srisailam (known as Mount Kailash of South India) in Tamil Nadu (India).
-Shaila Mount in Andhra Pradesh.
-Kapaleshwar Temple, Tamil Nadu.
-Chidambaram Temple, Tamil Nadu.
-Murugan Temple, Tamil Nadu
RELATED FESTIVALS
Skand Shasthi celebrated in South as the day on which Kartikeya defeated demon TARAK.
Kartikeya is also worshipped along with Durgaji in Bengal.
OTHER INTERESTIN INFORMATION
-Since Kartikeya was born through surrogate mothers under a secret plan of stealth by gods, depriving, Parvatiji of the pleasure of motherhood, Parvatiji cursed all divine females (goddesses) that none will ever be capables of producing a child.
-Kartikeya's wife's name is DEVASANA.
-In southern India he is known as SUBRAHMANYA
-In the epics, Mahabharata and Ramayana, this god is described as the son of Shiva or Rudra. Sometimes his motherhood is ascribed to Ganga (hence called Ganga-putra), and sometimes to goddess Parvati, the consort of Shiva. In some legends he is said to have been born without the intervention of women through fire ( hence the name is given Agnibhu).
-The story of his birth is narrated in Kalidasa's - Kumara Sambhava.
-Once Shiva's passions were aroused none could bear the energy of his seed. Agni (fire) who alone could bear it, took the seed into it's mouth and thereafter transferred this seed to Ganga. God Kartikeya so born is therefore called, Ganagaja or Agnibhu. As he got conceived in this manner he is also called Kumar-forever young and chaste.
-It seems that during ancient times the worship of Kartikeya was much more widespread. The coins of Kushan kings bear his names and under the Gupta kings he was worshipped in the whole of northern India. He was also the favourite deity of the kings of Chalukya dynasty. In southern India he is still widely worshipped. Several deities of the south are associated with him, e.g.Murugan (the chaste boy), Velan (the spear-bearer) and Seyon ( the red-one).
-On the last evening of the month of Kartik (month of hindu calendar), the clay image of God Kartikeya is worshipped and then submerged into the river the next day. At every great festival associated with the Goddess Durga, his image is also made and set up by her side. Many people, especially women worship this god to beget a male offspring.
-Nowadays his devotees visit his shrine, especially at Palani near Madura, bearing an ornamental bamboo pole called KAVADI which are hung with small pots containing milk, sugar, honey, flowers and fruits.