Memorial Page to
Shraga [Feivel] Iser [Filip] Koegel - שרגא [פייבל] איסר, קוגל ז"ל
(AKA - Kogel, Kugel, Kiegel, Keigel)
Last updated - December 19 2004, by Alex Koegel (see my contact details at bottom)
Our father passed away on the 30th April 2003 - כ'ח ניסן תשס"ג , just 2 weeks after his 86th Birthday..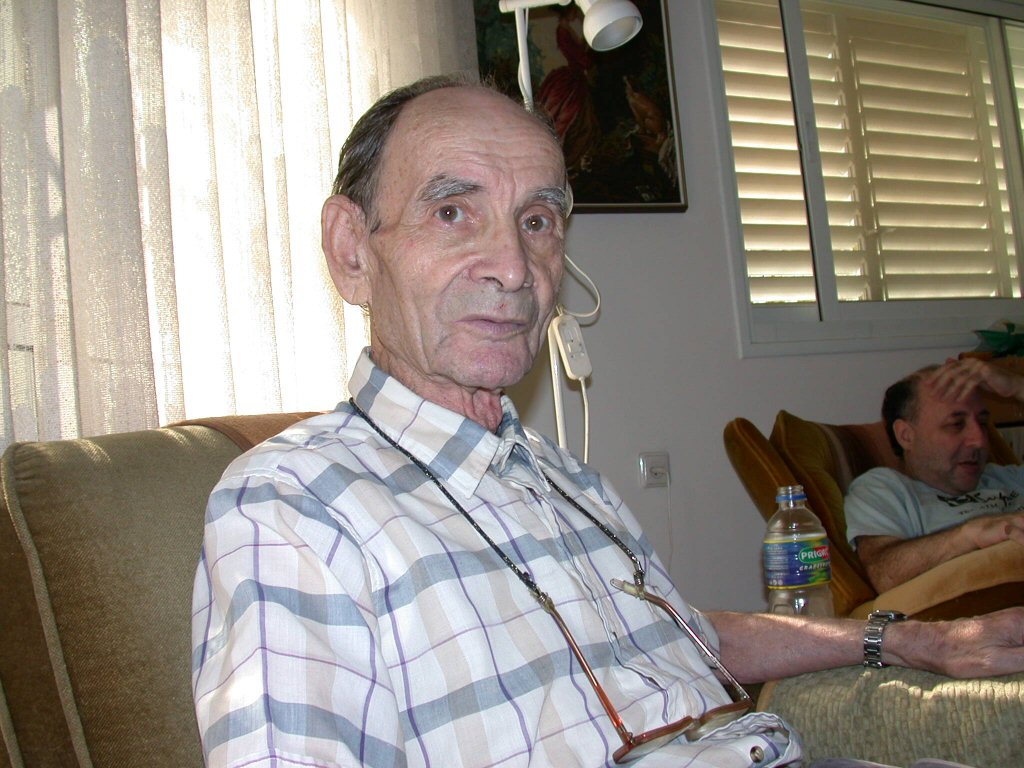 This is his last picture [taken 25th October 2002]
God Bless his Soul
Chapter I: Iser early days in Presov & Prague:
My father was born on April 14th 1917, in 'Presov' [now in Slovakia] "126 Hlinkova" street (pre-war & war time name - later changed to "Masarykova" [to the best of my knowledge based on some family documents] ), to a very strict Orthodox Jewish family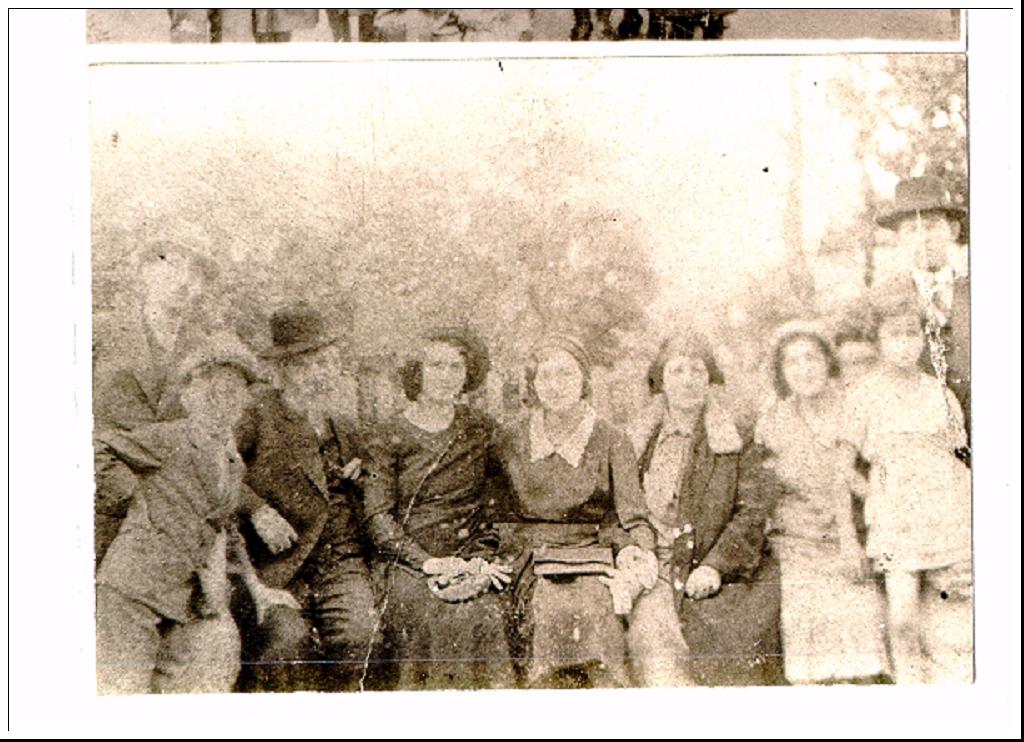 [Father & Mother top Left 3rd & 4th] . At just before the age of 18 [1935] Iser joined "Mizrachee" and left his Presov parents home for Prague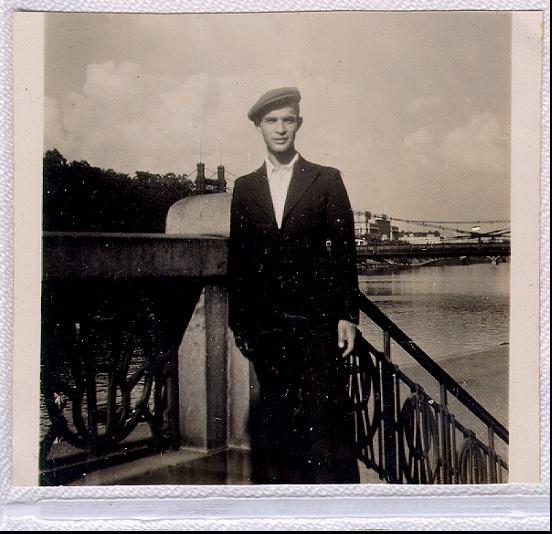 where he spend 4 years in a pre-emigration youth camp [top right - in "Hachshara"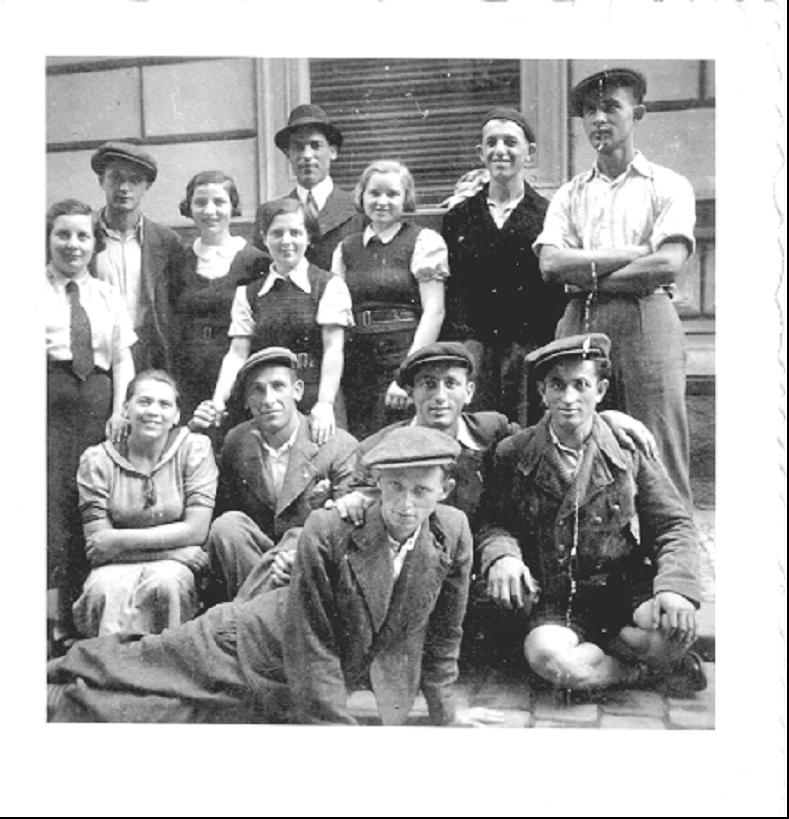 'Nachliely Group' 'קבוצת נחליאלי' - Iser standing at the back left top corneer]. Here is my father side Family Tree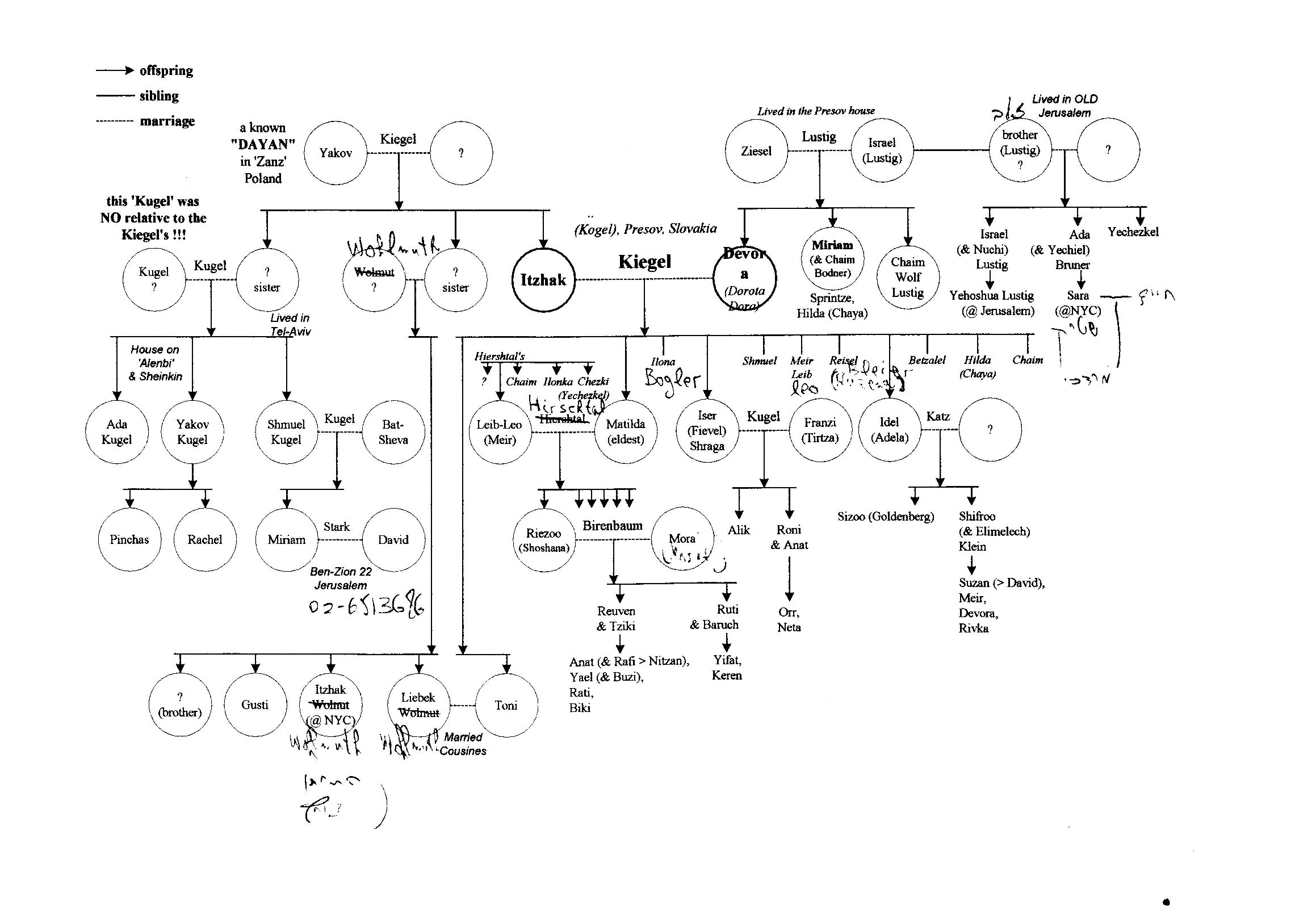 .
During my father teenager years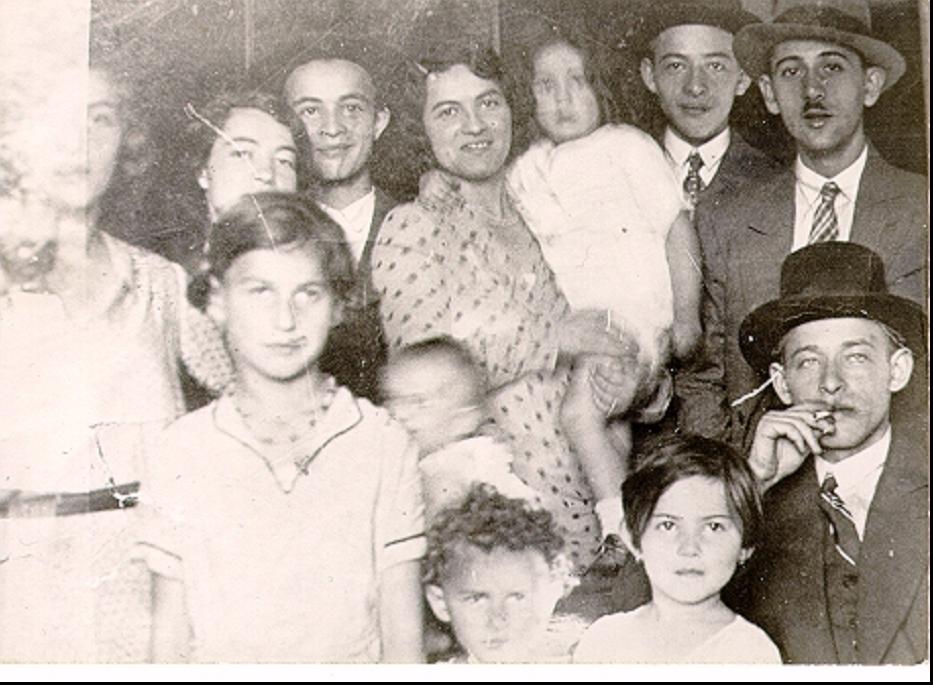 ,
[in picture, from left to right are:
- Reisele - Iser's sister,
- Elonka - Iser's sister,
- Iser - at top 3rd from left,
- Tony - Iser's sister (next to Iser's left),
- Betzalel - Iser's brother,
- Liebeck Volmutt - Iser's brother in law (married to Tony, and also Tony's cousine),
- Reizu (Matilda Hirschtal's daughter - Matilda was Iser's eldest sister, not in picture) girl standing at front left, married Moshe (Mora)
Birnbaum [Birenbaum] - Reuven [Ruven] 's parents)
- Meir Leib - Iser's brother, lower left (below Leibecck)
].
the Slovakian Jews had gone through one of the worse traumas ever experienced by Jews in Europe. Not only by the Nazis, but also by the Slovakian themselves, headed by the the extreme cruel Slovak President, Joseph Tisso [a priest...]. The Slovak regime was the ONLY in Europe who PAID the Nazis for the Deportation of Slovak Jews !!!.
From History Timeline:
1939 On March 15, Carpatho-Ukraine declares its independence; it is immediately invaded and annexed to Hungary.
1941 Establishment of the first scholarly organization for Carpatho-Rusyns, the Subcarpathian Scientific Society in Uzhorod.
1944 Apr-May Over 100,000 Jews deported from Subcarpathian Rus' to Nazi German death camps. <---------------------- !!!!
1944 Sept.-Oct Soviet Army drives Germans and Hungarians out of Subcarpathian Rus'
1944 Nov. 26 National Council meets in Mukacevo and calls for unification of Subcarpathian Rus' (Transcarpathian Ukraine) with the Soviet Union.
1944 Dec. Orthodox Eparchy of Mukacevo accepted into the jurisdiction of the Russian Orthodox Church (Moscow Patriarchate).
1945 March Ukrainian National Council established to represent the political interests of Carpatho-Rusyns in the Presov Region (Slovakia).
1945 June 29 Czechoslovakia ceded Subcarpathian Rus' to the Soviet Union.
See the full Slovakia history timeline - here ...
Chapter II: Iser emigrates to Palestine:
In late 1939 my Father Shraga Iser embarked on an illegal Palestine-bound emigration [so called "Illegal Aliyah"] coal ship ("HILDA"). They sailed from Romania, through the black-sea, and after almost 3 months on sea ! they ended up on the Haifa coast. Upon their arrival, on 23rd January 1940, the British Navy apprehend the illegal immigrant ship [see the Jewish Agency records - here, and the Hebrew University Jerusalem records - here], and sent all its occupants to an illegal emigration British camp in "Atlit" (south of Haifa) - where my father had spent nearly 3 months.
Upon his release from the "Atlit" camp, he joined the Mizrachee religious Kibbutz of "Mitzpeh" (on the west high slopes viewing the "Kineret" lake). Social life in the kibbutz were undergoing turmoil and disagreements, on the background of two different opinionated religious groups. After just 3 months in the kibbutz, my father moved in to his aunt's [Ada Kugel] 53 Allenby Street house in the city of Tel-Aviv.
Chapter III: Iser enlists as a volunteer soldier to the British Army Commando ME 51
(a Palestinians and Jews mixed platoon):
After the break of WW2, in early 1940 the "Jewish Agency" in Palestian (the "Jewish Sochnoot") issued a call to local Jews to participate in WW2 efforts against the Germans in the Middle East. My father, Filip Koegel [aka Kugel or Kogel], who had just emigrated to Palestian in late 1939, worked and lived in Tel-Aviv. Very soon [on 14th October, 1940] he decided to volunteer and answered the call. After enlisting to the British Army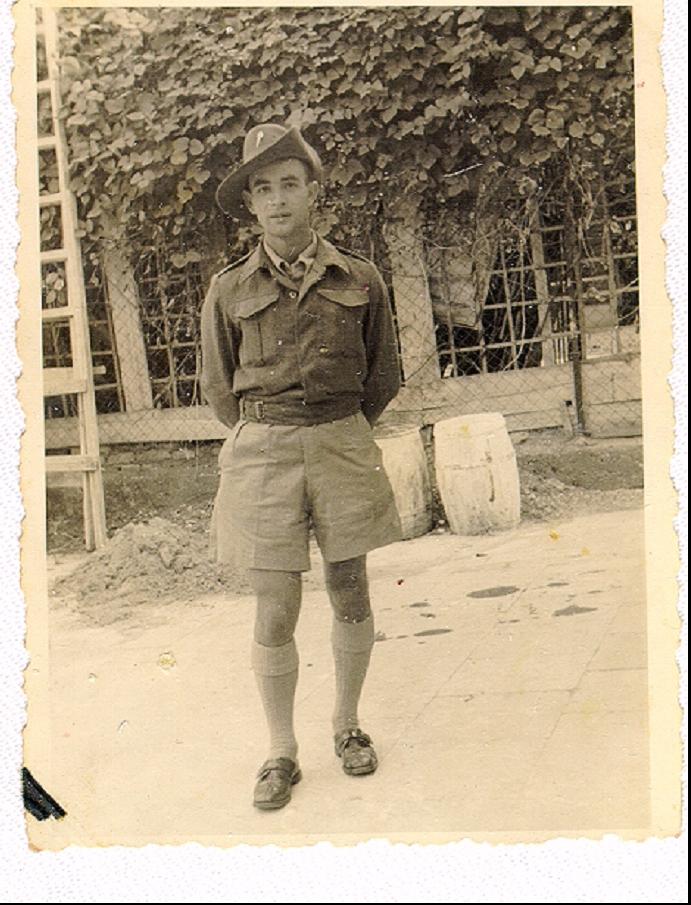 , Filip was first sent to the British Army basic training camp in "Sarafend" base (today known as the IDF "Tzreefeen" Logistics Training base). After few weeks of basic training, he volunteered and was selected [among few] to the then newly formed 51st Middle East Commando unit. They were then send for more extensive special commando training in Egypt's 'Faaeed' area [near the Sues canal]. By early-1941 the unit amounted to about 340 soldiers (60% Palestinian Jews, and 40% Palestinians Arabs) and was send to real action at the then Italian occupied Eritrea. They saw their first battle at 'Keren', and later on at the key strategic Italian stronghold on the steep 'Amba Alagi' hill [aka "Commando Hill" - south to 'Abyssinia'], then at 'Asmara'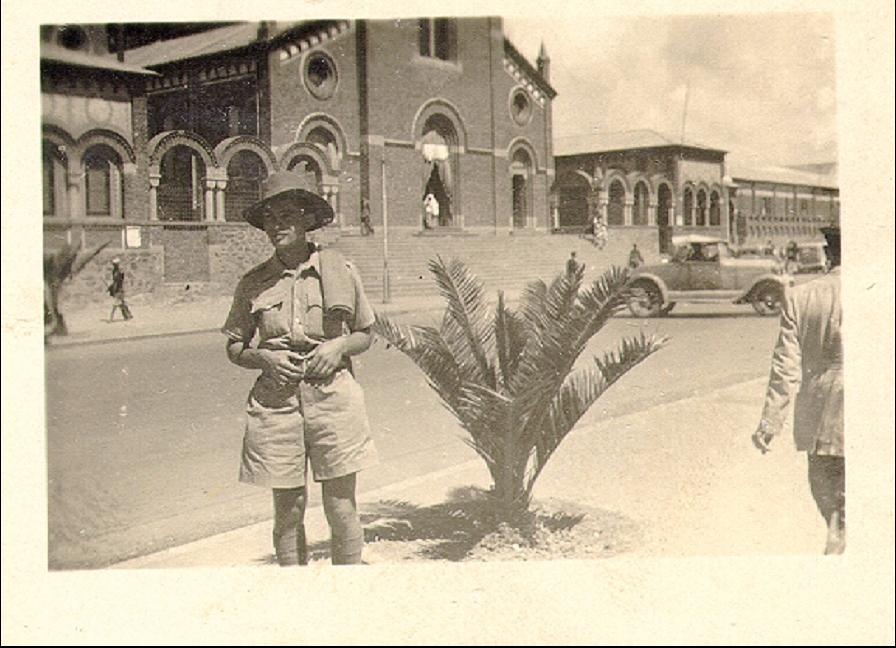 [Synagogue in background], and lastly at 'Gondar'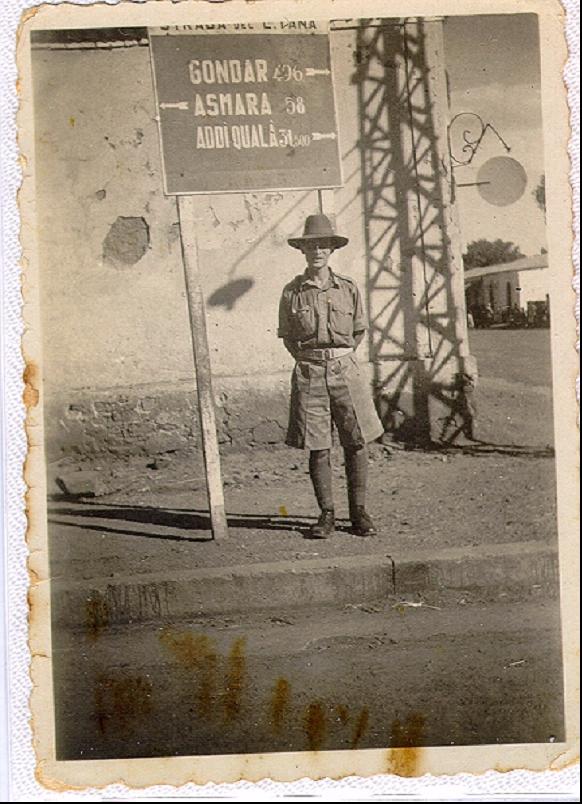 . The courageous battle fought at Amba Alagi took place in early May 1941, and is well documented for being a key strategic move in the total Italian capitulation in Eritrea in 16 May 1941. The 51 M.E. was dismantled near the end of 1941. My father then served 3 more years in the British Royal Engineer Corps in Iraq & Iran. Some pictures with his best friends Karl Amitai [Zentner]
[left], & Dolphi Zentner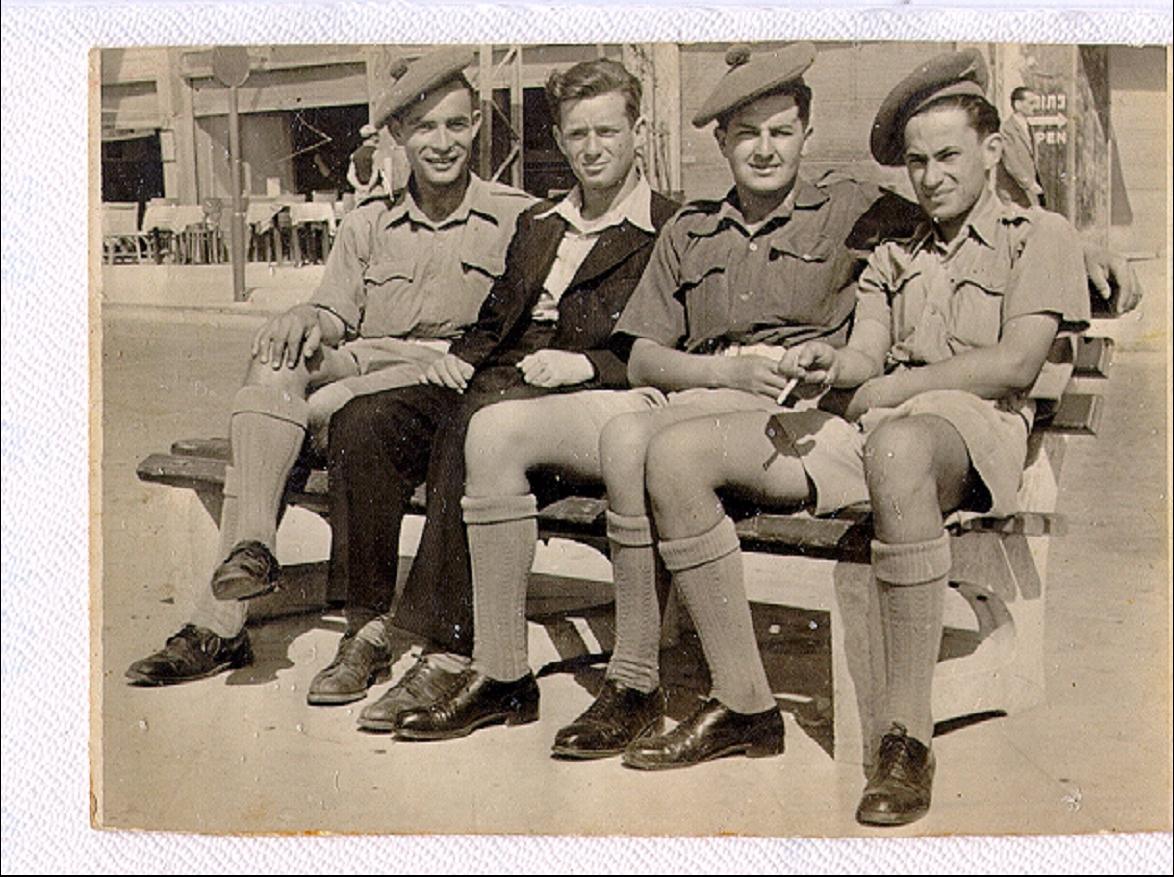 [2nd from right (who passed away just 43 days after my father).
Chapter IV: Kogel Family Holocaust Tragedy:
My father's most significant trauma was to realize [in late June 1944] that all his family [Father, Mother, and 9 siblings] perished [most probably in the Auschwitz-Birkenau concentration death camp, just across the border in Poland]. He got no response to a routine Telegram he sent to his father [Itzhak] through the RedCross from his British Military Post in Iraq - here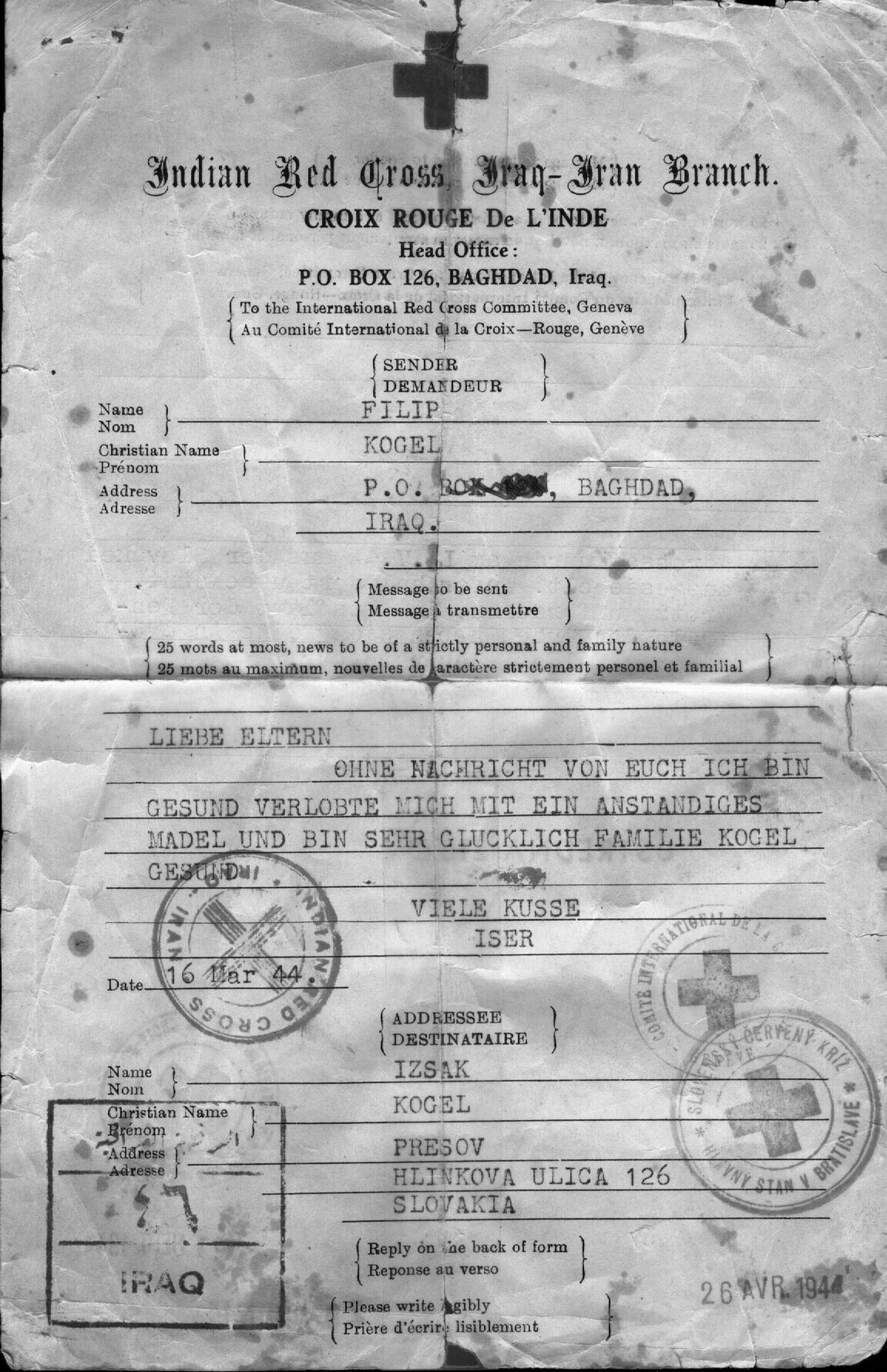 [at the front of cable- which says: " Dear Parents. Without news from you. I am healthy. I fell in love with an outstanding girl and am very lucky. Family Kogel Healthy. Many kisses - Iser" ]... and 3 months later - here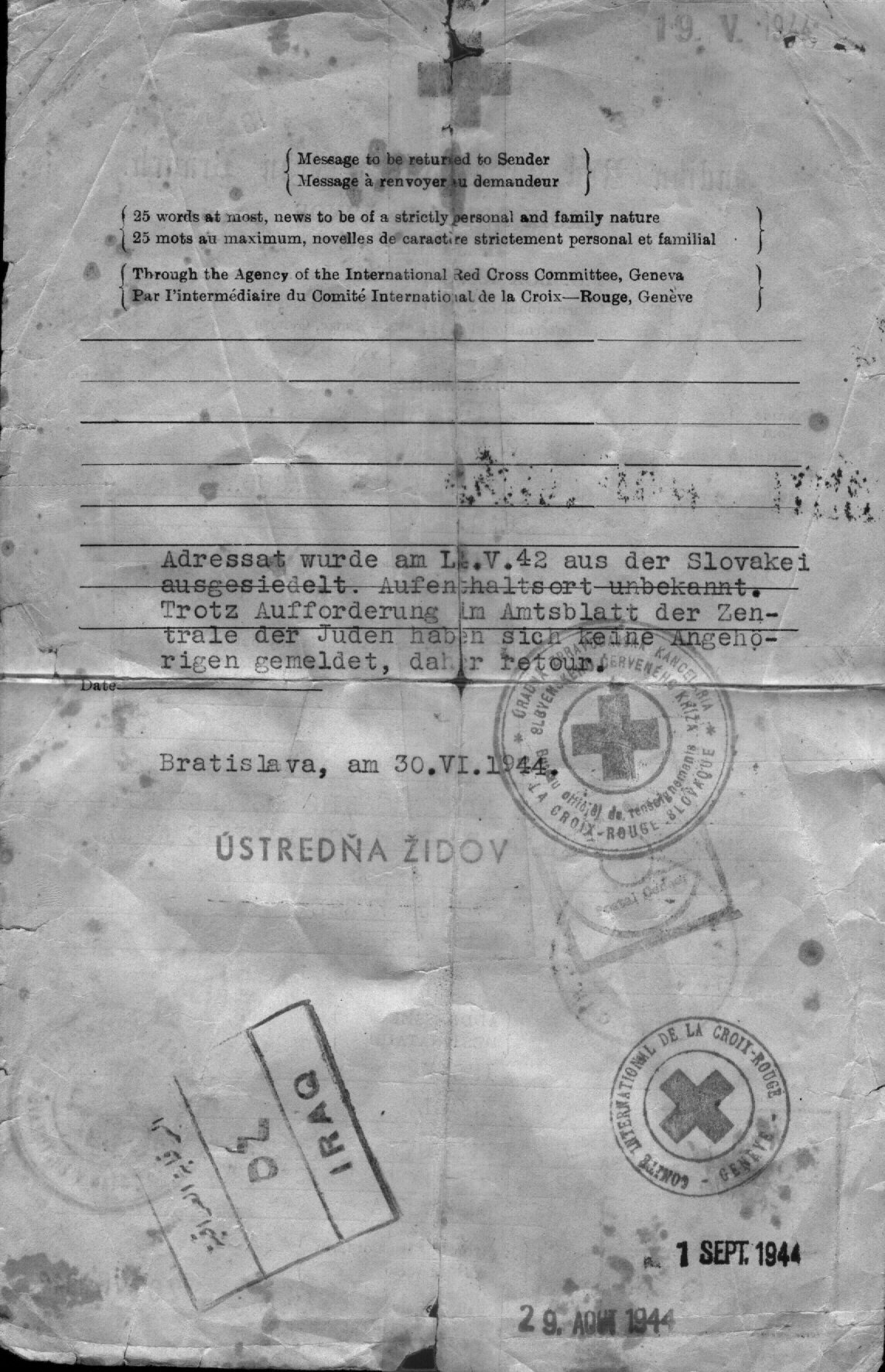 [at the back of same cable - which says that the addressee has left Slovakia, and that best efforts to locate their address failed]. It was pretty clear to my father that "leaving Slovakia" actually meant Deportation and certain Death to his family.
Chapter V: Iser Rebuilds his life & a new family:
Iser got married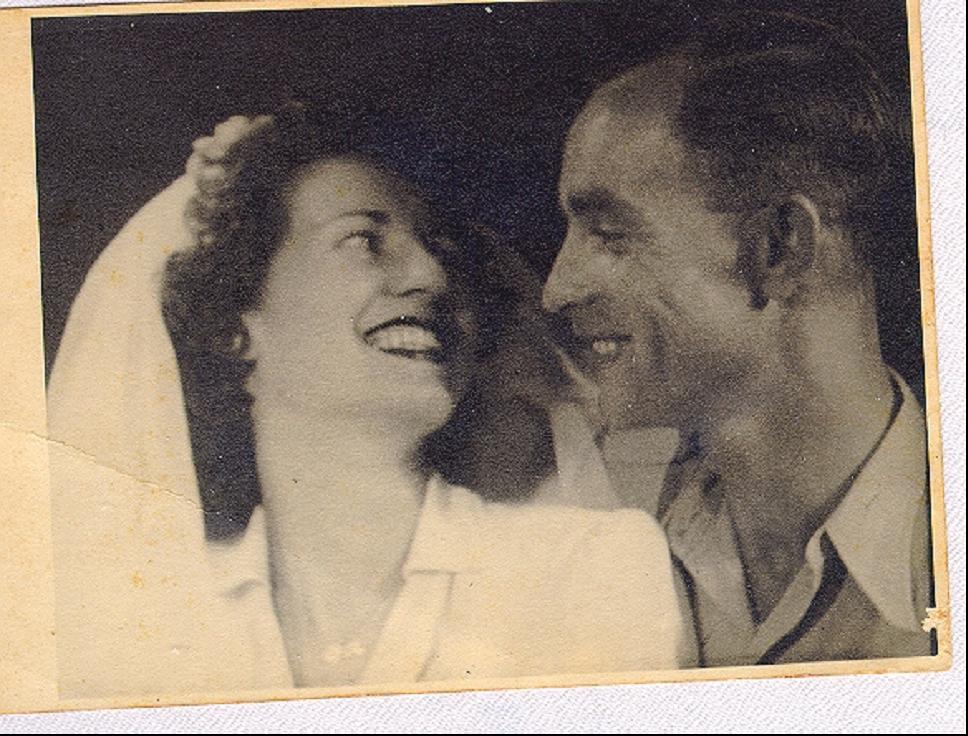 [NewsPaper Notice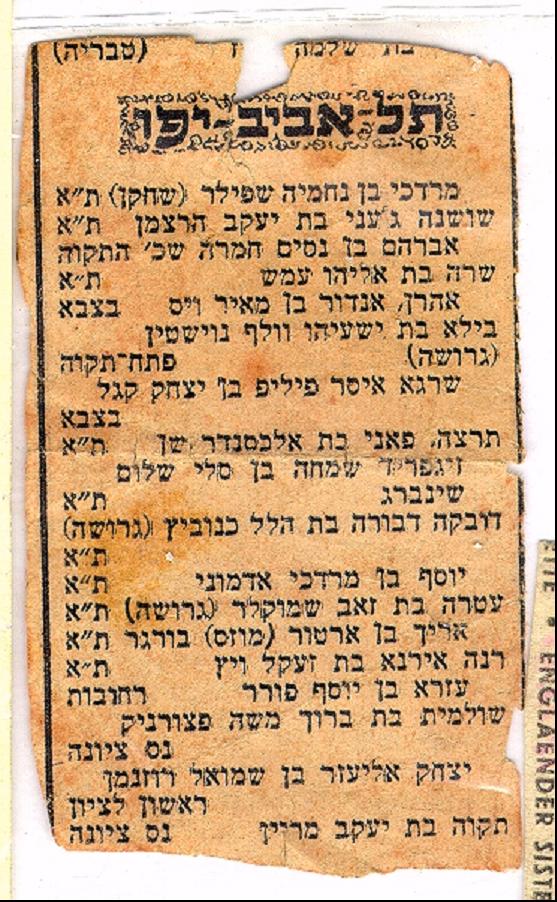 and "Ktuba"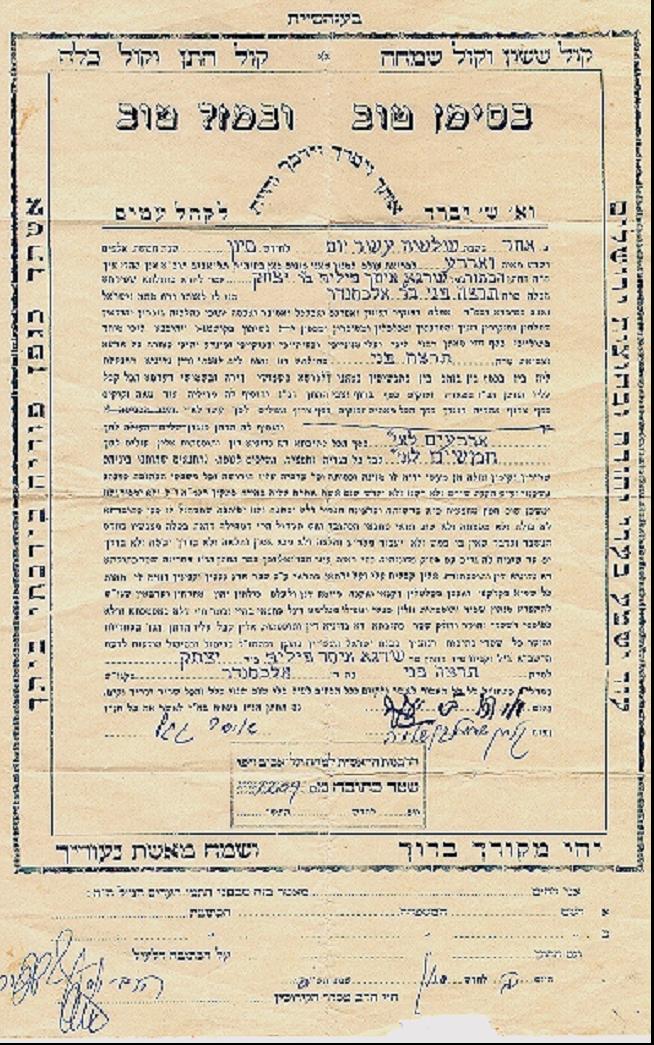 ] to my mother [Franzi
Tirtza, Chana] on June 4th 1944 [my mother passed away on June 21st 1992at the age of 70]. I [Alexander - Alik [Alex]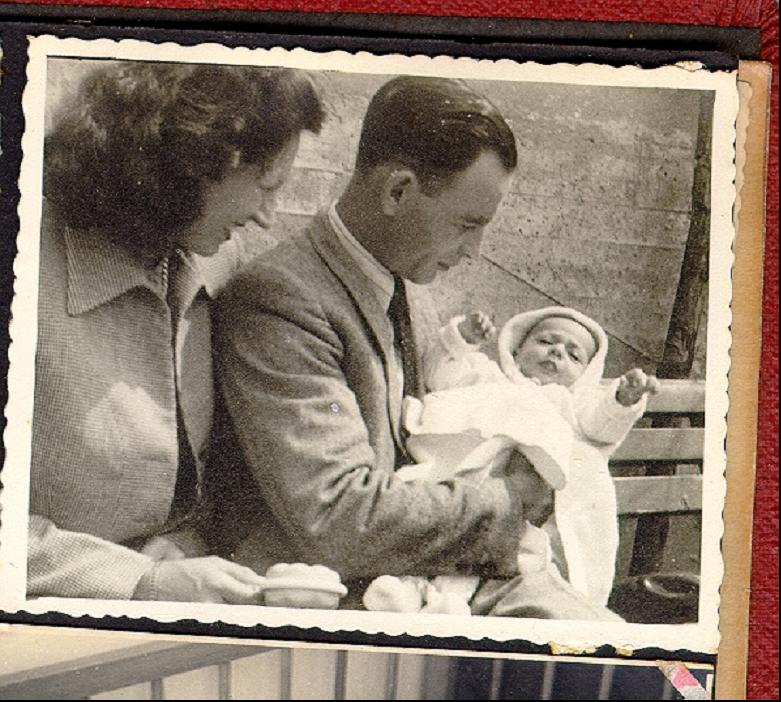 ] was born on 7th Dec. 1948, and my brother [Aharon - Roni [Rony]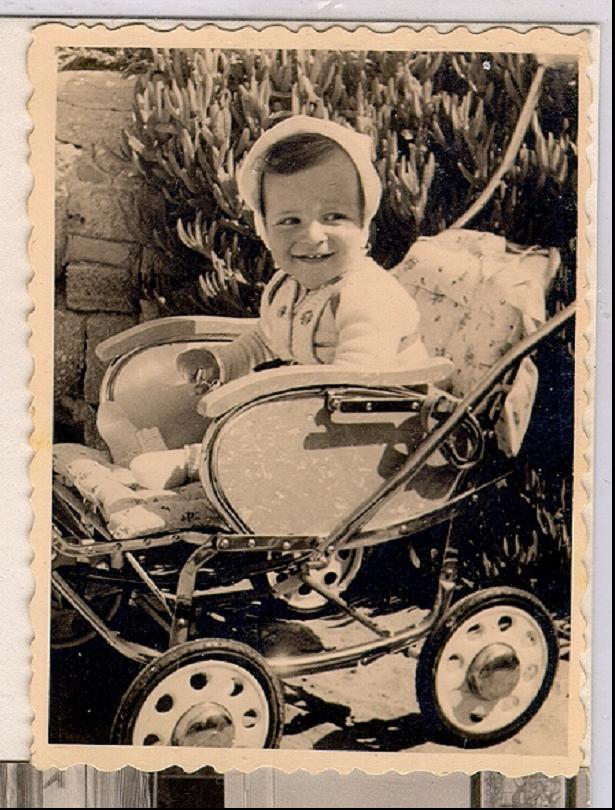 ] on 13th May 1956. Our early 'kid' days family picture - here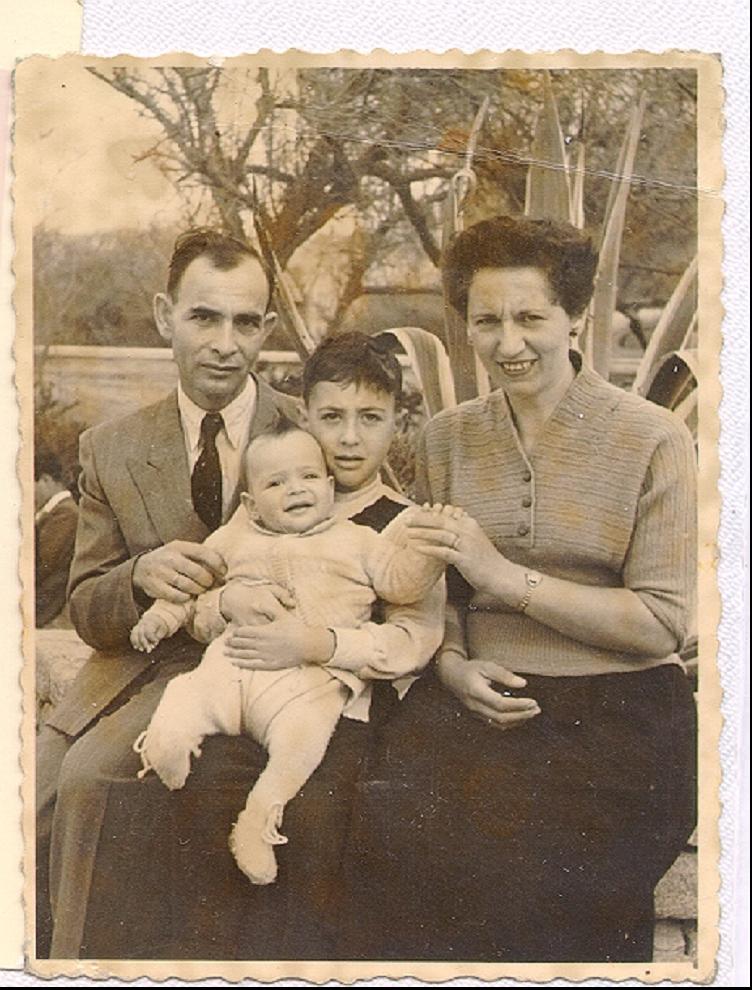 ...
My parents were blessed to have 2 cute grandchildren Orr & Neta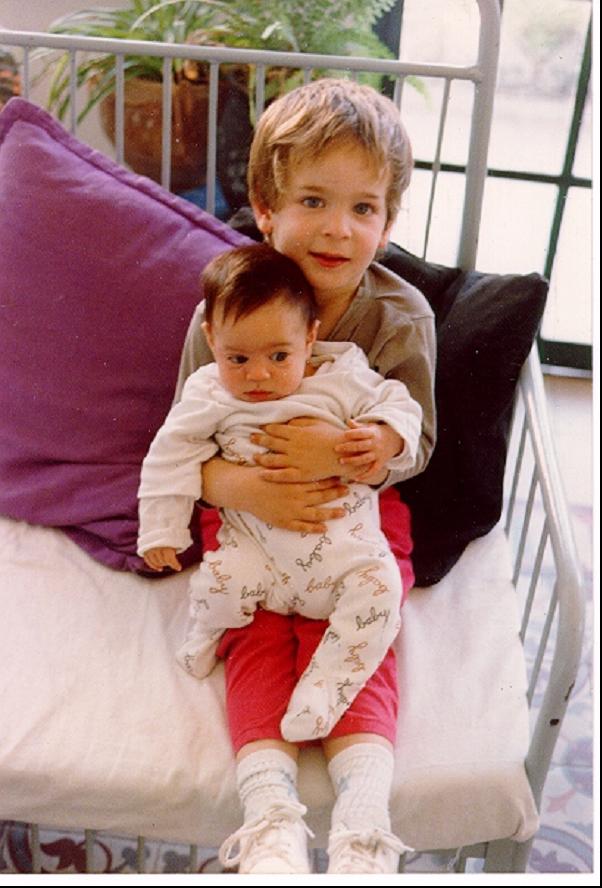 [Roni 's & Anat 's children born in 1988 & 1991].
Chapter VI: Family Holocaust survivors:
Besides my father, only 3 close family members survived the Holocaust - and all who survived are his 3 nieces - Riezu Birenbaum [shown above as a young girl - passed away in 1999], Zisl [Zisu] Goldenberg, and Shifra [Shifru] Klein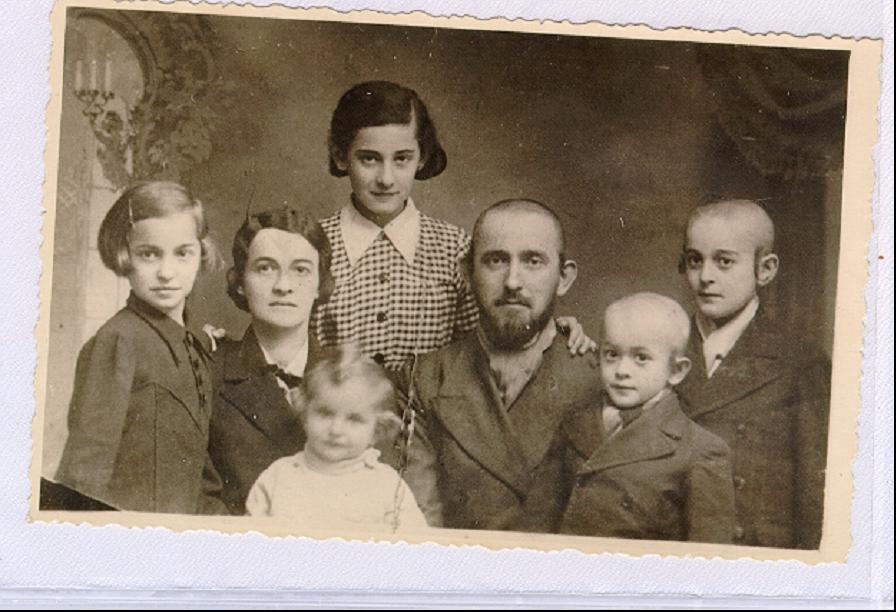 (two sisters living in Brookline NY USA, and are the two surviving daughters of Adel [Adela, Eidy] and Meir Zeev Katz - Iser's sister). Reuven [Ruven] Birenbaum [Birnbaum] [Reizu's son] is pictured here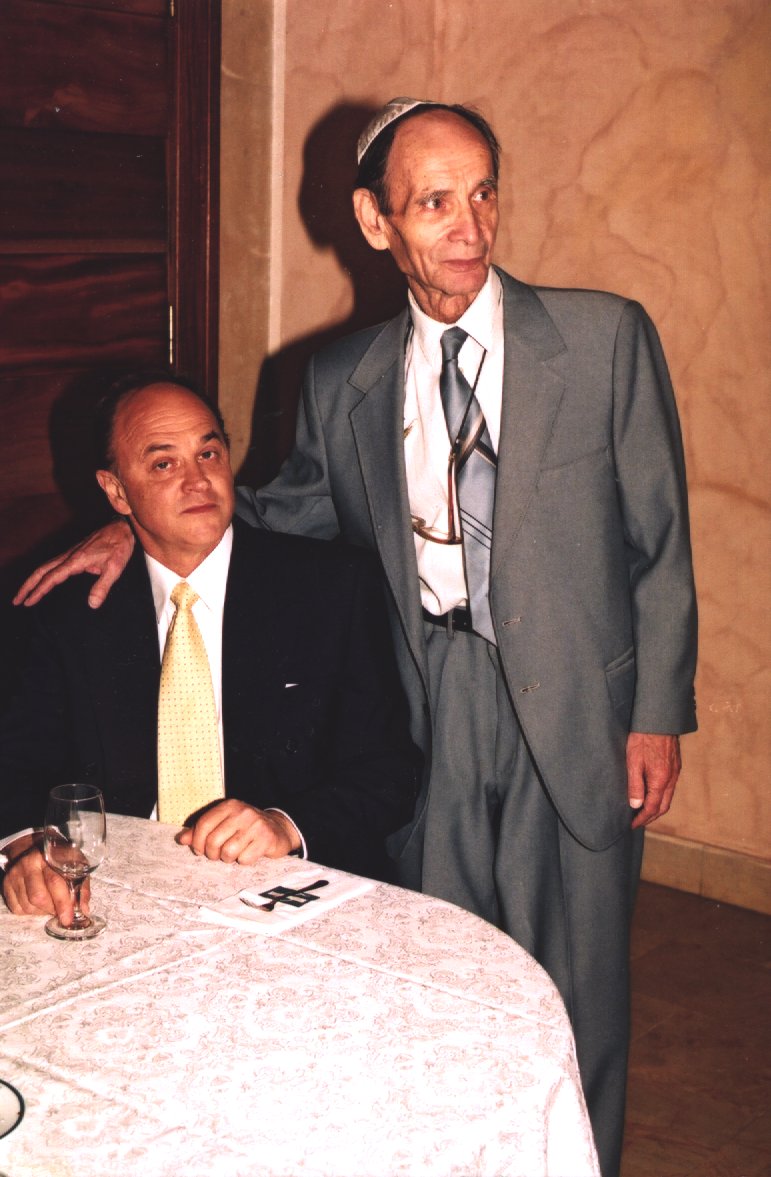 with my father, in Reuven [Ruven] 's daughter Raty [Rati] wedding back in February 2002.
Chapter VII: More Information:
For Yad-Va'Shem 'Witness Records' (as filled by Iser back in 1956) - click here ...
Or, go to Yad-Va'Shem database of Holocaust Victims Search, and search with KEYWORDS: Family - kogel , Location - presov
For some more of my family pictures click here ...
Chapter VIII: Commando M.E. 51 background:
The 51 Middle East Commandos unit was part of the British 5th Indian division in the famous Eritrea battles in 'Keren' 'Asmara', and mostly in "Amba Alagi" hill [aka "Commando Hill"] an Italian fortress that resisted very hard ...here ...and the full 5th Indian division WW2 battles story is ... here ...
Mr. Maurice "Monju" Tiefenbrunner [aka Tiffen] [my father good friend and colleague in the 51st Middle East commandos] served with my father one year only [during 1941], but then was recruited to a secret espionage unit of mostly German language speaking Jewish volunteers. Mr. Tiefenbrunner's story is here ... and my father is mentioned at the end of 4th Paragraph...
Click ... here ... for the WW2 events timeline in the Africa Desert war.
Click ... here ... for the FULL WW2 story, and especially focus here for the war fought in the Middle East [including East Africa, Eritrea...with this emphasis].
Click ... here ... for the British RAF 237 Squadron story in Africa with a little special on the Amba Alagi bombardments.
Excerpts from Dessert War diaries
Indian Division diary "...After the defeat [in Asmara on 01 April 1941], the Italians withdrew their remnants from Eritrea to Amba Alagi and Gondar in Abyssinia. Amba Alagi was captured on 16 May 1941, when the Italians capitulated and surrendered unexpectedly...". Another source documents "...16/05/1941 - The Italian forces under the Duke of Aosta [Duke Amadeo of Aosta, Governor of Italian East Africa] surrender to British forces at Amba Alagi in Abyssinia..."
Some books on the 51 M.E. unit:
1. MESSENGER, CHARLES. MIDDLE EAST COMMANDOS - cover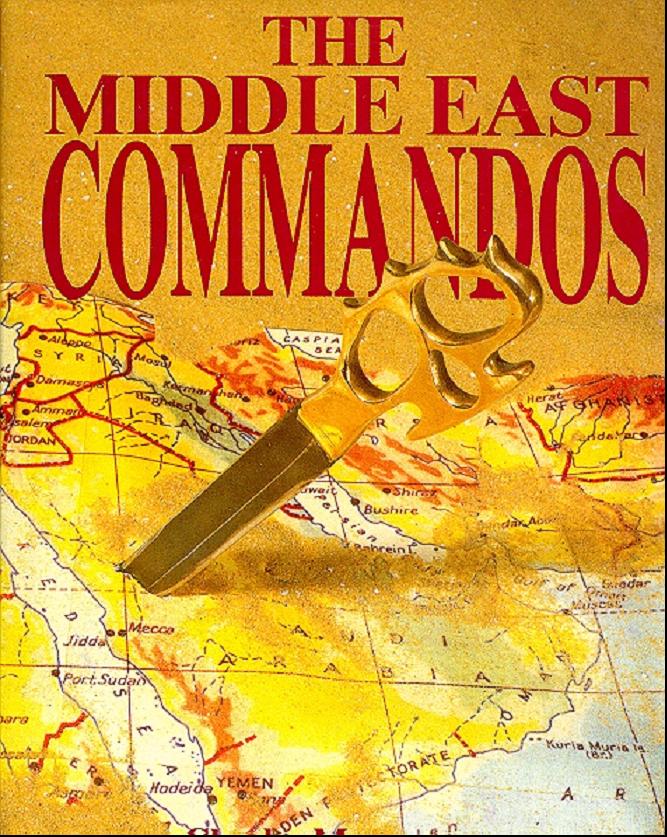 1988. KIMBER, 1st edn, 176 pp, ills, VGwVG d/w, fine. This story of 50, 51, 52 Commandos from 1940 to 1942 strikingly illustrates a grievous misuse of special forces. $30.00 - £20.00
2. Royal Marine Commandos Britain's Green Berets by Simon Dunstan. Spearhead 11 is packed with images and data on one of Britain's premier elite units in the Second World War. Following the loss of Norway and Churchill's 'butcher and bolt' order of summer 1940, the first (army) Commandos were developed. Actions included Dieppe, Torch, Husky, taking the islands of Monte Cristo, and Pantelleria in June l943, Salerno and Anzio, Overlord, the capture of Walcheren and crossing the Rhine at Arnhem, Elsewhere, Commandos performed with great glory in the Desert War and in the Middle East, where Nos. 50, 51 and 52 Commandos fought in the battle of Crete, and in actions in Eritrea and Abyssinia. Softbound, 96 pages, 7Y2977R Spearhead 11: R Marine Cdos $19.95 - here ...
Mirror (identical backup) sites:
http://people.freenet.de/roli_bark/Shraga_Iser
http://shragakogel.topcities.com
http://fire.prohosting.com/rolibark
http://shraga-iser.tripod.com/
http://rolibark.myfreewebs.net/
http://rolibark.ifastnet.com/Shraga-Iser/
http://www.geocities.com/roli_barkk
Contacts Email:
(replace _at_ with @ , and _dot_ with . )
[ last updated Nov. 23rd, 2006 ]