snapActions (Updated Apr 30, 2003)
Adobe's Photoshop ElementsTM programs do not allow users to record, edit, or organize Adobe PhotoshopTM Actions. Yet the basic capability to play Actions is present in Elements. I used techniques pioneered by Richard Lynch, author of The Hidden Power of Photoshop Elements 2 (www.hiddenelements.com), and built an actions interface that fit my needs. SnapActions is the result and I decided to share it. Richard is not associated with snapActions and does not endorse it.
SnapActions provides an interface to access and play Elements-compatible Photoshop Actions via the How-To/Recipes palette. It allows you to create menus to organize and play the Actions.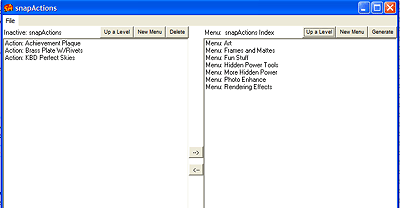 For users, snapActions lets you:

Add any number of Actions, individually or collectively, in any order. SnapActions eliminates the need to install Actions sets in a certain order and mitigates the risk that one Actions set might overwrite files from another.
Remove any number of Actions, individually or collectively, in any order. If after trying out an Action you decide you don't like it, remove it from the interface without any impact to current Actions you have or future Actions you decide to install.
Customize the menus. Mix Actions and sub-menus on the same page. Create your own sub-menus and group Actions to your liking. For advance customization, you can change the description of the Actions and add or remove the associated preview images.
For Actions authors, snapActions lets you distribute your Photoshop Elements compatible Actions individually or as a set, without editing HTML codes.
The basic package comes with all the previews and actions for Bud Guinn's frames, mattes, his collection of paint sketches, photo enhancements, and Al Ward's (www.actionfx.com) text effects, for a total of over 80 Actions.
If you have installed the predecessor to snapActions called Ling's UI, you can download the PC upgrade for Photoshop Elements 1 or Photoshop Elements 2. If you have a Mac download the Mac upgrade.
If you've never installed snapActions or Ling's UI, download the basic package for your platform and version:
PC self-extracting for Photoshop Elements 1
PC self-extracting for Photoshop Elements 2
Mac archive.
FOR WINDOWS USERS: If your PC has Sun Microsystem's Java Runtime installed, download the JAR version of snapActions. Use it in place of snapActions.exe.
IMPORTANT: I had unknowingly left out the Hayes Island paint sketch from the downloads above. Please get it here. After unzipping, move the XML file to LUI/add and run snapActions to install it into whatever menu you choose.