---
PROFILE GALLERY ARTICLE Prayer For rico E-MAIL ME
---
I want to be remember by the people that I help.
As somebody who always managed to be there,
When they needed me the most. And I always told them,
that no matter what happen, I'll always here by your side.
And will never stop until, I'll help you to achieve your dreams;
-=RICO=-
---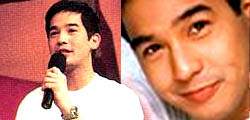 The Rico Yanism, anyone?

Knock. Then the door opened; he was sitting beside the door, perhaps about to read the newspaper. After the apropos introductions, he asked me to give him an overview of PinoyCentral and I go, "uh huh, of course…[trying not to choke with all those little mints on my mouth] but can I use your bathroom first?" Without waiting for his response I went straight to the little box and flushed those little mints.

Fine. Gone are the good 'ol first impressions that I've always cherished. Hey, it's not usual for a celebrity to be really interested in my job. In a very business-like manner, I explained to him my website and he was quite impressed. That is, as far as I was concerned. Afterwards, we went straight to the interview, and it was my turn to be amazed at how intelligent he answers questions, at how rational and deep the person beneath the boyish facade is. Wearing a moss green polo shirt and cream walking shorts with sneakers; he could pass as a teenage guy out to have fun. But when he began talking, I saw a politician in the making--not (!) your traditional politician but a vigilant public servant with real emotions. At 24, he speaks with conviction, with much sense.

Here is Rico Yan, unmasked...

PC: Where did you celebrate the coming of the new millennium?
RY: In the house, in the company of my parents, coz of the belief that in receiving the new millennium, I think we should be with our loved ones, and the closest persons to my life is my family. My friends came the day after. But during the 31st, we stayed at home, talked about our plans, where our goals are, because I think it's very healthy for a family to discuss your goals, so that each of you will know, I guess your duties as a family member toward your common goal. Like if my dad says I'm gonna do this, then I have to do something that will compliment your profession and at the same time thicken the capabilities of the family. As soon as we finished discussing that, my mom got me drank. Befitting, huh? She was laughing at me the next day.

PC: What's your morning Ritual?
RY: I have to wash my face, and of course I do my stuff in the bathroom, and then ahh, I don't eat breakfast, that's one bad trait about me.

PC: Yeah, because they say it's the most important meal of the day.
RY: The most important meal is breakfast, but I don't. I don't know, it's something that my body has got accustomed to, that whenever I eat breakfast I move before lunch, so I cannot.

PC: Oh I see. Because during lunch you're usually out of the house already.
RY: Hahaha! Yeah. kumbaga, 'oh-ow, gotta go to the john' I cannot eh. So I skip breakfast, and then I eat lunch na lang, merienda and then diretso, dinner, okay lang, I move late at night na, that that's my problem.

PC: So your first meal is lunch na talaga?
RY: Yeah, my mom--sanay na siya. Whenever I wake up okay, what do you want to drink? I just go juice, something just to fill my tummy. Something like that, not like you know a meal with rice or bread, I cannot.

PC: Okay, what's a typical day in the life of Rico Yan?
RY: Typical day, I usually wake up at nine.

PC: Talaga? Even if you slept late the night before that?
RY: No, pag late na ako natulog, okay, the thing about my maternal family, is that they are, they really have to abide by the nine-hour-rule in sleeping. If they didn't get that, their day won't be that productive, kumbaga nasanay ako doon.

PC: Maybe that's the reason for your beautiful skin.
RY: Naaks! Thank you, thank you. For me kasi I believe in the businessman virtue na if you start ahead of the path, you become successful. So I have to adjust to that state of-no matter what time I sleep, I have to wake up early. So I try to wake up early. If I wake up beyond ten, for me parang I missed half a day already. Normally I try to wake up at nine. I have to go to the office, I stay there until mga 4 or 5, then I go, I leave for some personal stuff-gym, exercise, badminton

PC: Do you go to the gym everyday?
RY: No, I not make it a rule to go there everyday, otherwise I'd be really...[making some imaginary silhouettes of exaggerated muscles and bulges, which he doesn't like]. I think for you to achieve the physique that you want, you have to have a proper balance of cardiovascular, and of course your aerobic exercise and your weight training.

PC: So where do your tapings and/or shootings come in?
RY: Well, technically I'm part time in the office eh, so that gives me the leeway to tape, shoot [Marvin Agustin goes: chicks pa]. And if ever naman there are days that I have to spend with tapings, I give the office prior notification so I compensate the work at home.

PC: Favorite place at home.
RY: Kung nasaan yung TV. I don't have a TV inside my room, there's a TV room. I was able to save up a couple of pesos from the past, I was able to buy these speakers, which give you this 'surround' sound-parang nasa sinehan ka. TV is our only way of taking our mind off our problems or work....kumbaga kasi, the creativity side is actually not the technical, it's in the subconscious eh. So by watching TV, you release stress and at the same time, you get ideas.

PC: What's your favorite TV show? [While he was thinking, Marvin answers 'Pay per view' then
RY: Rico goes, 'No, I don't watch that, I buy ah.'] I like Southpark, pero kung local, since me and Marvin and Dominic are conceptualizing a couple of shows, I tune myself to Dawson's Creek.

PC: What excites you?
RY: Girls, new gadgets, for example I get a palm pilot...electronics excite me. Cars (!) excite me, I am an enthusiast, pero I go for vintage cars, I prefer what's really priceless for this year…in that year.

PC: What depresses you?
RY: I don't get depressed eh.

PC: Okay, what upsets you?
RY: Anything out of the ideal step I like to uphold. Well, I have to admit, I'm like fresh out of college, yeah and you know, when I see that coming from an environment wherein things are supposed to go the right way. Like you got yourself into the real world, introduce yourself into the real world, and you see that everything is topsy-turvy.

PC: But they say that reality bites
RY: Reality bites, but I'm not going to bite that, because I know it's wrong. People say, just get used to it, but my opinion is, why should I get used to what I believe is wrong? Because everybody has the inherent capacity to make a difference, so the question is do you have the guts to make a difference or are you coward enough to bite reality?

PC: That's a very good conviction.
RY: Thanks.

PC: Current obsession
RY: I'm writing. I have delusions of grandeur in writing book.

PC: Well everybody likes to do that.
RY: Yeah, tell me about it. So every so often, whenever I get spurts of idea, type kaagad. [He has a column in Manila Bulletin. C'est la Vie contains most of his points of view and it comes out every other Tuesday). So there, I have delusions of grandeur to write a book.

PC: Okay, this book will be about...?
RY: Points of view pa rin. We have to admit, values, principles, morals-they're intangibles, so my only way of keeping a good grasp of whatever it is that I have is through writing. So you put it into writing for everyone to know.

PC: Cool. So it's gonna be like Rico Yanism
RY: Laughs. yeah, something like that. I'm going to be the next Deity of religion.

PC: Do you have any fetish?
RY: I have a fetish for feet. I don't know, that's why when you meet a girl, for example you get introduced to a girl, "hi" tapos kunyari you're gonna get something, you look at the feet kaagad. I also have a nape fetish. Once I see the nape of the girl, I always go, aaaah...that's more of a weak spot. I also have a leg fetish--long legs.

PC: What are you looking forward to?
RY: 1999 admittedly has been a bad year for me as far as my showbiz career is concerned; but God has been very, very good in blessing us with a lucrative career in the restaurants. It boomed.

PC: It's not a bad year, after all.
RY: Yeah, I'm very, very thankful, so at the turn of the century, I thanked God, for you know, for every disappointment there is a corresponding blessing, that's what I should look at for this year.

PC: Who or what inspires you?
RY: Well, I don't want to be pragmatic, or carrying my own cross so to speak, but I idolize my grandfather, Manuel Yan. Because of, whatever it is that he believes in, in 1942, he still believes it until now and eight administrations have never even changed that. As a public servant, he was wise enough not to follow the chief executive but ratify the constitution, which is really meant to uphold the interests of the constituents. Well, right now, I try my best to be like him. Because of the way I idolize and epitomize my grandfather, it did make me vigilant, but because of my lack of military background, I don't have the discipline to control my emotions. So whenever there is something or someone comes in the way between my principles and myself, I become very emotional.

PC: Now that's one unique trait, which makes you different.
RY: Probably. But to put a fine point into it, my grandfather is disciplined towards his emotions to become very diplomatic. But me, probably, once people push me a bit too far, I have to compromise what I believe in. I become abrasive and very heightened.

PC: Greatest fear?
RY: Long pause. At the moment my fear, I think not being able to tell myself that I did my best in everything I do.

PC: What's always in your fridge?
RY: What I always have is mga thirst-quenching drinks, parang after a hard day's work, you just drink it up, to cool your self down and I always carry ice cream.

PC: Talaga? What's your favorite ice cream flavor?
RY: Well right now---have you tried the nestle crunch? So there ice cream and then ahh, coffee.

PC: Oh, how do you like your coffee?
RY: Brewed, black with sugar. No cream, cream for me is an insult to coffee.

PC: Well, yeah, because some people actually drink milk with coffee, I mean, you know not the other way around.
RY: Yeah, parang you don't get the robust aroma and taste of the genuine coffee.

PC: Favorite coffee shop.
RY: Of course I'll patronize my own, Timbuktu (his coffee shop along Nakpil st. in Malate).

PC: What's the title of the last book that you've read?
RY: Actually my mom made me read it, I forgot the title, it 's about faith. Basta it tells about a man and his faith amidst trying times, something like that. The last book that I've read, I mean relevant to what I remember is Brand Marketing.

PC: What would be your greatest indulgence?
RY: Porsche. I'm 24 and I'm single. Right now I can live in a Porsche for all I care, di ba?

PC: Exactly. Talking about being single, have you ever had your heart broken?
RY: Of course--twice.

PC: How many times have you been in love?
RY: How many times I've been in love? Countless, yeah, I mean I can fall in love with a girl the very first time I laid eyes on her.

PC: Talaga, totoo pala yun...
RY: But to love someone, that's a different story.

PC: Who's the girl for you?
RY: My ideal is really, ah, compliant to my fetishes. Aside from that, I have a weakness for mestizas. A girl who's aware of what's happening in her environment, in her society.

PC: Have you found her?
RY: Oh, I guess I'll never be sure until I can actually say that I'm willing to get married.

PC: Yeah.
RY: But ah, a lot of girls are like that. No, the only thing that's lacking is the conviction for me to actually convince myself that I'm ready to get married. But other than that, you know, relationship would come and go, and as long as you value each other, you're okay.

PC: Are you committed to anybody right now?
RY: Yeah.
*This site is constructed in the loving memory of RICO YAN *
---