---
PROFILE GALLERY ARTICLE Prayer For rico E-MAIL ME
---
I want to be remember by the people that I help.
As somebody who always managed to be there,
When they needed me the most. And I always told them,
that no matter what happen, I'll always here by your side.
And will never stop until, I'll help you to achieve your dreams;
-=RICO=-
---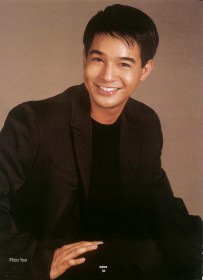 This Yan Could Also Cook by Rikka Dylim

The public first noticed Rico Yan in an astringent ad. As the cliché goes, showbiz beckoned and the rest is history. Aside from being a matinee idol and host of the noontime show Magandang Tanghali Bayan, Yan had several business interests on the side. He was part owner of a restaurant cum bar and a pearl-shake drink which has franchises all over the country. Rico was no stranger to cooking. He admitted that he once seriously considered being a chef.

Here's an interview we had with Rico recently. What can you cook anyway?

I've tried kare-kare twice.

That's just boiling stuff!

Okay, roasting beef! Japanese.

That's raw! That's just rolling stuff!

Teppanyaki!

Any anecdotes on your cooking?

The reason why I'm enthusiastic about cooking is due to my father and his love for cooking. I'd always hang around the kitchen with my dad. My mom hates the kitchen, so it was my dad who'd cook. I'd watch him while he cooked and he'd teach me a couple of tips, here and there. Then, I tried cooking when I was 11. I learned how to fry. I'm not just a bacon and eggs guy!

The craziest thing that happened to me was, I once burned all my facial hair. My eyebrows, eyelashes were all gone! I was cooking lasagna, I turned up the dial on the manual gas-oven when I'd throw in the match but the flame would always die. I left the oven door open and boom! My classmates didn't recognize me. I was 13 then and that was puberty! Sira ang diskarte, coed pa man din ang school namin! Press release ko exchange student ako! They didn't recognize me. I mean, have you tried taking off all your eyebrows?

What's you favorite food?

I go for simple food. Comfort food for me would be the recipe my grandmother handed down to my dad. It's called chicken-macaroni soup, it's like instant soup, but this one, you can do from scratch. It's something I should have on my birthday, Christmas, any occasion. That's one dish I can eat day in, day out for a month.

What food will you never eat?

Ampalaya. I avoid it because of the (bitter) taste but there are some restaurants that make it sweet and good. I guess for me, it would also be the 'inside job'. Mga laman-loob. Papaitan! Isaw, I eat. Innards as in pork intestines! You can't mistake it for anything else because it looks like a muffler.

What's the weirdest food you've eaten?

Cricket. I knew it was cricket because it looked liked one. It was deep-fried and I tasted it in one of the exclusive for-members-only club in Manila. There was this nationwide cuisine expo and they offered different cuisines from all over the country. They had a chafing dish full of crickets.

You tasted it out of curiosity or politeness?

Out of curiosity.

So, you consider yourself an adventurous eater?

Yeah. The way I see it they won't offer a dish that's not good or new to the palate. They won't kill me so might as well try it.

What's in your ref?

Orange juice, milk, eggs, cabbage and chicken breast.

Do you consider yourself a 'healthy eater'? Do you watch what you eat?

I don't want to be too health conscious but I don't want to be too careless either. Being too health conscious is also bad, just as too much of a good thing is bad. But two days a week I indulge in something like crispy pata.

Do you diet?

I watch my weight but not religiously.

Do you gain weight easily?

I don't, in fact, I lose weight easily.

Any supplements?

I take a lot of multivitamins and Vitamin C.

Do you exercise?

I'm into boxing and badminton and I go to the gym to work out. With our lifestyle, you have to find time because if we don't, masisira and katawan naming given our schedules. The way I see it, for every night you spend awake because of work, you have to compensate by going to the gym. It will keep the equilibrium of in your body.

Do you believe in the saying that "the way to a man's heart is through his stomach"?

Yes.

We can then assume that your significant other (Claudine Barretto) cooks?

The thing with her, she knows how to but she just doesn't. If it were the end of the world and we were the only two people stuck here and there are no delivery pages around, yeah, she can whip up a buffet!

But for as long as there's delivery pages and there's yaya or manang, she'd leave it (food preparation) to them.

That somehow impresses you?

To a certain extent, yeah. But for me, I would also appreciate it if on special occasions, a girl would actually take time out to cook for a guy. In general, it would touch guys more if women treat guys like girls.

Whereas, the regular routine is that guys would surprise girls by taking them to a romantic place with a candlelit dinner for two, a gourmet meal with a string quartet and a rose. I think it would impress guys more if girls would treat them the same way. Like "Come to this place and there is a setup for a table for two with a rose." I think that would pierce a man's heart.

Have you experienced such?

Sadly, no. But I'm hoping.

When you take a girl out, do you prefer casual or fine dining?

It depends on my mood, my partner's mood.

Given a scenario where you are unattached and you're out to impress.

If she's rich, I'd take her to a carinderia. If she's not so high in the social class, I would take her to a fine dining restaurant. One time, I took a date out and she was really dressed. I took her to this ihawan near Cuneta Astrodome. She didn't want to get out of the car at first. She was like, "Where's the restaurant?" I said. "This is it."

Why? Did you honestly want to eat the food in that restaurant or were you just testing her?

I was testing. I know it leaves a bad taste in the mouth when you play mind games with a girl. But for me, the best way to gauge a friendship is to let go of all pretenses, of all material things. I wouldn't want material stuff to get in the way.
*This site is constructed in the loving memory of RICO YAN *
---