WOMAN TONE

Overdrive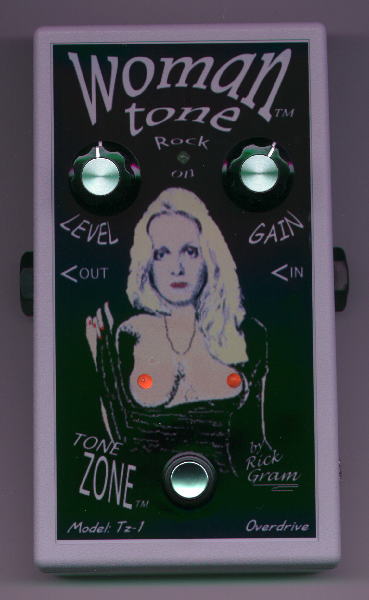 Nipples glow Bright RED when pedal is ON!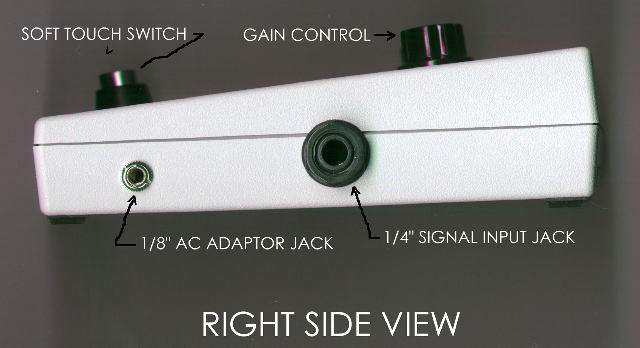 Vintage Tone Without the Noise

If you want an overdrive pedal that does not change your playing dynamics, look no further. The WOMAN TONE pedal provides a nice open overdrive without all the hiss and noise that other units are plagued with. The effect is subtle and tasteful, so if your looking for a discordant sound with enough harmonics to cover your mistakes then look elsewhere. TONE ZONE pedals are for musicians that want to play and sound their best.
The WOMAN TONE is an overdrive type effect. The pedal is used to make the amplifier create power stage distortion. It has a brown seductive tone much like that of Eric Clapton during his days with John Mayall and then Cream. The GAIN control is very subtle and is used to match various guitars with various amplifiers. The control is set so that when a string is played hard you get the DIRT and when played softly the sound is cleaned up. It is also set so when guitar volume is high overdrive is generated and when guitar volume is reduced the sound cleans up. The WOMAN TONE overdrive pedal does not create a lot of sustain and overdrive levels are subtle. You have to DIG IN and PLAY and get the sound from your fingers. This pedal does not hide what you play behind a lot of harmonics. Open chords can be played without sounding discordant!

Sure you can pay TWICE as much for other "Boutique" pedals, but from what I HEAR all you get for your money is TWICE the NOISE
OVERVIEW
FRANKEN TONE
CATCH-A-BUZZ
REVIEWS
ORDER
GUARANTEE
HOME