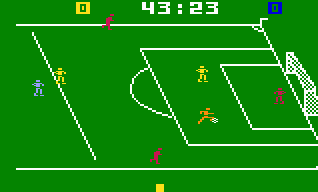 Here we go, here we go, here we…erm. I think it is time to reflect on the best versions of the national game to have graced our computers and consoles.
In the beginning there was PONG. People soon got bored of this bat and ball game so it was made more complex. We got games named Tennis (which was just like PONG really), Squash (PONG but both players are at the same end of the screen) and Football (PONG with two bats each).
In 1980 realism improved greatly with the game Soccer for the Mattel Intellivision (above). This was an excellent cartridge that came with the console in the UK. The pitch was a colourful 3D representation that had two teams of little stick men running around it. Ideas from this game became standard concepts for later football games. The console intelligently selected the closest player to the ball if you lacked possession and changed his colour so you would know which one he was. The unique Intellivision disc controllers gave excellent control of the players and together with the cheering crowds (the same sound used in all Intellivision sports games) made it the first fun football game.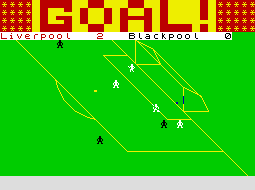 In 1982 Kevin Toms had a good idea for a BASIC program on his Sinclair ZX-81, over the next ten years he preceded to stretch the idea over every computer that was subsequently released. Football Manager was a game solely of strategy. You chose the team, paid the bills, transferred players etc. and when ready, opted to play the game. On the Spectrum you got the highlights of the game played out by little stick men. This was all automatic. You could only watch or do as my mate Tony did – ignore it and read for a few minutes.
In 1983 the sleek new Commodore 64 got a game that was to endure for many years. International Soccer by Andrew Spencer was sold on a cartridge by Commodore themselves. Selling it at just £9.99 was a masterstroke as carts for other systems often cost £30. The game had big chunky footballers and a spot on sound for the referee's whistle. For a long while this was the best C64 football game. When Commodore launched their flop console version of the C64, the C64GS, it came with a cart containing 4 games one of which was International Soccer.
Over the next few years the Spectrum had a couple of stick men games you could control (World Cup Football by Artic and Star Soccer by Watson) but none really worth playing until Match Day. The product of byte merchants Jon Ritman and Chris Clarke, Match Day was a computer game that had real football atmosphere. The graphics were large and the players controllable and behaved intelligently on their own. In its March 1985 edition the 3 reviewers for Your Spectrum gave Match Day 5/5, 4/5 and 4/5 – a hit!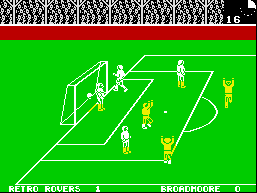 Match Day was a great success and a game of great longevity. Crash magazine had a section each month named the Hotline Chart where readers could vote for their favourite game. An overall chart from 42 hotlines showed Match Day to be the most voted for game. Crash also held a Match Day tournament involving six readers and Ritman, Clarke and Bernie Drummond. In an afternoon of playing Ritman pounded the opposition winning all his games and scoring 38 goals. Lesson one – never play the programmer.
For the 1986 Mexico World Cup US Gold obtained the rights to sell the only official World Cup computer game. World Cup Carnival went to town with its packaging. For your £9.95 you got a wall chart to map the progress of the real competition, a poster, self-adhesive world cup flags and a sew-on badge.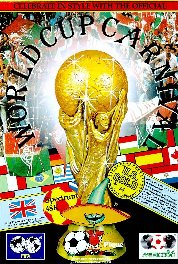 Unfortunately they didn't pay as much attention to coding the game. With only a few tiny differences to tart it up this was Artic's two year old World Cup Football now costing you three quid more! Unfortunately because it looked so good from the outside many people bought the game before reading any reviews and found they already owned it. Nutmegged! The review in Crash is fun to read. "World Cup Carnival is an appalling game and it's a disgrace to see a big software house like US Gold releasing it", "This game is awful; avoid it at all costs", and "This is the worst football simulation I have ever seen". They gave it 26%.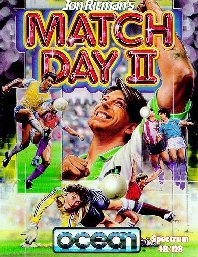 Match Day II was released in February 1988 and became a Crash Smash and Game of the Month in Your Sinclair. The sequel was coded by Jon Ritman and had graphics by Bernie Drummond – the team that had previously produced the classics Batman and Head over Heels. It improved on all the elements of the previous game and added new features like barging, the kickometer and the diamond deflection system.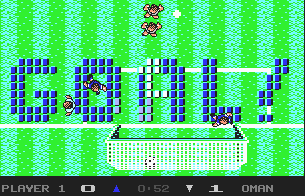 The mighty Microprose Soccer for the C64 was released in 1989 and was the product of Sensible Software. The game showed an overhead view and featured fouls, weather, action replays and banana shots. This was a hugely influential game and is the nearest thing to real football you'll find on the C64.
It's closest rival was Kick Off by Anco. Programmed by Dino Dini (no really) it is probably better appreciated on the Amiga and Atari ST versions where it displays great playability and smooth, fast football action.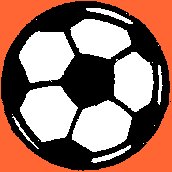 This document is copyright 1998-2001 Keith Ainsworth and can be found at the Retrogamer fanzine site: http://retrogamer.merseyworld.com/

I have several Football games for a wide variety of computers and consoles for sale here.