GO BACK TO THE PERRY STONE VISIONS INTRO PAGE

[This page was drafted and posted to the Internet on March 8, 2003]

Perry Stone: 1996 Vision/Dream of the World Trade Center Attack

Description and Explanation TWO AND A HALF YEARS BEFORE the Attack

From the "Mannafest" television program as taped during October 2001

[emphasis mine]:

We're coming to you with a very special edition of our program. We have preempted our planned programming to share with you the recent events that have taken place in the United States of America. We have received literally hundreds of emails a day with letters of people requesting us to go on the air with our program and share with them the prophetic implications of what has taken place in the United States with the recent terrorist attack not only in New York City, but also on the Pentagon building in Washington D.C.

Several people which called us reminded me of something which took place several years ago, and that was in the year of 1996 the month of June I was preaching in Brooksville, Florida at the Brooksville Assembly of God where Pastor David Garcia is the senior pastor. Don Chanelle, who happens to be the bass player for Benny Hinn, was traveling with me and he was helping us at our book and resource table, and he and I were both staying at the home of a couple that lives in Brooksville.

On a Sunday afternoon while preaching I went to the bedroom to lie down, Don went to the bedroom to read the Bible and rest at a room across from where I was. And I remember becoming very, very drowsy and very, very tired, and I had a vision that took place. Literally, I laid my head on the Bible, on the bed, and I went off in the sp-, literally in the spirit and had a full-color, three-dimensional vision. Now, after having this vision, I went and knocked on Don's door and immediately told him about this strange vision of a tower, I called it a tower at the time, but it looked like a building that had a black cloud completely over it. And actually it looked like a cloud shaped like a building actually, and it was shaped like this. It was very long. And Don said, 'What do you think it means?', and I said, 'I have no idea.' And from that moment on, I began to share with people this strange vision.

Five months later, I had a night vision that I believe was a followup to the first one of five tornadoes blowing past a church with different ethnic people inside that church. And I know that for those of you that are not familiar with our ministry, you may say, 'Well Perry, you are telling that story after the fact.'

Oh no. Here's what I'd like to do. I want to take you to the 1999 Prophecy Conference that we conducted on television, that was uplinked on satellite. This is the month of February, 1999. I want to take you back, and I'm going to show you the pictures that the artist drew, and I want you to listen as I'm trying to give an explanation not knowing what it means of these three visions: one that was in the month of June of '96, one that happened five months later, and I want to show you the pictures, and then in a moment, I'm going to come back and tell you why I believe that the recent events which happened are a fulfillment of that, and what the Lord showed me would happen, in this vision, after these storms would hit. Pay careful attention. Again, this is the tape from the 1999 Prophecy Conference, which I think was about two and a half years ago, which was done in this studio uplinked live on satellite. Watch this very carefully as I share with the people in '99 the vision that the Lord gave us in Brooksville, Florida in 1996. I'll be back. Please don't turn the channel. Watch this very carefully.

[At this point, the viewer is shown video footage from the 1999 Prophecy Conference with Perry Stone. Perry looks much different - he has different glasses and his hair is not as gray.]

...and I want to share something with you. I've wrestled in my spirit, and I'm very sincere when I tell you this, about publicly telling this on television, because it was something that I'm uncertain if God had it happen just to share something with me personally, something about our ministry, something about a major city, or exactly what it was about, but I'm going to tell you the story.

Back around I think, actually, it would be about four years ago [making this 1996] I was preaching in Brooksville, Florida at the Brooksville Assembly of God with Pastor Dave Garcia on a Sunday. Don Chanelle, who happens to be one of the bass players for Benny Hinn, was with me in that meeting, and I got very tired. I was staying in someone's home and I said, 'Don, I'm so tired, I've got to go lay down.' So I went upstairs in the bedroom and had my Bible with me, and I was opening my Bible trying to read when a spirit of slumber came on me, and I just fell over, you know, my head fell over the Bible and I was just out of it.

And, only about four times in my life have I experienced a vision: a full-color, three dimensional vision that's just as real as me looking at this studio. Just that real. And in this vision, I was walking up a hill. A sidewalk was on the left and on the right. Now this hill was actually a paved road, sidewalk on the right side, sidewalk on the left. And I remember I was dressed but I was barefooted which would imply, you know, not being prepared. And I remember as I was walking up this road, I looked to my left and my right and there were homes, and for some reason I absolutely knew these were homes of retired ministers. I remember how that I looked up and when I looked up, I saw that the sky was perfectly blue. At the top of the hill there was a large concrete barrier. I remember how that I saw from the center of this blue sky a cloud that was totally black that was shaped almost like a skyscraper building. It wasn't a building, it was a cloud, but it was just square at the top, and narrow, and I didn't know what that was or where it was going to. So I said, 'I'm climbing to the top of this hill and finding out what this is.'

Now, I remember in this vision thinking, 'I'm having a vision! This is a vision! What am I going to see?' I didn't know. I climbed to the top of the hill and looked over, and when I did, here's what I saw. I saw that dark cloud, and I saw where that dark cloud - and I'm going to show you a picture of it, I had an artist draw this out - I saw this dark cloud that looked just like this. The sky was perfectly blue, and there was five tornadoes spinning off of this cloud.

[during the show, Perry first holds up the first picture below, then continues with the explanation]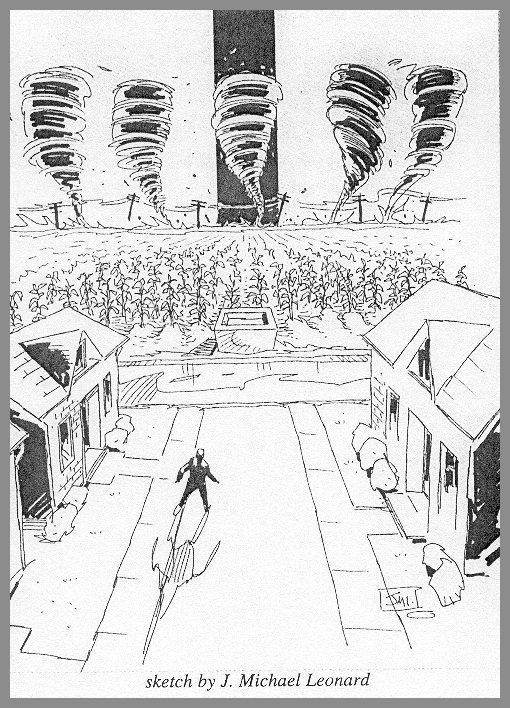 Now, once again, this was not a dream. This was a vision. Here was the wall. These were retired ministers homes, don't ask me how I knew that, I just knew it by the spirit. And this is the artist's conception of me coming up the left sidewalk. Remember it was the left sidewalk. And I knew what was going to happen. I saw a water cistern here, like a well with concrete, kind of like a concrete well. This was a beautiful, gorgeous corn field, I mean it was just absolutely immaculate, and directly behind this were the old-time power lines. And I saw five tornadoes - equally height, equally spaced, now don't forget that they were equally height and equally spaced - and I knew that this one, I could hear this one going 'whoo, whoo', it was making a noise, and I saw sparks flying, and when this one got going, it started revving up that one and that one. And I remember thinking that this one was going to take out one row of corn and come to this barrier, and when it got to this barrier, the second one would follow. When it got to the barrier the third one would follow, and I immediately knowing what was going to happen in this vision, turned and ran down this sidewalk to the bottom of the hill, saying, 'I must get to the rock, I must get to the cleft of the rock.'
And, this bothered me for, ladies and gentlemen, probably three years. I told Randy White at Church Without Walls this vision, I told Jentezen Franklin at Free Chapel Worship Center this vision, some of my very close minister friends I told them this vision. I said, 'What are these five tornadoes? Are they five deaths, are they five problems?' I did not know, I didn't have an understanding of it.
Six months later, I want to show you a night dream that I had. Now in this night dream, here's what was taking place. I was - I was in a city, a very large city, and I was with a group of people that we would call ethnic people from different nations. And they were all saying, 'The storm is coming, the storm is coming! What will we do, the storm is coming!' And I said to them, 'There's a church, this is where you need to be for protection.' And I remember seeing in this night dream that was very real, a church. And it reminded me of like an old downtown, Lutheran or Episcopalian church, built maybe in the 1800's that had the granite. Remember they used to have the big blocks of granite and kind of chisel them out? Not smooth but kind of roughly chiseled out, real pretty.
And we went into this old church, and when we got into the old church, let me show you what happened from this second picture. And this is as clear - when the artist drew this out, I re-lived this dream again.
[at this point in the show, Perry first holds up the third and final picture below, then continues with the explanation]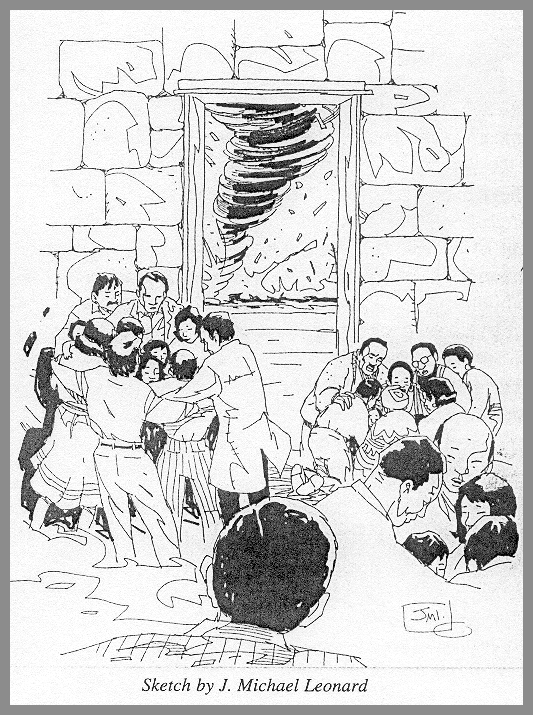 And again, this was a night dream. This was the church wall that was made of granite stone. Now you know that granite is one of the toughest stones that exists. Right here is the door. Now, actually this door was much wider in the dream, but I was puzzled because there was not a door, there was only an opening in the church. And someone said to me, 'Brother Stone, Jesus is the door! That's why you didn't see a door in the church, because he's the door.' Now, I saw three groups of people. I saw Hispanic people gathered just like this inside this church, I saw African-American people gathered inside this church, and I saw Asian people gathered inside this church.

Guess what happened? Here it is: five tornadoes, one after the other, blew outside this church. I never will forget in this dream that this tornado - and you know the artist drew this picture just really, prior to this conference - but this tornado took, filled up that whole door, and you could just see it was picking up things and spinning. Now, what happened is when these five tornadoes passed, we came out of the church, I came out of the church with these people, and the next thing that happened -

now remember this was 6 months after the vision that I had of the five tornadoes - we came out and this is what, what I saw.

[at this point in the show, Perry first holds up the third and final picture below, then continues with the explanation]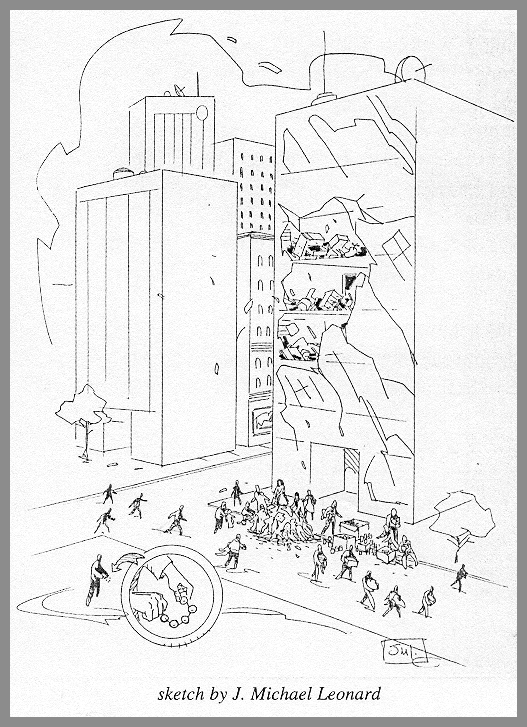 And this is a very well concepted drawing by artist J. Michael Leonard who drew this for me, I said, 'J. Michael, when we came out, these people that were huddled together in the church, there were three things.' There was canned food on the sidewalks out here, there was piles of clothes, and there was also some childrens' toys. These people left the church building and went into the street, and they were getting these canned goods, they were getting the clothes, and they were getting the toys. And you could, this is the picture, people were, it's like people were in a daze. I remember, it would be, if you guys in Florida that are watching, you guys, you men and women in Florida watching right now, you ever go through the hurricanes, and you know how when the hurricane passes, everyone is in a daze, well, everybody was in a daze.

Here's the part that puzzled me. Now you gotta remember, this was several years ago, and I've had no understanding of it till recently. That these, this is a downtown city area. I don't know what city it was, but some of these, none of the buildings had outside structural damage. There was not one building that had glass broken or whatever, but I could see and the artist drew it this way so you could see what I saw in this dream, one of these buildings which had a glass front, you can see, and the desks, and the file cabinets and the computers, were just looked like they were ransacked on the inside. It was like total confusion inside this building. I did not see it in this one, this one, this one, or this one, but I saw it in this one. I have no idea what building that was.

And here's the part that really got me stirred, I guess, as much as anything. This is, this is myself in this dream, and I went over in front of a very large church, and I saw gray pearls, kind of a gray-black pearl. And they were very large, and I - there were five of them, and I was putting the pearls back together, and I knew that they were my pearls. Now, I do know that in the Bible, the pearl of great price is Christ, and the gospel of the kingdom is compared to a pearl. And I do know that in this dream, whatever this was about, was going to affect my ministry somehow.

[the video footage from the 1999 Prophecy Conference ENDS at this point, and the show comes back to the present, in October 2001]

Now, again, the video clip that you just saw was from the 1999 Prophecy Conference, the month of February, which was actually done right here in our studio in Cleveland [Now remember, we are now back in October 2001]. Now, I want to share something with you, that when the vision happened, which was in Brooksville, Florida in 1996, I began to tell many people about it. In fact, publicly, I began to preach and teach, and I began to say to people there's five storms coming. I don't know what they are or when they're coming. And I remember for quite some time that the tower in the vision appeared to be the World Trade Center.

In fact, I said that on so many occasions I can't even keep account of where I said it and when I said it, although many of our ministry partners have called and said 'We recall you saying this in a meeting or in a camp meeting or something that you said you felt like there would be an attack on the World Trade Center at some point.'

Well, you know after, when the year 2000 arrived, at our 1999 Prophecy Conference - let's go to the picture by the way - one of my computer men was Bill Sanford, he was working on our systems here, he said that he thought that it was possible that this tower could be an old mainframe, and maybe this was related to Y2K. During the 1999 Conference, I brought that out that Mr. Sanford had said that, and I said we do not know if this is what it's going to be. And also in the '99 Conference, I said, 'Now this looked like the World Trade Center, but if it would have been I would have seen two buildings.' But if you will go and look at drawings of the World Trade Center, they were very thin to the side, and when you put them together, they actually have a width very similar to this.

Now I believe, and I'm just gonna go ahead, like the old expression says, cut to the chase and just really get to the point of what I feel I need to say to you. When Y2K did not pan out, I put the pictures away, and said 'Lord, I don't even know what this is about.' Behind camera over here, camera, I guess it's camera number one, is Mel Kolbeck. Mel could confirm this. Just a few days before September 11th, I was in our Mannafest room where our TV orders are filled, and I found the pictures, these are the pictures that I'm going to show you in a moment, that were drawn out by J. Michael Leonard here in Cleveland about three years ago, and he drew them out actually for the Prophecy Conference that I did, because I wanted to illustrate this vision that the Lord had given us in 1996.

And I said to Mel, 'Mel, let me show you a picture here.' And this was the picture that I had which was three years of age, I said, 'Mel, you see that tower right there?', he says, I said, 'I still believe that's the World Trade Center and somebody's going to hit the World Trade Center.' And that was about five days before the attack happened. And I didn't even know why I said that to be honest with you. It's like it just came out of my spirit. And I remember going back into the office thinking, you know, why did I even say that? This has been five years, and nothing has happened.

September 11th, we were in the Mannafest television room talking to some of the staff people when the word came that a plane had struck one of the twin towers. Well, at first I thought that's a pilot error, or something and I thought, well how strange that's never happened before. When the second plane hit, I said, 'These are the terrorist attacks, and I said at that moment the staff will remember me saying, 'five storms will come out of this.'

Now, let me go back and show you the vision from 1996, and tell you what the interpretation is up to this point. First of all, when I was walking up this road, I didn't have any shoes on. Having no shoes on means being unprepared for what happened, and of course, our entire nation was totally unprepared for what took place. The barrier here that we see that is between this field - the field represents the world, it can represent the harvest in the Bible - but the barrier that is here, these retired ministers, are men who once worked in the field and once worked in the harvest and ministered to people, but now they are retired. You notice there's a barrier here up in this area, and I knew that these were retired minister's homes.

When I stood up here and I saw this black looking tower, now it actually looked like a building covered in a dark cloud, that's the way I described it early. I said it's like in the shape of the World Trade Center but it was dark, that's, I didn't see windows, and that's the part that puzzled me for a little bit, and when that building was burning, and I, I went home to see television, and I saw the black cloud, I told some men with me, I said that's why I saw blackness covering the building. And I really believe what I'm going to show you is the interpretation of this.

Now, in the vision, five individual tornadoes, now the artist has drawn them as a twister, they were actually straight like this, they were wide at the top, very narrow at the bottom, but they were orderly in fashion. And the left one, left one on this side sparks began to fly, and it set this one off, which set this one off, which set that one off, which set that one off, and I remember thinking that this tornado would take out one row of corn, and when it was complete, this one would follow it, this one follow it, follow it, follow it, follow it. And what it would be would be one storm after the other taking out one row of grain.

Now remember, and, that the whole field was not affected. Only sections of the field were affected by these storms. Alright, now let's look at this and see if we can now gain some insight after five years, on what perhaps it could represent or it could mean as it relates to the event that recently happened. Alright, the World Trade Center, as you know, was attacked, that cloud represents, I believe the attack which took place. The result of this - now this is what startling to me - five buildings have been affected by this. You have the twin towers which have been affected, shortly thereafter a building collapsed, and shortly thereafter another building collapsed, and of course you have the Pentagon building.

Now, if we eliminate the Pentagon building, it is possible there will be another building in New York connected with this that will collapse, or, if this represents the twin towers and the attack there, there may be five actual buildings in New York that will be affected where people will not be able to enter into, making a total of the five storms plus the two twin towers. So, to be honest with you, that's a little bit yet to be seen as far as is this two plus five, or is it just representative of the twin towers and five buildings that were affected as a result of the attack. And I know a lot of times people want to email you and give you their interpretation, but I always say to people you know, just hold off on that and let's let the Holy Spirit interpret this in its entirety, because you know everybody has an opinion of course to this, but I'm doing my best as what, and through prayer, as what believe the Holy Spirit given me.

So without a doubt, this represents the attack. Now the concern that I have has to do with this taking out one row of corn, each one of these is going to take out a row of corn. Now it's very possible, here's the twin towers attack, here's the five buildings that were affected, now, these five buildings are going to affect something globally throughout the world. And it probably is connected somehow to the economy. It may be for example, one storm may affect airlines or transportation. One storm may affect tourism or travel. One storm may affect the stock market and the economy. And there again, we will see as this develops further what these tornadoes will actually take out. And I'm telling you, when it took out a row of corn, I mean it was a narrow row, it wasn't the whole field now, let me get that straight. The whole field is not affected by this, but there were sections that were totally affected.

Now, I believe that that vision in June of 1996 in Brooksville, Florida has come to pass. These two were the two that I really didn't quite understand although I knew that they were connected. Five months later - and let me just add here, I'm not a visionary. My dad has had, as you know if you've watched our program, many spiritual dreams and visions throughout his life. I've only been used by the Lord probably four, no more than five times to actually have what you would call a vision which you saw something three-dimensional, full-color you know, and this was a vision as well. Five months later, in a night vision this was very real, I was in a city, and again I told this at the 1999 Prophecy Conference and I've told this publicly over the years.

But I was in a city, and people were running and saying, 'The storms are coming the storms are coming, what shall we do?' And so they ran into a church that, this was the beautiful granite stone like the old churches you see in the downtown city that used to be built like in the 1800's. There was no door which puzzled me, but someone said, "since Jesus is the door', there would not be a necessity of there being a door. Five tornadoes blew by. I remember specifically seeing papers, there was a lot of papers. In fact, look what the artist did in this drawing three years ago, I said 'Draw papers, because there's papers just twisting in these storms', that I didn't understand because usually there's trees and wood in most tornadoes.

Five tornadoes blew by this church. Now, the church shook but was not affected by it. People were running into the church, pouring into the church, in this city. There were three ethnic groups, and you can see three years ago the artist drew this out. Asians, blacks and African-Americans, and the reason I make the distinguishing point there is people from Jamaica or from Haiti and those countries would not consider themselves to be African-Americans if they live in America. I say there's people that looked like they're from Africa, African-American, and the black community. Then over here was the Hispanic community - they were all with their ethnic groups and they were praying.

I never will forget the terror that I saw in some of these people's faces when they were screaming, 'Oh God, what will we do, what will we do, the storms have come, the storms have come', and as the storms blew by, they huddled in the church. Now, after the storms were completed, they came out of the church, and now I'm going to go to the third drawing, and again, this is a night vision five months after the vision of the tower, and now we come to this.

Now once again, let me say this. These have not just been drawn out, these pictures are three years old. They were shown in the 1999 Prophecy Conference.

And so here's the third part. When I came out of the church with these ethnic people, we were in a city, here's what puzzled me. This is what originally me think it was related to the Y2K problem, but it wasn't. There were buildings, there were satellite dishes, but there were tall skyscraper buildings letting me know this was in a city. There was one building on this side, now notice this, these buildings are intact and people are able to work in them, but right across the street here's what was happening. The people were coming out in the street, there were clothes, and again these drawings are three years old, there were clothes, there was food on the street, and people were on the street getting the clothes and the food. There was also a little section where there was some kids toys, which I didn't know what that meant.

Now this building here is a building which was in the city and I could see through it. I did not have a hole in it like this but I could see through it like it was clear. Every floor, the computers, the file cabinets and the drawers were just topsy turvy from top to bottom. They were not permitting people to go into this building because it was ruined, this building here was ruined, but yet the structure was still intact

. So this was the vision that happened in 1996 and I want to keep emphasizing to people that this is not something we just drew up. The pictures are three years old drawn by J. Michael Leonard, and this vision is five years old actually.

Now, let's go back and explain what these could represent. Ok? Now let's go back to this one. In this one here I think it's self explanatory that in the city, especially in areas like New York the black community, the Asian community and the Hispanic community have been greatly affected by this in what has taken place, the inner city people. And many people are pouring into the churches as these storms have blown by, and I believe the repercussions of these storms are going to continue really for several months to come. In fact it may be five months or so that these, the impact of war and things, maybe longer than that, no one really knows and I don't want to speculate on that.

This one I believe represents the buildings that were near the World Trade Center that the insides are ruined. The building structure is still intact, but yet the inside of the buildings are ruined, the computers, they can't go in, they can't use the computers, you know, because the windows blew out and the dust is in there and the structure is intact, but the inside is ruined. Also in the vision, I'm running out of time here, but in the vision there was a string of gray pearls laying on the street. The pearl represents the pearl of great price, you see this in the corner of the picture the artist drew three years ago, and I was stringing those gray pearls back together. In my opinion, that represents the body of Christ which was divided and everybody was doing their thing. Now, the church is coming together and the nation is coming together as a result of this."
---
GO BACK TO THE PERRY STONE VISIONS INTRO PAGE