Brines Acoustics
Single Driver Speaker Systems
Single driver speakers for the best clarity
Full Range Speaker Systems
A full musical experience without a subwoofer
Custom Built Speakers
Custom built for your system and decor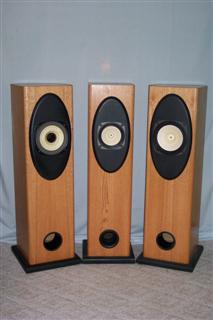 Products Articles Design Philosophy Contact
Late Revisions:

7/16/09
I have separated the LT-2000/DX3 and the LT-2000/FE207E into two separate products. The LT-2000/DX3 morphs to the LT-2000 MkII with a slightly smaller cabinet. The LT-2000/FE207E becomes the FT-2000 and retains the original cabinet. If you think that you will want to start withe FE207E and upgrade in the future to the DX3, you should order the FT-2000, as the LT-2000 MkII is too small for the FE207E.
Unfortunately, I have had to adjust prices again. I hate to do this, but my costs continue to rise and I am not yet a charity.

8/1/09
I have added a page called "Product Upgrades" accessible through "Products". Standard upgrades include EnABLed FE167E and FE207E drivers, phase plugs and premium filter components.
Use My Message Board:


---
---
Single driver speakers are not for everyone. I want to make this clear at this point, because the last thing I want to do is have a pair of speakers returned as "unsuitable".
Single driver speakers are most suitable for the more intimate genre and at moderate volume levels. This includes solo voice, small group jazz and 18th century classical and chamber music. For these genre, single driver speakers are superb. You will hear nothing better. They also do classic rock pretty well as long as the volume is kept to reasonable levels. By reasonable, I mean ~80dB at the listening position. (I set my LT-2000/DX3's 8 feet apart and my chair 8 feet back.) Now, if you are into heavy metal or want Mahler symphonies at concert volume, I suggest that you look elsewhere. You will be disappointed and I have to eat shipping costs and try to unload a custom pair of speakers at as little loss as possible.
Single driver speakers have a unique sound. That sound comes from a lack of a conventional crossover. In a two-way speaker, the acoustic phase of each driver rotates in opposite directions around the crossover point. While the combined phase may be correct at the crossover point, away from that point, the phase will be constantly changing. Why is this important? The human ear/brain is designed to locate sounds primarily by phase. We are very sensitive to phase in the 300-3000Hz range. Outside on this range, sound location becomes increasingly difficult, but within this range, if the phasing is messed up, the sound stage lacks precision and depth. A normal two-way speaker has the crossover point in the middle of 1500-2000Hz range, which is smack in the middle of the frequency band where humans are most sensitive to phase changes. By not having a crossover and the attendant phase problems, a single driver speaker sounds much more natural.
A good single driver speaker is more articulate and detailed in the bass and midrange that a multi-way speaker. Because the driver in a singe driver speaker must work up to 10kHz and beyond, the cone is much lighter than the cone of a comparably sized driver in a multi-way speaker that is crossed out by 2kHz. Less cone mass means faster response to the electrical signal and better transient response. The lighter cones also promote higher efficiency. While my speakers don't qualify as "high-efficiency", all except the FTA-2000 are rated at 92dB/w/m or better, making them good matches to all but the smallest tube amplifiers. (Don't worry, they work great with high-powered solid-state amplifiers too.)
Why Quarter Wave Pipes?
You can't fool Mother Nature. ANY tall, thin ported speaker is a quarter-wave resonator. Ever since the beginnings of hi-fi, designers have been building floor-standing speakers with ports thinking that they were designing bass reflex speakers and then scratching their heads trying to figure out why they were getting spiky bass response. The answer is simple. The dominant resonance is not cavity (Helmholtz) resonance but quarter-wave resonance. Understanding this, it is relatively easy to get a smooth bass output without peaks or boominess.
Using the full potential of quarter-wave resonance, it is possible to get seemingly impossibly low bass with relatively small drivers. The 6" and 8" drivers I use can easily produce bass notes below 40Hz. This means that for acoustic music and electronic music based on a 4-string bass guitar, no subwoofer is necessary. Of course, for 5- or 6-string bass guitars or serious organ music, a sub will help a lot.
What do I have to offer?
I specialize in speakers that use the Lowther and Fostex drivers. I offer ready to play speakers in furniture grade cabinets. These speakers will be custom built to your specifications. You pick the veneer species and the stain that will go best with your decor. While most customers select the oak or mahogany veneer, I will use anything that I can get. You will be asked to pay my cost difference between the "standard" veneer and your chosen premium veneer. The same polity applies to the electrical components. I use the standard offering of Parts Express or Madisound, but I will install any premium parts you request for only the cost difference of the parts.
For the DIY'er, I offer plans for all of my commercial speakers. I offer flat packs for those who cannot cut up a sheet of plywood on their own. I do not offer assembled, unfinished cabinets.
I will alway answer general questions about speakers through e-mail, or preferably on my technical forum. If you seek specific design information about your project or would like me to design and/or built a pair of speakers for your specific needs, I will negotiate a price for services with you.
Pricing
My pricing is unusually low for the quality of the parts and construction I use. This is primarily due to the small size of my operation. I have very little overhead. My shop is part of my house, and I make no effort to recover any part of that cost either by adding it to the price or recovering it from income tax. The cost of the product is figured on the price of materials and what I dare charge for my time.
Basically, I pass the cost of materials directly to you. I go the a lumber yard and buy plywood, other wood products and fasteners for each order. Because of my limited volume, I don't get any big breaks on the costs of materials. The same applies to drivers and electronics. I can't justify stocking a skid of drivers, so I don't get a break on pricing. This is the main reason that I don't offer parts kits. By the time you pay for shipping twice, it is cheaper for you to buy directly from the supplier. The bright side of this is that I can offer upgraded parts or special finishes for each and every pair of speakers. I am not selling you product that I have in stock.
Woodworking in general and finishing in particular is very labor intensive. I have a set dollar amount I try to net on each set of speakers. If you add up the cost of parts, you can probably deduce what the amount is, but I'll keep that to myself for now. Ask yourself what your time is worth and then figure how long it would take you to build a set of speakers with a furniture grade finish. I think that you will find my speakers are a bargain
Shipping
Shipping is the most exasperating part of the business. My operation is far too small to have a network of dealers and ship pallet sized loads. I am pretty much restricted to using package services -- UPS, FedEx et al. We hear the horror stories of damage and lost caused by these guys. Well, yes, it happens, but not very often. I have had good luck getting product to my customers.
By the way, your chances of a damaged shipment are in direct proportion to the population of your metropolitan area. Almost always, sipping damage is done in the last 50 feet to your house. Careless/lazy drivers will simply kick the speakers out of their trucks ranter than carefully lift them to the ground. All of my problems have occurred in NYC and L.A. Out here in Arkansas, my shipments from Parts Express and Madisound arrive pristine.
Shipping is included in the base price of your speakers. Unless we negotiate something different, shipping will be by UPS/FedEx Ground. The FB-16 and FB-20, at 40 lb or less do not seem to have any problems in the UPS system. To help assure save passage of the larger floor-standers, I insure each speaker, not the pair, for $1000 or actual value, whichever is larger. This "high-value" flag has worked well. All speakers are wrapped in 2" of polystyrene beadboard
---
Products Articles Design Philosophy Contact
Copyright Notice:
Unless noted otherwise, all text, pictures and drawings belong to me and are protected by U.S. and international copyright laws. You may quote or copy anything you want for non-commercial, private use, provided that proper citations are made. You may use plans found here to build speakers for your own personal use. You may not use information found here for any commercial use unless you obtain permission from me. Many of the designs presented here contain proprietary technology that is licensed to me by Martin J. King. If you wish to use one of these designs for commercial use, you must first obtain a license. Contact me for a license agreement.