IMPORTANT ANNOUNCEMENT!
This website will move to
http://raybrazen.webng.com/

on or around October 26, 2009.
Now it's Ray's turn to rock!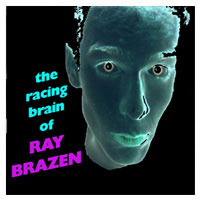 Click above to find out all about Ray's fabulous CD,
the racing brain of RAY BRAZEN.
Click below to access Ray's world-famous online family!
(LOS DUG DUG'S, THE GODZ, TV TOY, AVANDARO)

NEW! SEE THE VIDEO FOR
RAY'S COLLABORATION WITH R. STEVIE MOORE!
"The Disabled Man Wants You To Buy Him A Wheelchair
With The Money That You Made At The Horse Race"
CLICK BELOW TO WATCH!
Download Brazen music
at his new page at MYSPACE.COM!
Read Ray's random thoughts
at THE BRAZENBLOG!
(Special thanks to the good people at MYSPACE and YOUTUBE
for hosting these amazing new features!)