PPG Formula Pace Car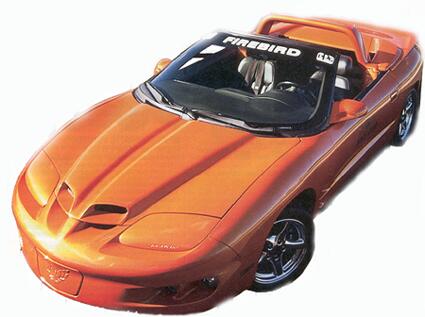 The thought of Pontiac producing a pace car is not exactly a revolutionary concept. For decades, the division has provided potent spoilered performers for vaunted venues from Indy to Daytona, which were based on models as varied as Trans Ams and Fieros. Usual practice was to work up a street replica package to further perpetuate the marketing tie-in by offering an exclusive model for the collectors. This PPG Pace Car, however will not arrive at your local Pontiac dealer anytime soon. Its sole purpose in life is to alternate duties within a fleet of 35 pace vehicles, which lead the pack at CART-FED-EX Championship series races, the PPG Cup and some NASCAR events.
PPG developed the pacer. Pontiac's Exterior 1 studio and Interior Design Studio handled the looks and MSX International took on the fabrication. Its most obvious feature is the striking Sunglow PPG Deltron paint, which was applied by MSX. The color is proprietary of PPG. Another very conspicuous though nicely integrated component of the pace car is its roll bar, which is fully functioning safety device. And, yes it will fit under the stock convertible top. Bad news is that it's a one-off that currently is not available in the aftermarket. Outside, the familiar body cladding, light assemblies, hood and rear spoiler are stock `98-99 F-body with very subtle pace car graphics applied to the doors and required strobe lights behind the marker and back-up light lenses.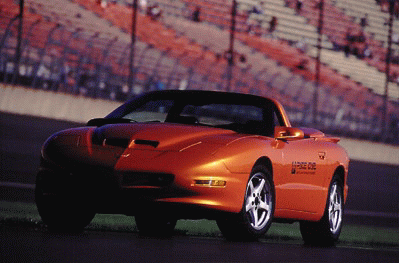 Under the hood, however, it gets a tad confusing upon initial inspection because this PPG Formula Pace Car has an LT1 perched in its bay. Was there a special run of firebirds in 1998 and `99 with the LT1 power instead of the LS1? Nope! The truth is that this pace car is actually a 1994 or 1995 model, according to Jim Mattison at pontiac. Therefore the engine, drivetrain and suspension are stock mid-90's F-body right down to the T-56 to mix the gears. Variations from factory `94-95 trim include a horsepower boost to 310, thanks to the functioning ram air and exhaust revisions and the addition of Brembo 4-wheel disc brakes adn contemporary F-body 17-inch wheels with 275/40R-17 GSC rubber. Mandatory safety features for pacing the pack are comprised of the aforementioned roll bar and strobes plus a dual halon fire system, a fuel cell, a 2-way radio and 4-point 3-inch wide safety belts.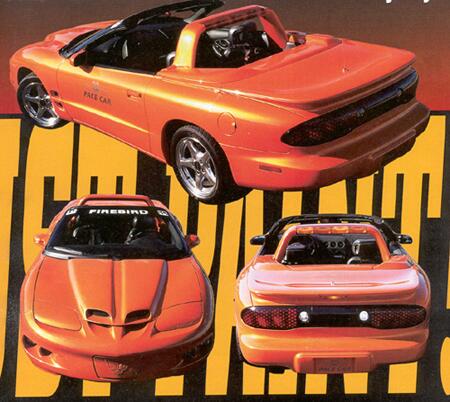 To safely pace a race, the pace car must be able to accelerate to 125 mph with ease. As you have probably already guessed, the PPG Formula handles that request with aplomb. Sure it's an eye-popping color and runs with the best of them on the track, but what is to become of the PPG's Pontiac pacer once its services on the tarmac are no longer required? Most likely, it will be returned to Pontiac or it will remain with PPG as an archival piece. If nothing else, the PPG Formula Pace Car will take its well deserved place in Pontiac, PPG and pace car history among its forebears by illustrating the look and wquipment that was required to lead the pack on various race tracks in the late 1990s.

by Thomas A. Demauro