Volkssempfänger DKE 38 produced by WEGA RADIO
---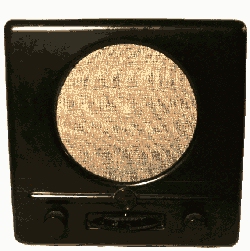 Produced: circa 1938 in Stuttgart/Germany

Case: brown bakelite

Size: (w/h/d)

Loudspeakers: 1

Frequencies/Bands: MW

Power: 110/130/220-240 V AC/DC

Tubes: VY 2, VCL 11

Originally priced: circa 35 RM

Condition: excellent

Comments: This is a piece of history - not a promotion of nazi ideas !!!
The "Goebbels Schnauze" = Goebbels gob was a very importent tool for propaganda, allowing only the reception of local stations.

Poster for the Volksempfänger -

Overview all Volksempfänger types

Operating Instruction ( German language) Come back after visiting these ext. links.

In 1949 - one year after the currency reform - WEGA produced again full size tabletop superhets as the "Jubilar" or the "Brillant".

Today in the former WEGA plant in Stuttgart SONY is producing TV sets for the european market.
---
Philips loudspeaker



Siemens 53WL "Herr im Frack"
---
This page hosted by
Get your own Free Home Page