SIEMENS 53 WL "Herr im Frack"
---
Produced: 1935-37 in Germany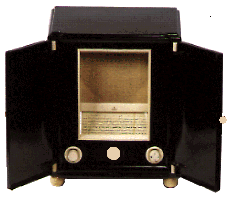 Case: black bakelite cabinet with 2 doors, art deco style
Size: (w/h/d) 37 x 46 x 33 cm, 14 kg
Loudspeakers: 1
Antennas:
Frequencies/Bands: MW, LW, pick-up connector; 2 circuits TRF + 1 blocking circuit tunable to the local transmitters frequency
Power: 110/150/220/240 V AC
Tubes/Semicond.: RENS 1294, RENS 1284, RES 964, RGN 1064
Originally priced: 248 RM
Condition: very good, playing with a piece of wire as antenna after I changed all caps (by filling the old glass tubes with new capacitors and sealing the original glass/pertinax tubes with tar) I'm still looking for the backside cardboard and good knobs without cracks. The procedure of restoring these nasty capacitors see another one of my projects: Restoration of Volksempfänger
Comments: nickname "Herr im Frack" means "gentleman in tails"
---
WEGA Volksempfän
ger DKE



DUX Radio
---
This page hosted by
Get your own Free Home Page
---