Philips Typ 2038 loudspeaker
---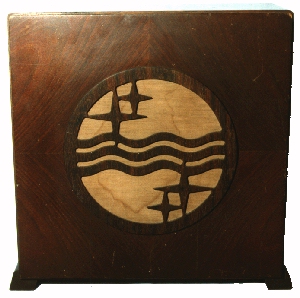 Produced: 1931

Case: rectangular, dark walnut wood, grid shaped with Philips trade mark

Size: (w/h/d)

Loudspeakers: 1

Antennas:

Frequencies/Bands: high impedance loudspeaker, 4 poles

Power:

Tubes/Semicond.: none

Originally priced: 74 RM

Condition: excellent

Comments: plate on the back side saying: "Nur zum Verkauf in Deutschland einschl. Saargebiet, Zuwiderhandlungen werden gerichtlich verfolgt." - "For sale only in Germany incl. Saar. Vioolators will be prosecuted."
---
Telefunken 32A



Volksempfänger DKE
---
This page hosted by
Get your own Free Home Page