Nordmende Fidelio U30HiFi
---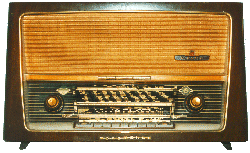 Produced: circa 1958 in Bremen/Germany

Case: wood

Size: (w/h/d) 61.5 x 37 x 26 cm

Loudspeakers: 1 bass, 1 middle tone, 2 tweeters giving fulminat sound to opera loving customers

Antennas: foil antenna, rotatable ferrite

Frequencies/Bands: LW, MW, SW, FM

Power: 110/220 V AC

Tubes/Semicond.: 6 tubes ECC 85, ECH 81, EF80, EABC 80, EL 84, EM 8....

Originally priced: circa 700 DM

Condition: good but needs cleaning inside and outside, two scratches on the right side

Comments: This tube dino has pseudo 3D sound - Stereo sets will soon appear on the scene.
---
Körting 710W



Graetz Sinfonia
---
This page hosted by
Get your own Free Home Page
---