Ghost Solid Box
The Ghost Solid Box (a limited edition box set) has just come out in Japan! This 13,333 yen box (too much money! again Kodansha doesn't show any respect for the fans) contains: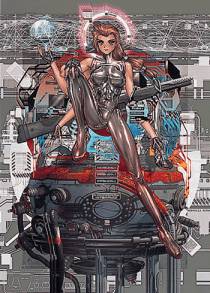 1) a reprint edition of Ghost in the Shell 1, with a redesigned cover. This edition will be B5 size (larger than the original) and hardcover; 2) the first release of GitS 2: Man-Machine Interface, Volume 1 (of two). Again, a B5 hardcover; 3) a CD case sized mini illustration collection that can also be used as a desk calendar; 4) an original poster at A2 size (600x420 mm); 5) a Fuchikoma action figure in clear plastic, designed by Shirow; 6) special booklets and cards.
Kodansha will release the softcover normal edition of MMI Book 1 at least one month later.
The release date was delayed a first time because after the end of the serialization, Shirow wanted to retool the existing stories and add some pages (about fifty to eighty).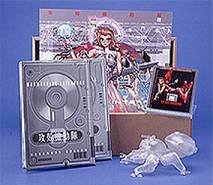 Unfortunately, he decided to do his fix-up work at random, and not starting from page one as was his original intent. This means that the productions of translated editions wasn't able to begin until he had completed his work. Fortunately the process has been speeded up when the extra story Shirow had planned for summer 1999 has been canceled.