Caroline's Biodata
Name:
Caroline Georgine Corr
Date of birth:
17 March 1973.
Star Sign:
Pisces, The Fish.
Height:
1.625m (5'4").
Instruments:
Drums, Bodhrán, Piano, occasional backing vocals.
Bad habits:
Pulling at her hair.
Like people who:
Are funny and charismatic.
Dislikes people who:
Cannot take a joke, make a mess with the toothpaste.
Holds Driving Licence:
Yes
"Our music is a blend of modern rhythms and technology with instruments - with violin, tin whistle, drum and of course, the voices. The marrying of these elements makes our sound."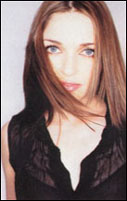 Blue-eyed Caroline is the second youngest and the second shortest of the Corrs. Her main instrument in the band is the drum kit and the bodhran, but she also occasionally plays the piano and sings backing vocals.

Like her brother and sisters, Caroline was taught the piano by her father Gerry from a very early age. She turned out to be a natural, mastering the instrument very fast and eventually becoming good enough to gain qualifications. The bodhran was another instrument that Caroline mastered from an early age. She incredibly learned this instrument solely from watching videos of traditional Irish musicians playing it. It wasn't until Caroline was 18, when the Corrs were without a drummer, that she started to learn the drums. An old boyfriend had a drum kit, and he showed her some basic beats. With the help of "teach yourself CD's," Caroline was able to learn simple drum loops and rolls. Armed with this small amount of knowledge, she then proceeded to become the drummer in the band, and had all her training playing live. Caroline laughs, "It was a nightmare. I had only been playing for a short time, and there I was being chucked in at the deep end. Luckily, people never noticed all the mistakes I used to make, or if they did, they were too polite to tell me." While learning the drums Caroline, had the continuous problem of sore and blistered hands, but she overcome this by using a special brand of Equestrian gloves. Nowadays, Caroline has decided that golfing gloves offer her even more control and they're now her number one choice. This type of glove enables Caroline to get the grip and comfort required to play the drums continuously for over 90 minutes at a time in concert.

Caroline was maybe the shyest of the siblings, which, is surprising, because, as a youngster, she was considered a bit of a tomboy and befriended many boys. She has become a lot more outgoing since the band turned professional, and, in interviews, she always looks relaxed and friendly while flashing her wonderful smile at the camera. But, don't be fooled, as beneath that fun exterior lurks a serious side to her nature and seriousness towards her instruments and music career that should never be underestimated. Caroline believes that if you want something bad enough, the best thing to do is to just "go out there and get it." That's a philosophy she believes in strongly.

Caroline has many habits, the worst maybe being sniffing her jumper, which she has stated she does for comfort, and using her mobile phone. Along with Sharon, she is known to run up very high mobile phone bills and has stated that she could never cope without her phone. She also confesses that she hates cleaning mirrors and loathes bathrooms where someone has made a mess with the toothpaste. She doesn't rate photo shots either, as she has said that "they suck" on many an occasion.

Caroline has a broad taste in music and likes current bands like Garbage, Radiohead, and Oasis, as well as some of the older rock bands. She rates standing alongside Pavarotti and hearing him sing as one of the most incredible musical experiences she has ever witnessed.

Onstage, Caroline is a force to be reckoned with. From the minute she sits behind her kit at the start of a concert to the final minutes when she is reaping the crowd's applause, she is pure energy. Dressed normally in short tops to keep her cool, trousers, her customary sneakers, and headphones perched on her head, Caroline looks the typical rock drummer, ready for anything. Although out of sight most of the time, it is still easy to spot her throughout a concert when she claps along with the crowd or waves her drum sticks forwards and backwards above her head in time with the music. One of the greatest parts of a Corrs concert that everyone looks forward to is when she appears from behind her drum kit, sits on a stool at the front of the stage, and then proceeds to play her bodhran with her now-famous 'head down in concentration' pose. After completing her bodhran solo, Caroline gives her fantastic smile, gives the crowd a huge wave, sometimes blows a kiss, and trots back up to her drum kit, expertly avoiding all the wires on the stage floor. Caroline has been praised by many drummers who have graced the drum world. She is admired not only for her amazing power and strength that has seen her crack cymbals on numerous occasions, but also for her confidence, determination, and the sheer love she shows when playing her kit. From the little glances and cheeky smiles she throws at bassist Keith Duffy, to her interaction with the other members of the band in the final beats of a song, Caroline is a professional through and through.

Caroline recently married with Frank Woods, after unexpectedly broke up with her ex-boyfriend Frank Wods. They had been seeing each other for some time, and Frank was a man willing to jump on a place and go visit Caroline anywhere in the world.
Caroline is not just a faceless person who sits behind her drum kit out of sight; she is a beautiful, talented woman, whom the band just could not do without. Those of us who have been lucky enough to speak to Caroline for any length of time would more than likely agree on one thing - it's not just her beauty or her fantastic smile, or even the way she seems to be able to laugh and talk at the same time, but it's something unexplainable that makes you realize that you have spoken to a special person who exudes class, kindness, and is devoted to her profession. Caroline is the ultimate example of what can be achieved through hard work and dedication.
Did you know...?
Caroline's favourite movie is Truly, Madly, Deeply.

Caroline's best friend is her sister Andrea.

When Caroline is tired she has this habit of pulling the neck of her jumper over her nose.

Caroline can eat virtually anything without having to watch her figure.

Caroline only used to wear tracksuits.

Caroline shared a bed with Andrea when she was young and only made her side of the bed because Andrea was so messy.

Caroline loves clothes and especially going shopping for them.

Caroline hates the cold, but she does love wrapping up on a cold day in nice warm clothes.

Caroline hates feather pillows, all the Corrs are allergic to them.

Caroline's handprints are on the Wall of Drummers hands in The Hot Press Irish Hall of fame in Dublin.

Caroline used to work at McManus's in Dundalk together with her sisters.
Quotes...
"I can drive a golf buggy"

"We pretty much needed a drummer, and I, well... I had nothing better to do!"

"Our parents were musicians. My mother... OUR mother, I wasn't supposed to say my!"

"Sharon was the eldest so she had the most sophisticated clothes. Poor Andrea and I had to make do with her hand-me-downs"

"I've never had trolley rage, although I have got very irritated if there's been a load of people crowding round the vegetables blocking my way to the mange tout."

"You know the band the Cure? How Robert Smith's hair went up in the air? When I was a kid, I dyed my hair black and had it up in the air, too. Then, you know, I came to my senses".

"Men in boxers, definitely, I like how they shake a lot more".

"I hit them hard, then I hit them harder still and hope they don't break" (talking about her cymbals)

"There's actually 14 in our family, but we disowned the others."

"No, it's OK now, I will just stay quiet for the rest of the interview"

"How do you say 'It's good to be home' in an American accent?"

"You're actually pretty lucky to get through a show without Andrea making at least one mistake".

"We miss out on a lot of sleep, we miss out on going home and making our own dinner".

"This is who we are, and you can only be yourself"