Andrea's Biodata
Name:
Andrea Jane Corr
Date of birth:
17 May 1974.
Star Sign:
Taurus, The Bull.
Height:
1.556m (5'1 1/4")
Instruments:
Tin whistle & lead vocals.
Bad Habits:
Sucking her thumb, being messy.
Worst character:
I lose everything.
Like people who:
Live life and are down to earth.
Dislikes people who:
Don't try and give up easily.
Holds Driving Licence:
No but is currently learning.
"Our parents were musicians, so we grew up with a lot of music in our house. I suppose it was always our intention to become a band. I don't think that there was anything else that we really wanted to do. I think if music provokes any sort of emotion, it's working. Whether someone is laughing or crying, happy or sad. That's what it's all about."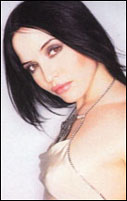 Brown-eyed Andrea is the youngest, as well as the shortest, of the siblings. She is the lead singer of the group, plays the tin whistle, and is the main lyricist of the band. Like the rest of the Corr siblings, Andrea was taught the piano by her father Gerry, but it's her voice, filled with such passion and strength, that is the main asset to the band.

Andrea went to the same school as her sisters, the Dun Lughaidh Convent, and was classed as the brainiest of all the siblings. But, being the youngest had a downside because, as she joined the band straight from leaving school, she is often looked upon as missing out on her youth and a somewhat normal life. This might explain why Andrea is often shy at interviews, sometimes sitting there silently while her siblings take the questions, and then sheepishly looking lost for words if suddenly the conversation turns to her. But, all is forgiven when she either bursts out laughing or flashes her fantastic smile as she realizes she hasn't been paying full attention.

Andrea, who was voted sexiest woman in Ireland, admits to sometimes making a lot out of a simple situation, being an eternal optimist, and, with some reluctance, being the messy one of the family. She is also known to have an overactive imagination, which, along with her romantic side, forms the foundation for her lyric writing. It is these factors that give the feeling and drive to a lot of the band's songs. Andrea also loves to read and watch movies, the latter often making her emotional, which she views as the perfect platform for her proven emotional lyric writing.

Andrea is very self-critical and very rarely likes her own work. She has been known to come off stage and publicly denounce her performance. But, despite all her self-criticism, she is known as the joker of the family, making people crack up with laughter as she drops a quick sharp comment or pulls a funny face. All this is understandable, considering she is attracted to people who are down-to-earth and live life to the fullest extent. Andrea, who is not public transport's biggest fan, loves visiting the world and sees it as a huge bonus that the band not only does something they enjoy for a living, but has the luxury of traveling and meeting people of many cultures, as well getting the chance to sample the different styles of party life in all corners of the globe.

Andrea's worst and most noticeable habit is sucking her thumb, a habit she has had since she was young. When the Corrs were in the States towards the end of 1998, someone pulled John Hughes aside and suggested that Andrea should get some therapy to try to get her out of the habit. But, Andrea has often been quoted saying that she doesn't see it as a problem whatsoever. She also has the habit of losing things, which is why she sees the tin whistle as the perfect instrument - they are cheap to replace.

Andrea is also an aspiring actress in her spare time and has now appeared in two films directed by Alan Parker - "The Commitments" and the cinematic version of "Evita." While Caroline, Jim, and Sharon got to receive a well-deserved vacation, Andrea flew to Budapest to portray Juan Peron's mistress in "Evita." Andrea was also the singing voice for Kayley, one of the main characters in the animated movie "Quest For Camelot" and, together with the rest of the group, she performs two songs on the soundtrack. It's her acting roles that have caused the other members of the band to give Andrea the title "family drama queen".

Onstage is where Andrea portrays her true love for the band's music. Anyone watching Andrea perform live is mesmerized by being in her presence. Dressed in either colorful baggy dresses or tops or in complete black, Andrea is a giant on the concert stage. She can hold an audience spellbound with the variety of facial expressions she has, ones that range from pure sad to pure sexy. The emotion she portrays in her powerful and strong, yet charming voice, the way she loses herself in the music and lyrics, and the way she acts the songs out like a story is what makes this woman so unique. One minute, she is dancing around the stage, while the next, she's standing sultry by her microphone while running her fingers through her hair or holding her face almost in anguish. Not a single performance goes by without Andrea making some mistake, be it accidentally dropping her tin whistle or her microphone, playing when not supposed to, nearly tripping over, or introducing the wrong song or part of the show. She is a lady who makes mistakes, and enjoys making them. Jim has been quoted as saying, "I sometimes look at Andrea in our concerts and wonder what next unplanned thing we are all about to witness." But her mistakes, we just could not do without. They're a vital part of the concert that we, as fans, all look forward to witnessing.

All since the band hit stardom Andrea has for been linked with any person who will "stick," especially by the tabloid press. Because the band are a family, and combined, with the fact that any time Andrea manages to get off from her busy schedule is spent with friends and family, this has lead to less relationships than she would have liked. Andrea has sadly admitted to not having a serious relationship for many years, but she has got someone special in her life today.

Andrea is something special, no one could disagree with that statement. Something extraordinary could be seen in Andrea many years ago, when the band was trying so hard to get a record deal. Her irresistible little smiles and cheeky grins, the presence she portrays on stage for one so small, her songwriting and, especially, her lyric writing talents hold no boundaries. These are just a few examples of what makes this lady an amazing woman who will go down in history as one of the greatest females that has ever graced popular music.

Andrea is a giant amongst giants...
Did you know...?
Andrea admits to having a heavily, emotional involvement when watching movies and has actually cried when watching films like Leaving Las Vegas, The Piano, Midnight Cowboy, Betty Blue and Last Tango In Paris.

On her first plane trip she thought you had to pay for the food.

When she was growing up she thought every family in Ireland sang and played instruments.

Andrea loves porridge but she dosen't know why.

Andrea hates dirty carpets.

Andrea used to work at McManus's in Dundalk together with her sisters.

Andrea nearly died of a kidney infection when she was born.

Andrea had the highest grades of all the siblings in school.

Andrea used to love the singer Prince, but her parents didn't like her listening to his music.

Andrea was very tomboyish as a kid, and got a lot of cuts and bruises.
Quotes...
"I can't read...whose writing is this? Oh, hang on, it's mine."

"Oh God, it's mobile hell here...I hate them with a passion"

"Our parents locked us in the piano"

"Mick is Mick and should be avoided for one's own safety!" (referring to Mick Jagger)

"The next time I see that journalist I'll beat him around the head with my tin whistle"

"I feel like a squashed pea"

"I was not meant for public transport"

"Ahm, what can I say? I'm irresistible"

"Sibling quartet! I hate that"

"I am just vertically challenged"

"Music is romantic enough for me"

"I like black. It creates an atmosphere"

"It's like, 'I'm NOT in a bad mood'"

"I didn't decide to make that sacrifice in terms of relationships but its a product of the environment we work in".

"When I am described as pop's sexist woman I hope its not because people want to sleep with me"

"I am not exactly a baywatch babe"

"I couldn't even kiss a man I wasn't completely attracted to"

"Myself and Caroline kind of imagine ourselves in 10 years time, living together..."