GUJARAT EARTHQUAKE RELIEF PACKAGE

The most sacred symbol in Hindu dharma. Aum (OM) is the sound of the infinite. Aum is said to be the essence of all mantras, the highest of all mantras or divine word (shabda), brahman (ultimate reality) itself. Aum is said to be the essence of the Vedas. By sound and form, AUM symbolizes the infinite Brahman (ultimate reality) and the entire universe.
A stands for Creation
U stands for Preservation
M stands for Destruction or dissolution
We are sending our relief aid to Kutch - Gujarat on the name of this great word :
AUM
MAP OF GUJARAT
MAP OF KUTCH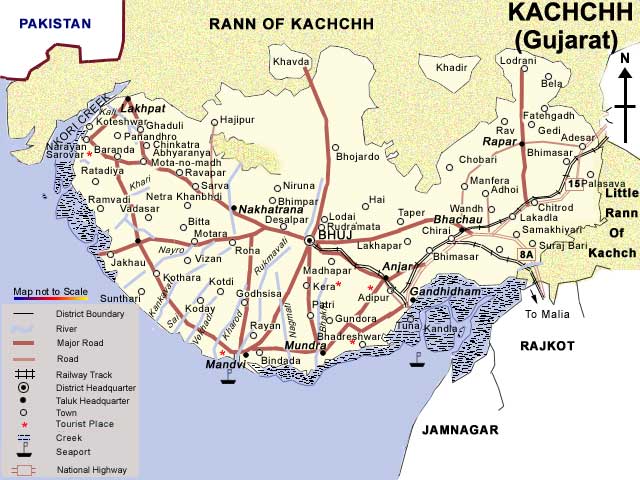 AIM

Gujarat – Western State of India is hit by very Powerful devastating Earthquake on 26th January 2001. Peoples there are in need for the immediate help of any kind such as tents, blankets, potable water & food and so on. As a responsible Person located so far from motherland, in Singapore, we have decided to send some relief aid, whatever we could, to Gujarat.

RELIEF PLAN

We will be collecting relief fund in Singapore and then we will immediately transferring it to Patan (Near Rapar – North Gujarat) in near real time. My parents and locals there have volunteered to purchase the items in lieu of the aid and they have even volunteered to deliver it personally to remote areas of Kutch, bypassing the government machinery & channel, which are still not covered by media and aid agencies. The local volunteers assured us that every single penny would be used for relief items.

EVENTS

29-JAN-2001:
Contribution Started coming in.
30-JAN-2001:
We are able to Manage 2090 S$ (55000 Indian Rupees) as a relief fund. In PATAN, Local Volunteers purchased 100 Blankets, 100 Dish and Bowl Sets, Candles and Matchboxes. They will deliver these items to Kutch / Rapar tomorrow. More details about exact places will be available in few days.
31-JAN-2001:
Relief Fund in totality transferred to PATAN.
Local volunteers have already delivered this first batch of relief items purchased on 30th Jan. in the villages of Rapar and Bhachau area. Relief items liked Candles, Match boxes, plate, bowl and food items are distributed in various villages like Adesar, Chitrod, Bhachau, Taga, Davari, Balasari, Khodasar and Parkardhatiyu (Volunteers will also be checking about the specific requirements of the affected people there.)
1-FEB-2001:
Based on the exact requirement, volunteers will purchase the items for second and final relief aid package. That will be delivered in next couple of days.
2-FEB-2001:
Volunteers have already given a purchase order for various relief items like Tents, Blankets, Lanterns etc. Some items they will purchase from Ahmedabad as they are not available locally.
7-FEB-2001:
Volunteers have started the distribution of second and final batch of relief items. Relief items like Tents, Blankets and Lanterns are distributed in various villages like Adesar, Bhimasar, Rapar, Khadir, Gadhhada, Dhoravira, Ladli, Balasari, Shanva, Davari, Kalyanpura. Army is not allowing volunteers to allow in some of these villeges but with the help of Police Inspector Prakashbhai Mane (one of our volunteer); they are able to reach these villages.
PHOTOGRAPHS : Click here to see the photographs.

DETAILS OF PURCHASED RELIEF- ITEMS :

23000 Rs. – Blankets (Unit Price: 100 Rs. * Quantity: 230)
450 Rs. – Candles (Box Price: 90 Rs. * Quantity: 5 boxes)
600 Rs. - Match Boxes (Box Price: 200 Rs. * Quantity: 3 boxes)
5000 Rs. – Plate, Bowl and Glass - Set(Unit Price: 50 Rs. * Quantity:100 Sets)
6600 Rs. – Lanterns (Unit Price: 55 Rs. * Quantity: 120)
19950 Rs. – Tents(Unit Price: 350 Rs. * Quantity: 57)
=========================
55600 Rs. – Total.

We have sent 55000 Rs. from Singapore.
Local volunteers paid remaining 600 Rs. And Transportation cost.

LOCAL VOLUNTEERS :



Kirtibhai Parikh
Bhartiben Parikh
Prakashbhai Mane
Naliniben Mane
Sandhyaben Pradhan

DONORS :

Aashish, Ajay Kaushik, Ashutosh, Atulbhai Sutariya, Deepali, Dharmanshu Jadeja, Eddie, Gilbert, Gopinath, Harshal Jawale, Kiritbhai Patel, Kirtibhai Vora, Manojkumar Rai, Pauline, Peter Innaci-Mutthu, Piyush, Pratik Parikh, Ramesh Raju, Sandeep, Santosh, Senthil Kumar, Tushar Maniyar, Vinita, Local Volunteers
---
Thank You all for your great co-operation. - Pratik Parikh
---