John-Paul II's Pornographies
The Catholic Church has very strict norms on modesty, in public life. But that holds even more stringently for clerics. Of course, the New Church has thrown all of that into the garbage can...

Today, that sect, the New Church is beset with an epidemic of clerical pedophilia, sexual liasions, adulteries. But we must look, not at the foot-soldiers, nor to the brigade commanders, but to the very Marshal-General of this puculent sect, to trace the source of this disease.

This page graphically sets out the evidence of the root of the disease.

These pictures and their captions are from the Tradition In Action, Inc. site.
---
Inside The Vatican: Pope Paul VI Hall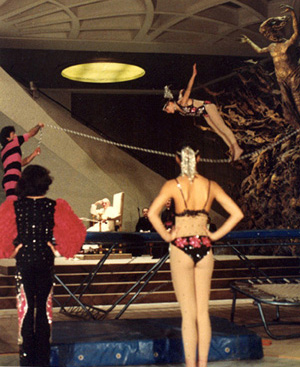 John-Paul II watches and endorses by his presence the immorality of scantily dressed young artists performing at the Vatican in the Paul VI Room. Picture Source – L'Osservatore Romano, Servizio Fotografico, 1981
---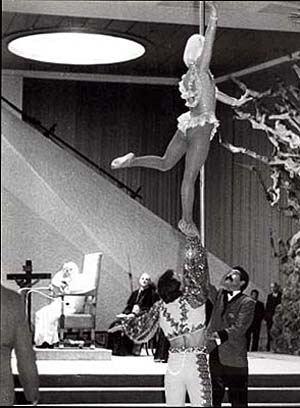 John-Paul II enjoys the performance at the Vatican of a young acrobat who balances herself on the hands of her partners. Picture Source – Agenzia Gionalistica Italia S.pA., Rome
---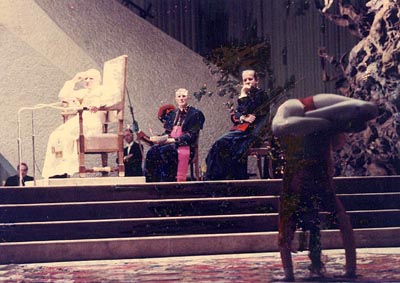 Indecent acrobatics at the Vatican: A very bold and indecent position is taken under the complaisant eye of John-Paul II. Picture Source – Arturo Mari, Rome
---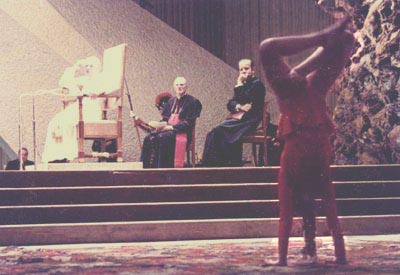 Indecent acrobatics at the Vatican: A young woman gives an acrobatic performance for John-Paul II, who watches with other ecclesiastics. Her posture is clearly indecent, and one wonders when John-Paul II applies to himself the precept of custody of the eyes. Picture Source – Arturo Mari, Rome
---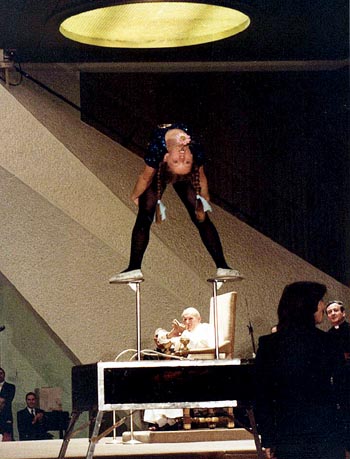 Acrobatics at the Vatican: A teenager in leotards, in an indecent position, performs before an applauding John-Paul II. Picture Source – Arturo Mari, Rome
---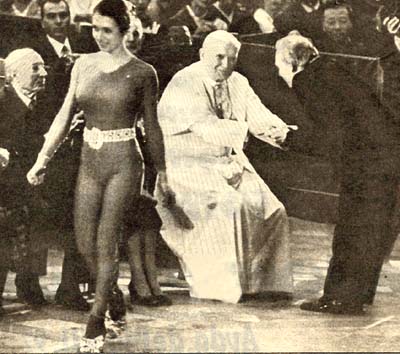 Vatican, January 1985: Wearing skintight leotards, an acrobat from The American Circus of Italy walks away under admiring glances after receiving John-Paul II's blessing at the Vatican. Picture Source – ABC [Madrid], January 25, 1985
---
Sports Jubilee At Rome's Olympic Stadium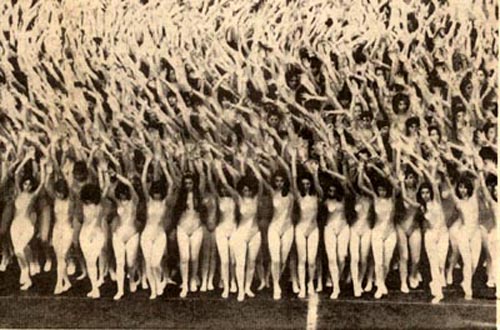 Rome's Olympic Stadium - April 1984: A group of 1200 young women perform synchronized dancing in front of John-Paul II during the Vatican-sponsored Sports Jubilee. An estimated 100,000 people were in the stadium to greet John-Paul II. The skintight leotards are very immodest, and the ensemble appears more like women in a chorus line than faithful youth before a Pontiff.
---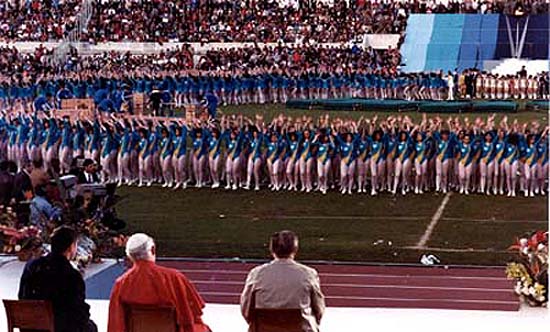 1,200 young women wearing leotards performed sychronized dancing for John-Paul II in Rome on April 12, 1984. Picture Source – L'Osservatore Romano - Servizio Fotografico - Arturo Mari
---
Around The World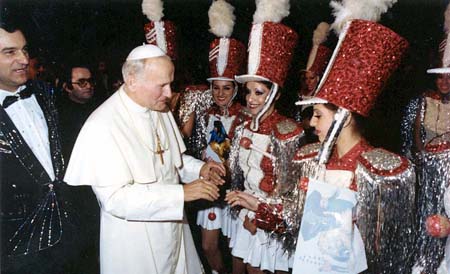 Abandoning previous norms that established guidelines for dress when meeting with the Pope, John-Paul II seems pleased to greet baton majorettes in mini-skirts. Picture Source – L'Osservatore Romano - Servizio Fotografico - Arturo Mari
---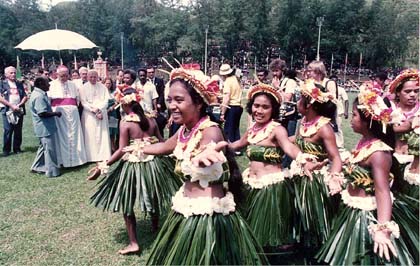 Young women dressed in bikini tops and see-through palm skirts hula dance in the presence of John-Paul II. Picture Source – O Foto Felici, Rome
---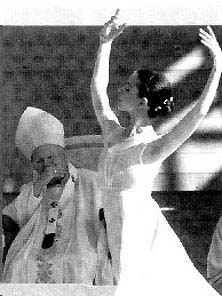 Watching a dancer during "Mass" at World Youth Day - 2000
---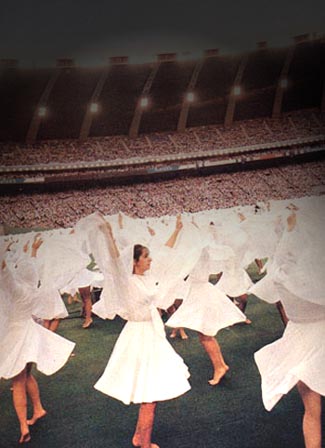 Olympic Stadium, Canada, 1984: Bare-legged young women perform dances for John-Paul II. Spectators said that the dresses became semi-transparent under the effect of the lights. Picture Source – The Gazette, Special edition, 1984
---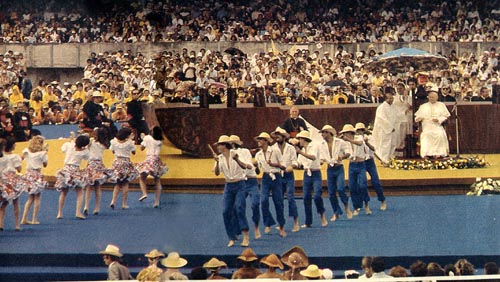 At the opening of the Eucharistic Congress in Fortaleza, Brazil, John-Paul II authorized the performance of popular dances in front of the stadium altar. Below, young women in immodest leotards holding strands of wheat symbolizing the Eucharist wait to perform for John-Paul II. Dancing for John-Paul II has been a new way to give citizenship to immodest dress and gestures. Picture Source – Manchete, July 26, 1980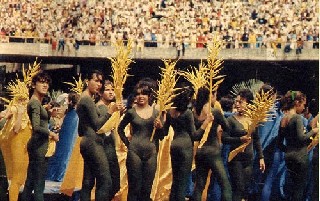 ---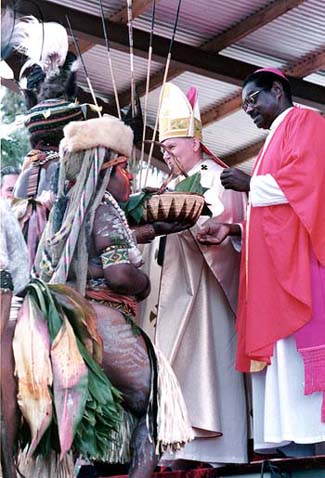 Papua New Guinea, May 8, 1984: A hefty nude native woman brings the Offertory gifts for John-Paul II's "Mass". A new concept of Morals is being applied. Picture Source – O Foto Felici, Rome
---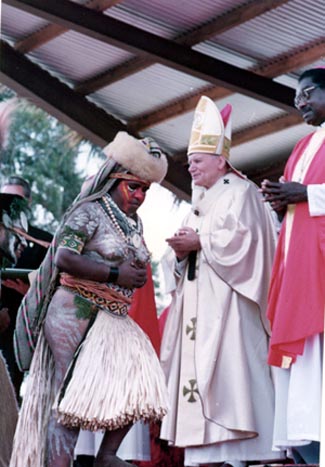 Papua New Guinea, May 8, 1984: Picture 2 - The bare-breasted native woman leaves John-Paul II's presence after presenting the Offertory gifts. Picture Source – O Foto Felici, Rome
---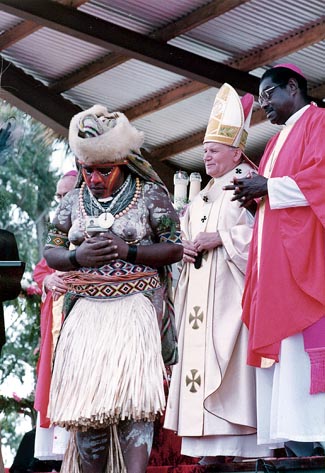 Papua New Guinea, May 8, 1984: Picture 3 - The nude native woman returns to her place after presenting the Offertory gifts to John-Paul II. Picture Source – O Foto Felici, Rome
---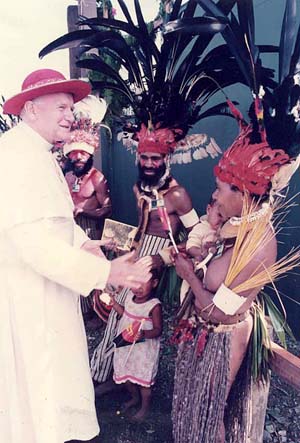 May 1984 - John-Paul II shakes the hand of a bare-breasted native woman in the Pacific Islands. Picture Source – O Foto Felici, Rome
---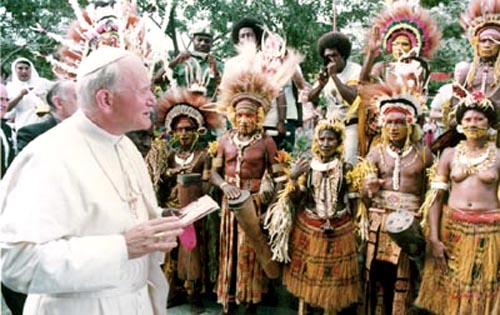 Visiting the Pacific Island of Papua New Guinea, John-Paul II greets half-naked natives. May, 1984. Picture Source – O Foto Felici, Rome
---
©Tradition In Action