An Account By The Traitoress Heredia
Celebrating India's Rape of Goa
An Account of India's Rape of Goa by the traitoress Irene Heredia, or more properly "Shantabhen Herodias" as published under the title, Liberating Goa: The laudable role of the Goa Liberation Council in securing Goa's Liberation, in the "Goa Today", an anti-Goan, traitorous magazine, June 2005 issue; Digitization and footnotes by the Patriot Lúcio Mascarenhas.
---
It all started one evening in March 1954 at a tea meeting at our house at Asian Building in Bellard Estate
1
. We had been feeling some time the ripples of discontent across the border and the rumblings against police atrocities and suppression of civil liberties, among those who dared to differ from the establishment in Goa.
There were already several groups on this side of the border working for the overthrow of the Portuguese rule. There was the Azad Gomantak Dal, an action group, not averse to violent means, the National Congress (Goa), an offshoot of Lohia's Socialist party in India
2
, the Goan People's Party with links to the Communist Party of India and the United Front of Goans. The membership of all these parties was largely non-Catholic. The intelligensia as well as the elite among Catholics as a class, both inside Goa as well as in Bombay stayed away initially though there were outstanding exceptions in Goa itself. Tristao Braganca Cunha
3
, Evagrio George
4
, Alvaro Pereira and several others whose names are well known. They were not, however, mainstream Catholics
5
.
My husband J.N. Heredia, in Bombay, was honorary consul for Brazil since 1935 having succeeded his father who was appointed in 1922. An extremely cordial relationship existed between Itamariti, the foreign office in Rio and the Consulate in Bombay. In the early years, the export of the sturdy Kankrej cattle of Gujarat for cross-breeding with the local breed imported from Europe was an important activity. During the war, Brazil was accepted by both the sides for the overseeing of the internees at war camps in Deolali and Ahmednagar, while fleeing refugees from Poland and Eastern Europe were taking the overland route through Istanbul, came to Bombay for their papers of immigration. Later, cultural delegations between Brazil and India and visits of eminent Brazilians like Gilberto Freire, the internationally famous sociologist, Cecilia Meireles, the Gandhian, and other sympatizers figured largely on the Consulate's agenda.
The Consul at Bombay had been recommended by the first Brazilian ambassador to India, Senhor Alancar for a Cruzeiro do Sul
6
for his promotional activities projecting Brazil in India. However, events in Goa were hotting up, and Brazil's stand was less than neutral. A new ambassador had been appointed at Delhi, Senhor Ile de Falcao, and a new Consul for Portugal at Bombay. The charge always was that the Goan Catholics of Bombay were getting the best of both worlds and did not wish to take a stand on the issue, because of their extra-territorial loyalty
7
. Heated conversations, controversies and arguments prevailed wherever Goans converged. My husband and I felt it was time to take a stand even at the risk of his lucrative and prestigious consular status.
He called a few friends to tea at our house (tea parties seem to have a link with revolutions!) among them Aloysius Soares, well known for his intellectual incisiveness and political analyses. Somehow, the news of the meeting was leaked to the Portuguese Consul who lost no time in reporting it to his Ambassador at Delhi. Immediately, the Brazilian ambassador wrote to my husband mentioning dismissal as a possible outcome of such expressed sentiments
8
. That led to a letter of resignation from my husband stating that his citizenship being Indian, the rights he enjoyed of speech and patriotic sentiment could not be curbed by a government, however friendly to Portugal, which had itself sought its own liberation from Portuguese rule
9
.
The letter received much media publicity. It gave the issue a new dimension and raised it to the level of international diplomacy. The Government of India recalled its Consul in Panjim and closed the border between Goa and India
10
. A new momentuum was generated. It was decided to issue a new manifesto stating the intent of Goans in Bombay, and a much more representative meeting was held at Asian Building — our residence, with Aloysius Soares in the chair to discuss the draft. Peter Alvares of the Goa Congress wished to incorporate a clause that Goa after Liberation should join Maharashtra State, but it proved controversial and was dropped. Peter Alvares did not sign the manifesto as he was a prominent member of the Samyukta Maharashtra Samiti
11
.
The next move was to collect all the like-minded people to convince the fence sitters, and to answer those, not a few, who, using the privilege of free speech and receiving clandestine assistance, were able to counter every move of the liberationists
12
.
It was felt that an organisational setup and a place from which to function were necessary, if meetings were to be arranged and propaganda countered.
The Goa Liberation Council was therefore formed, with Aloysius Soares, the president, Francisco Correia Afonso, L.J. De Souza and Prof. Wellingkar — vice-presidents. My husband chose initially to be the secretary along with J.M. Pinto of of the
Times of India
and Nicolau Menezes, who had escaped from Goa. My husband felt he could be most effective in that position as much work had to be done. The manifesto was printed and distributed widely, specially in Goa by the underground agents
13
. This they said was an effective blow to Salazar's dictatorship in Goa for he had all along boasted that in Bombay, 80,000 Goans enjoying freedom of speech and assembly had not raised a whisper in favor of liberating Goa
14
. To him Goa was forever a part of Portugal and would remain so with the acquiescence of enlightened elite and middle class Goans.
The Goa Liberation Council became yet another party. It had to be, as the Goan Catholics of Bombay needed an approach which would take into account their cultural, religious and apolitical background
15
. The plan of action was to publicise the movement and to educate public opinion on the issue of Goa's future as part of the Indian Union. My husband managed through his contacts with the government to get accommodation in an outhouse of Kamani Engineering at Kumpta Street in Bellard Estate
16
. This office of the Goa Liberation Council became the meeting place and the rendezvour for nationalists and freedom fighters.
A fortnightly called
The Goan Tribune
was started with Aloysius Soares as editor and Lambert Mascarenhas as assistant editor. Along with the news of happenings in Goa and international repercussions, the activities of all parties in the field were reported. There were also other features of interest to the uncommitted reader, a woman's page by myself (Irene Heredia) featuring short stories, special recipes, and old fables and anecdotes retold. The creative side of the paper was handled by Lambert Mascarenhas, the political and analytical aspect by Aloysius Soares. The paper was eager awaited every alternate Sunday and the response was overwhelming. It was sent to every mission abroad, to every MP in Delhi and MLA in Bombay.
At the outset of the Council's formation, a Goan Women's Convention was held at the B.P.H.A. Ground at Churchgate
17
. Indira Gandhi who was the president of the Congress Party, presided. Leela Moolgaokar, wife of Suman Moolgaokar
18
, later chairman of Telco (The Tata Engineering & Locomotives Co. Ltd), was the chairperson and Mrs. T. Rodrigues, wife of the sub-area commander along with myself and other women of the community sat on the dais.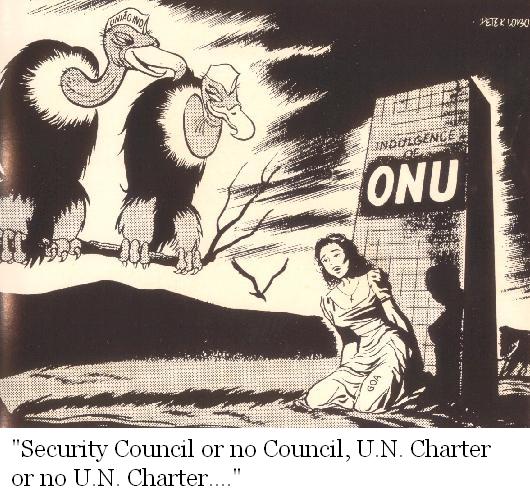 A Quit Goa resolution was passed. The movement began to acquire "respectability". "A Night In Goa" was organized at the Catholic Gymkhana at which the music, song, dance, food and folklore of Goa were the theme. The Catholic Goans had been drifting away from their distinctive culture, which was an amalgam of what was intrinsic to their faith and what they had retained from their pre-conversion days, and it became one of the aims of
The Goan Tribune
to check this erosion
19
.
Pandit Nehru agreed to address a meeting largely of Catholics to reassure them on their apprehensions about the future of Goa
20
. One thing he emphasised was that the Goans of Bombay, specially the members of Goan clubs, had not given the lie to Salazar's contention that no Goans in India had expressed themselves against the Portuguese regime in spite of the democratic freedoms they enjoyed
21
. The Federation of Goan Clubs was thereafter activated and visits were paid to Pune and Nagpur to apprise the Goan communities there of the issues involved. Members of the Liberation Council worked with all parties in arranging meetings, going on delegations to Delhi, attending Congress sessions.
At one open air meeting, there was a terrific downpour, as a result of which my husband was hospitalised with a rheumatic fever and suffered a severe coronary damage. He was the Council's liaison with Government and the special Goa desk in Delhi. He found that the party that was easiest to work with was The Goan People's Party, with George Vaz shouldering most of the physical tasks
22
. A delegation went to the Congress session at Bhavnagar in 1959 led by Fr. H.O. Mascarenhas, the lone Catholic priest who fearlessly subscribed to the idea of liberation from Portuguese
23
, with leaders of other states, and with all important opinion and decision makers in Parliament, Krishna Menon among them. Returning home, the pressure of public propaganda was kept up through meetings, print media and All India Radio, where talks in Konkani were broadcast regularly on its external services
24
. I spoke to women during Women's Hour arousing their patriotism through subjects of interest to them. Meanwhile, a seem of Rs. 30,000 was collected in Bombay in a short time and the fund was disbursed from time to time by Aloysius Soares.
A conference was organised in Delhi by the Indian Council for Africa. It was attended by a galaxy of delegates from all the Portuguese and French colonies of that continent — Angola, Mozambique, Algeria, Tunisia as well as Kenya. They were names that made the international newspapers. A delegation went from Bombay. The last session was held at Chowpaty at which I proposed the vote of thanks.
Aruna Asaf Ali had all along taken an active interest in the Goa's Liberation Movement. She was a soothing and a balancing force, reminding everyone constantly that their differences should only surface once Liberation was achieved. She also saw the need for social services and welfare among the Goans residing at Dhobi Talao and Dabul. Two new committees were started with her blessing. A National Campaign Committtee to propagate the cause and The Goan Social Constructive Committee with S.X. Mendes, M.R. Pereira and myself, to start development and welfare among Goans. The meetings of The Goan Social Welfare Committee were held at Tadwadi near Dhobi Talao in a half completed building, which was the co-operative effort of Mendes and Pereira, for the lower income group
25
.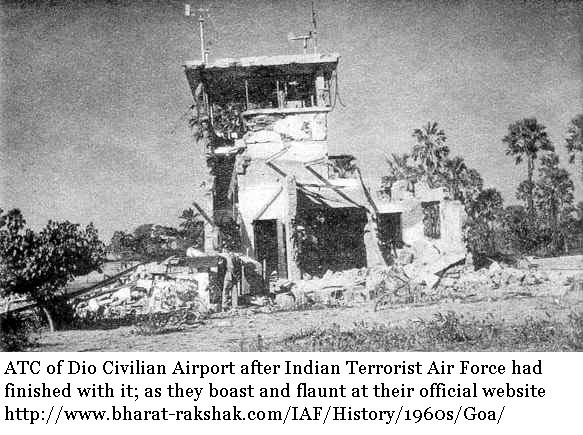 On the Republic Day—January 26, 1961, the Goa Gate was put up at the traffic island opposite Metro Cinema, beautifully lit, 32 feet high, and with a slogan "Remember Goa is not yet free"
26
. Meanwhile, the patience of Goans was running out
27
. Goa was inaccessible
28
. Reports stated that Salazar had raised all government salaries and distributed largesse far and wise, in the form of free visits to Portugal, scholarships, loans, etc.,
29
while tightening the repressive measures against dissenters
30
. Obviously, this was the last act. But how to bring down the curtain?
Everyone was agreed that some force would have to be used. Krishna Menon was the Defence Minister. He knew of moves on the part of Portugal and Pakistan to internationalise the issue. Another Kashmir? God forbid. All Goans from every strata, of all possible shades of opinion joined in a morcha from Azad Maidan to Sachivalaya demanding immediate intervention in Goa
31
.
And so happened. In early December, Bombayites saw some strange troop movements taking place. Trucks carrying jawans trundled through the streets of Bombay. It was on the night of December 17th 1961, at 11 pm that my husband received a phone call from Dr. A.V. Baliga, a great behind-the-scenes supporter of the Liberation struggle and a close friend of Krishna Menon, that Indian troops had entered Goa. The action had been totally peaceful
32
. Goa had been liberated at last
33
.
Later, when the issue was tabled at the UN General Assembly, Adlai Stevenson, the leader of the American delegation, waxed eloquent on the invasion by armed force of Goa by India
34
. But J.F. Kennedy, the President, a personal friend of Nehru, asked him to cool it as Portugal's position was untenable
35
.
There was an unanimity among the participants of the Goa Liberation Struggle, which was remarkable for a Goan group. We did not attack each other, although there were four parties in the field. There were times of inter party dissension, but Aruna Asaf Ali appealed to all parties that partisan issues should wait to be settled post Liberation. There was only one item on our agenda, to secure the withdrawal of the Portuguese from Indian soil
36
.
---
India's rape of Goa poses these questions:
Do a people have the right to secede from the State of which they are citizens without grave cause?
Can a State, in this age and time, invade and occupy a territory without the consent of its people?
Can one State, in this age and time, transfer a territory to another state without the express consent of the people of that territory?
Do the people of such a territory, under a patently illegal and criminal occupation, become, as a result of this occupation, "liberated", or do they not rather become, as a matter of fact, slaves and chattel of their conquerors?
Footnotes:
1
"Bellard Estate" — Ballard Estate, an area of the Bombay Dockyards developed on land reclaimed from the sea. It lies immediately due east from the main railroad terminus at Bori Bunder, the Victoria Terminus. This misspelling of a very famous name, and of a place where this woman had lived for so long, is merely indicative of the intellectual destitution of the people who became traitors and collaborators in India's scheme to rape Goa — both of the traitoress Shantabhen Herodias and of "Goa Today"!
2
National Congress (Goa) — It was NOT an offshoot of Lohia's Socialist Party, but of the Indian National Congress.
3
Tristao Braganca Cunha: His actual name was Tristao da Braganca e Cunha.
4
Evagrio George: There are no Goan surnames "George"; it is "Jorge".
5
"Not mainstream Catholics": We are grateful to this honorable traitoress for this honest confession. Indeed, these were folks who were de-naturalised, de-nationalised, who had sold their nationality and community feeling for a mess of potage, to become India's pet dogs!
6
Cruzeiro do Sul: The Souther Cross, a Constellation visible only in the Southern hemisphere, and taken up by south hemisphere states, such as Brazil, New Zealand, Australia, as their emblem. It was made a high award in Brazil.
7
Who
made such a charge, what what was the locus standi of such person(s)? Goans in India were, like the Nepalese, beneficiaries of a British India policy, by mutual treaties, permitting them free residence, and Free India had renewed that treaty with Portugal. Goans in India were legally Portuguese citizens, a fact recognized by India, and their only duty and obligation to India was to abide as loyal guests; an obligation inferior to and exclusive of, their higher duty of loyalty and patriotism towards Goa and Portugal, of which Goa formed and forms, an integral and indivisible part!
8
The Infamous Heredia Tea Party: Shantabhen lies when she alleges that it was held at "Bellard Estate". It was actually held at Uran, across the Harbor. More importantly, the implications of this meeting are not stated, so that a new reader would be mystified as to the reaction to it. It was called as a confabulation of the Indianists and their treatorous Goan lapdogs, which is why Portugal and Brazil reacted so sharply to it.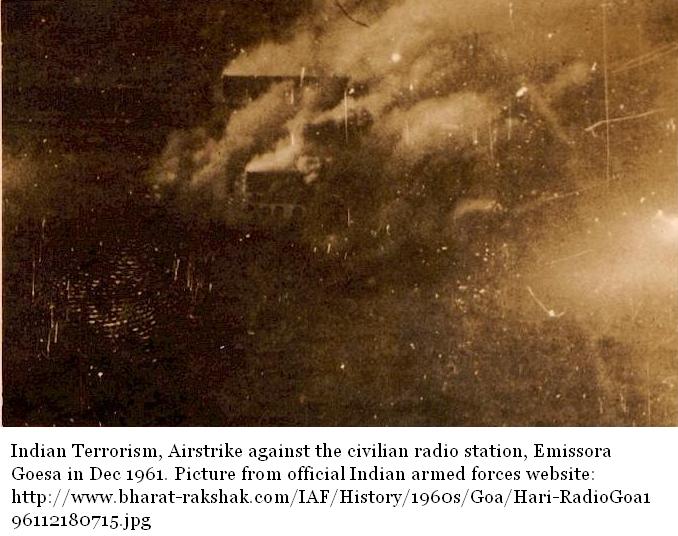 9
Resignation as Brazilian Consul: The fact is that the Ministry in Rio dismissed him, not that he resigned. He then attempted to pretend that he had resigned, by a protest letter, but you can hardly resign from a position from which your lawful superior has already publicly dismissed you! That this was a dismissal and not a resignation was widely reported in the Indian Press!
10
Recall of Indian Consul at Nova Goa-Pangim: It had no direct connection with the "Tea Party" at Uran, but was the result of India's frustration in subverting Goans and in persuading Portugal to cede Goa to it! The traitoress Shantabhen is merely attempting to exaggerate her own importance!
11
Another interesting piece of information, which explains latter controversies! The
Samyukta Maharashtra Samiti
was a body formed for the annexation of Goa and other parts bordering Maharashtra province, to Maharashtra, an Indian province created in 1957-1961 out of the former Bombay Province, as a Marathi ethnic homeland. It means
The United Maharashtra Committee
, and "United" meant that it was formed by Marathi politicians from across the political spectrum!
12
Why is it that those who repudiated their lawful allegiances, and receive material assistance from powers enemical to their national interest, are "lawful", while patriots who upheld their lawful allegiances, and who propagandized against treason with aid from the home government, are styled "Clandestine assistances"? If this is not mendacious hypocrisy, what is? And this hypocrisy is aggravated by traitors and quislings styling themselves "liberationists"! The insolence!
13
Distributed widely, specially in Goa: What is this, if not subversion of lawful allegiances by traitors acting as agents for an enemy power?
14
How disgraceful for India and its Goan traitor-lapdogs is this admission, that the vast majority of the Goans in Bombay and India, contemptuously spurned them and their overtures that they join them in their treason and anti-Goan activities!
15
A party that was deliberately created in order to simulate that it stood for the Goan Christian and his interest, so totally opposite to that of the Goan pagan minority! Yet another instance of hypocrisy!
16
Yet another admission of the complicity of the Indian Union in criminal subversion of its inoffensive neighbor!
17
The "Bombay Provincial Hockey Association Grounds", located north of D Road, on the west side of the Churchgate Terminus; the Government of Maharashtra built a Cricket Stadium, the Wankhede, on its southern end, as a rival to the British established Brabourne Stadium.
18
Certainly, these eminent vermin must be related to that other Goan pagan vermin, Manohar Mulgaonkar, who's slanders and libels of Goan Christianity is being presently flaunted with so much delight and courage by the Indian lapdogs who operate "Goacom", "Goanet", etc.!
19
Traitors pretending to be the guardians and protectors of Goan culture! This is rich. If these traitors did not represent the Indianization and re-paganisation of the Goans, who did? Who will deny that they have achieved this to a very great extent since December 1961?
20
Obviously, this is the same infamous "Sidharthnagar Maidan Meeting" organized by
Bottji
Nehru's favorite Quisling-Dunce Valeriano Cardinal Gracias, in a far western suburbs, then practically deserted, and very far from the nearest Goan settlement at the Immaculate Conception Colony at Malad; this is also when the pious humbug and mealy-mouthed hypocrite "promised" Goa self-determination! Why is it that this traitoress has not mentioned this? Too inconvenient a fact?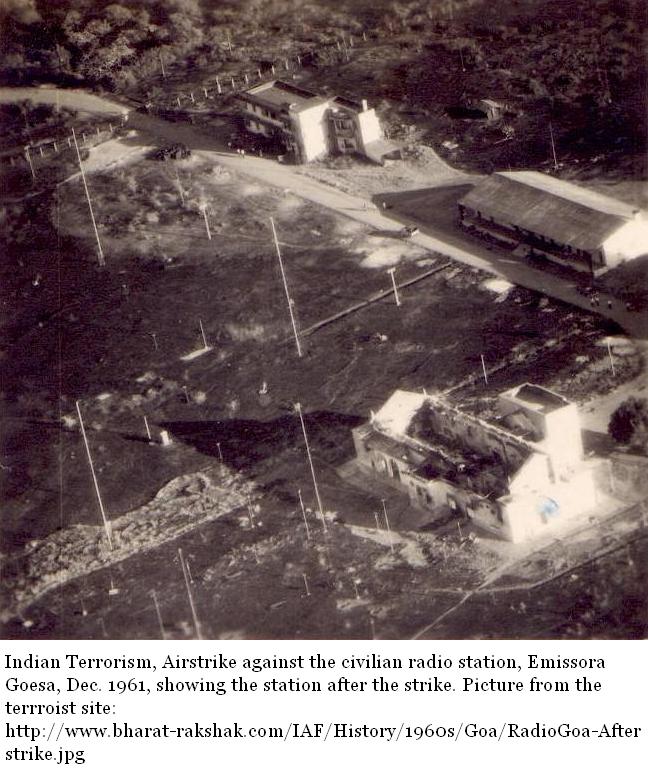 21
Bottji
Nehru's objection to Goans in Bombay failing to join with his Goan traitor-lapdogs is telling, to say the least!
22
An organisation that the traitoress herself has informed us as being a communist front!
23
Fr. H.O. Mascarenhas evidently "courageously" aligned himself with traitors and with Communists! May his memory be accursed! But what of his superior, Valeriano Cardinal Gracias, who egged him on, but who was so incapable of weaning Goan priests from their legitimate loyalty that he was successful in cultivating only in one or two renegades?
24
Propagandization on "All India Radio": The Indians and their lapdogs violently objected to the patriotic broadcasts on the Goan Radio Service, Emissora Goesa, and they went so far as to despatch one of their lapdogs, Ehrlich Pinto, to commit an act of terrorism, by bombarding the Emissora Goesa and putting it out of action!
25
The Rape of Goa has increased the destitution of many Goans, who have no one to succor them. India's pretensions of sympathy and compassions, were just that, and once India had seized Goa, and the Goans were persuaded not to resist violently, the need for this pretension ended!
26
Goa was free until India imposed itself on us. We are not free now, for now we are India's slaves, as, for example, the Jindal MetaStrip's public advertisement in the face of Goan protests evidences. But we will regain our freedom. It was a bad day for India, when intoxicated with its own madness, it rushed to kick a sleeping and inoffensive dog. It will pay dearly for this madness, and so will the traitors and quislings!
27
The patience of Goans? Certainly not, for they loved and held by their country, Portugal. But of the traitors? Certainly, for they were maddened by their own lies that Portugal was contemplating steps that would make an Indian invasion impossible. The traitoress puts forth the lie that Portugal was contemplating drawing in the UN to freeze the borders, as in Kashmir. The official Indian lie was that Portugal was contemplating handing over Goa to the US for a base. There is no substance to either of these deliberately manufactured lies.
28
Goa was certainly inaccessible — but only because India tightened its blockade imposed since 1954, by deploying its military in late November 1961 in preparation for the invasion and occupation of Goa! See how the traitors and hypocrites suppress facts and suggest lies, to blame the victim and exculpate the criminal!
29
Largesse and raised salaries: Largesse, nothing! As a result of the blockade imposed by India upon Goa, the Goans were forced to develop their own resources. Goans opened their mines and began exporting Iron and Bauxite ores to Japan and others, which made Goa a cash rich state, so that salaries and expenses could be increased. The traitors are well aware of these facts, but wish to conceal them behind their lies!
30
The only evidence of this "repression" was the hysterical self-delusion of the Indians and their Goan lapdogs; within Goa, everything was quiet and calm, and the people were content — an inconvenient fact that compelled India to a blase annexation instead of a figleaf of a plebiscite to merge Goa into India!
31
As with India's usual Goebellsian lies, when we are told of "Goan mobs" dancing hysterically on Indian streets, demanding India rape Goa, we must understand that 99.99% of them were Indians, and just 5 or 6 of them Goans, and traitors and quisling lapdogs at that!
32
Totally Peaceful action: The picture of the bombed out Air Control Tower of the civilian Dio airport, as triumphantly put up by the Indian Terrorists Air Force on their website, is a outstanding evidence of the "Peacefulness" of this action!This "Totally peaceful action" required to be imposed by a force of 50,000 Indian terrorists-soldiers against some 4,500 Goan army!
33
This, India's Rape of Goa, is what the traitors and quislings call "Liberation"!
34
Adlai Stevenson was a Fabian Socialist, part of the same international conspiracy as
Bottji
Nehru. His protests were a mere eyewash, the U.S., U.K. & the U.N. being complicit in deceiving Portugal and in facilitating the Rape of Goa at India's hands, as much as the Soviet Union!
35
Kennedy, a friend of
Bottji
Nehru: A telling fact showing the international conspiracy against the few remaining Catholic powers such as Portugal, even by renegade Catholics such as Kennedy, the paramour of the traitoress Marilyn Monroe, and the murderer of the outstanding Catholic President Ngo-Dinh-Diem of Vietnam and his entire family!
36
Indian Soil? If Goa is "Indian Soil", pray what is Pakistan, Bangladesh, Nepal, Ceylon, Burma, Indonesia, Malaysia, etc? Why are there no efforts at all to invade and annex them? No guts?