It Gets Worse —
Hindu Goddess Now Worshipped at Fatima
By Fr. Moderator, Traditio.com
Lucio Mascarenhas.
Orthopapism II/Michaelinum | Index of Articles
Disclaimer: My posting of this text taken from Traditio is not to be misconstrued as acceptance of the views of that website
---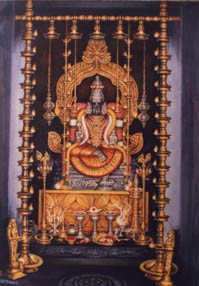 The Hindu Goddess Durga
One of the Pagan Goddesses Now Worshipped at the Fatima Shrine
Notae Bonae: Not that it will do any good against the totalitarian New Order bishops, who are bound and determined to make over the Roman Catholic Church into the false One-World, Oecumenical Church of the New Order, but TRADITIO herewith provides you with you with the contact information for the Bishop of Leiria-Fatima: Msgr. Serafim de Sousa Ferreira e Silva, Largo Conego Maia, 2400-175 Leiria, Portugal, telephone 00-351-244.832.714, fax 00-351-244.812.922, E-mail [email protected].
If you do communicate with him, don't act like a craven wimp, but as a courageous traditional Catholic who loves the true Faith and who justly chastises those prelates who fall from it. Take this bishop to task for his errors, following the example of St. Paul who chastised St. Peter in front of the Apostles for falling away from the true Faith.
---
JP II's plans to turn the Roman Catholic Shrine at Fatima into a "multi-faith center" are progressing. On May 5, the Portuguese Television SIC reported that a Hindu religious service was held at the altar of the Chapel of the Apparitions at the Fatima Shrine.
Sixty Hindus led by a high priest traveled from Lisbon to pay homage to the Goddess Durga, a war goddess with eighteen arms. Arriving in Fatima, the pilgrims made their way to the Chapel of the Apparitions, where from the altar a Hindu priest led Hindu prayer sessions. The Hindus can be seen removing their shoes before approaching the altar rail of the chapel as the priest chants Hindu prayers from the altar's sanctuary.The Hindu priest lighted a candle at the Shrine while his followers danced outside the Chapel of the Apparitions chanting praises to their pagan gods and goddesses. Each Hindu was personally greeted by the Bishop of Leiria-Fátima, who bowed to the Hindu priest. The Hindu priest is then seen clothing the rector of the Fatima Shrine and the bishop of Fatima-Leiria with a Hindu priestly shawl.
Really, folks, how can anyone pretend that this Church of the New Order is the Roman Catholic Church? Ridiculous! We are not talking about some "renegades" here, but a rector and a bishop who have the full approval of JP II to destroy Fatima as a Roman Catholic Shrine and replace it with a tennis-racket structure in which Hindus, Buddhists, Pagans, and presumably Satanists, can all worship their respective pantheons of gods and goddesses.
Those "conservative" Novus Ordinarians of the Wandering persuasion (i.e. following the Neo-Con line of the The Wanderer) are looking more and more like complete fools. If they ever dare to challenge your traditional Roman Catholic Faith, just throw this one up to them. They will have no come-back when you tell them that the pagan goddess is being worshipped at Fatima with the full approval of JP II!
---
Lucio Mascarenhas.
Orthopapism II/Michaelinum | Index of Articles