Padre "Chico" Monteiro
(Msgr. Sebastião Francisco Xavier dos Remedios Monteiro)
---
©Agnelo Gracias. April 24th., 2004.
---
See also, website by Dom
Fr. Chico Monteiro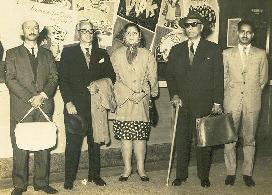 This picture, taken at the
Santa Cruz
Airport in 1970, shows Advocate Dr. Antonio Anastasio Bruto da Costa en route to Delhi accompanied by Senhor Francisco da Silva e Miranda and his wife, a Goan Padre de Santos and a Mr. de Meneses—and well-wishers of Padre "Chico" Monteiro in Bombay. The ocassion in Delhi was the appeal made to the Supreme Court of India against the verdict of the Judicial Commissioner of Goa upholding the order of expulsion of Pe. Chico Monteiro, on the "grounds" of his being a "foreign" (i.e. Portuguese) citizen. Advocate Dr. Antonio A. Bruto da Costa was assisted by Advocate J.B. Dadachanji on the Bar of the Supreme Court and the English advocate, Edward Gardner, Q.C.
The defence case was fought on the basis of a Geneva Convention of 1949 which upheld the right of citizens of an occupied territory to keep their original citizenship.
Pe. Chico Monteiro never had a Portuguese passport but after the incorporation of Portuguese India into the Indian Union by an act of the Indian Parliament in March 1962 he deposited a declaration with the Indian Police in Goa of his intertion to retain Portuguese citizenship.
By a majority verdict, the Supreme Court of India went solely by the Indian Constitution and upheld the judgement of the Judicial Commissioner of Goa endorsing the expulsion order HD. 5/113/65 dated 11 April, 1969 of Indian Occupation Governor Nakul Sen.
After the judgement of the Supreme Court, Pe. Chico Monteiro was moved to a prison in Patiala. According to Rev. Fr. Paul Lewis, Parish Priest there, Pe. Chico Monteiro was initially allowed to come to the Church of Our Lady of Fatima daily for Mass but later it was stopped and he was held incommunicado.
During that period he was given a Brazilian Embassy application form for a Portuguese passport but he destroyed it and threw it into the waste paper basket.
The then Bishop of Simla, Bishop Alfred Fernandes, was very much concerned about the safety of Pe. Chico Monteiro.
Dr. Bruto da Costa then submitted the case to Amnesty International through Senhor Romeu da Silva, London. Amnesty International arranged a swap whereby the Indian government released Pe. Chico Monteiro and the Portuguese government, in turn, set free Dr. Telo Mascarenhas and one Ranade who had murdered a Goan policeman at Betim in April, 1956.
At a public reception on arrival in Poona, Ranade confessed that he had forgotten much of his Marathi and was more fluent in Portuguese!
On arrival in Goa Pe. Chico Monteiro was served with an order restricting his movements to Goa. Till the time of his death on 29 October, 1990 he used to be visited once a year by the Goa Police of the Foreigner's Department.
The case of Pe. Chico Monteiro had its genesis in some bomb blasts that took place in Goa at the end of June 1964 alleged to have been committed by Casmiro Monteiro and Ismael Gracias who were sent all the way from Portugal by the Goan Liberation Movement (
Movimento para Libertaçao de Goa, Damao e Diu
), in order to strike at the Indian terrorists and their colonial regime in Occupied Goa.
The two persons escaped from Goa via India and Karachi undetected but the Occupation raided several houses in Goa including the room of Pe. Joaquim Luis dos Santos, an eminent Dominican priest from Metropolitan Portugal who was Rector of the Pastoral Institute of St. Pius X in Old Goa. There they found a copy of a letter addressed to Dr. Bonifacio de Miranda, of the Ministry of Foreign Affairs in Lisbon, requesting him to enquire with Cardinal Dom Jose da Costa Nunes why he (Pe. Santos) had been sent for by the Vatican.
As a result of that discovery, quite harmless in itself, Pe. Santos received an expulsion order and the brother of Dr. Bonifacio de Miranda, a reputed district health officer in Goa, was summarily relieved of his position without any reason.
When Pe. Santos travelled to Bombay en route to Lisbon, Pe. Chico Monteiro accompanied him on humane grounds and this attracted the attention of the occupation authorities who served the first notice of expulsion on Pe. Chico as soon as he returned to Goa.
As regards the brother of Dr. Bonifacio de Miranda, he immediately called on Indian Occupation Governor M.R. Sachdev to protest his removal from service but the encounter with Sachdev was so stormy that the Occupation Governor suffered a heart attack the same night and passed away!
---
©Agnelo Gracias. April 24th., 2004.