Welcome To
Poricia
Manchester Terriers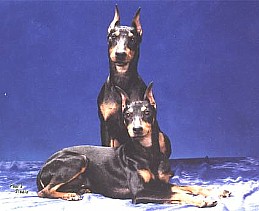 CH.Poricia's Helluva Storm At Ivylane & CH.Excaliburs Perfect Storm
Poricia is a small hobby kennel located in Bucks County,Pennsylvania. We have been breeding Manchester's for 16 years and other purebred dogs since 1969. We often have only 2 litters of puppies a year-proving that quality does not need to go hand-in-hand with quantity.
We have been fortunate to have been able to co-breed litters with knowledgeable,respected Manchester people,to whom we owe a great deal of our success. Mari-Beth O'Neil(Charmaron) Jean Brown (JB) Pat Dresser (Dress Circle)
Our dogs have always been home-raised and never have any of our dogs lived solely in a kennel. Our puppies as well as our adult dogs travel with us throughout the year to most of the dog shows we attend.
We have produced 30+ champions,with many more to come. Their owners or myself have handled just about all of them to their championships. We only use professional handlers to campaign our "Special" dogs.
We do not take deposits. When our puppies are available, the screened,prospective client is notified. All our standard Manchester puppies are sold with their ears cropped unless the new owner wants them left natural. We also want everyone that visits our site to know that, for ANY reason at ANY age, you are not happy with your Poricia puppy, we will take it back.
You are invited to browse our site and see for yourself what makes Poricia one of the TOP Manchester Terrier breeders in the country.


Toy Manchester Terriers
** Girls**




** Boys**




Standard Manchester Terriers
Poricia's Perfect Choice of MJM

Our Nursery

Links
Heaven Hi Toy Manchester Terriers
Brianda Toy Manchester Terriers