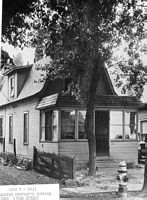 Kennedy house 3243-135th (1933)

Because of its proximity to Detroit, Toledo was an evil and dangerous city during the late 1920s and early 1930s. The notorious Purple Gang led by Thomas "Yonnie" Licavoli was chased from Detroit and settled in Toledo. Prohibition gangsterism was at its height and Licavoli took over the rackets He established gambling spots, night clubs, and whorehouses while producing and importing all types of alcoholic products. (He had opened a bar on Edgewater called the Golden Rose.) Yonnie's men were especially vicious and there was very little resistance to the gunmen who were extortionists, strong arm robbers, bombers and basically terrorists.

One who did offer resistance was an Irish bootlegger and night club owner, Jackie Kennedy, from Toledo. He openly opposed Licavoli--even fought with and bested several of his men.Speeding from the scene of a fight at Monroe and Michigan , Jackie and two companions were followed by a hail of bullets. Jack had smashed John Mirabella in the face while trying to learn the identify of the ones who had machine gunned his girl friend, Louise Bell, as they sat in the same car six months earlier. When they returned to the Black Hawk an examination showed that three bullets hit the car yet none of them were hurt.

In beating Mirabella in front of Licavoli headquarters, Jackie had struck a blow for the entire gang leaving them degraded in the eyes of the city. Revenues fell off and soon only Jack's death could restore their reputation. Nothing could save him but fleeing or the killers of Louise being jailed. After his whenever he left the Black Hawk he was accompanied by Kenneth, "Pumpkins" Francis not as a bodyquard but to watch his back and be a witness.

In late June he found what he thought would be a suitable safe place for him and his new girl friend Audrey Ralls in Point Place, a summer colony just outside Toledo--it was a cottage on 136th street. July 6 Kennedy chased a suspicious car away suggesting Yonnie Licavoli had found his hide out. The next day Jack didn't seem concerned and when he heard Yonnie was driving along nearby Bay View golf links, he joked, "Maybe he is looking for a job as a caddie."

Leaving "Pumpkins" and his gun, Jack, in slippers, and Louise went up to Edgewater and walked along the road to 140th. They were eventually followed by some youths, William Hood and Donald McLeary. Robert Schwaite and Harry Craig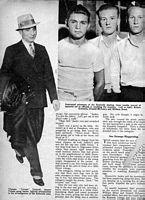 watched them from a car parked opposite Erd Fish Market. Then a maroon-colored Ford stopped in front of the fish house. Two men got out of the car and starting walking after Jack and Audrey while the third followed along in the car. Then upon reaching the couple, they threw the girl aside and shot Jack with 12 dum-dum bullets resulting in 22 wounds mainly around the head and face.
Crowds soon gathered to view the body. See below Then on July 11, three boys found a Colt .38 at the foot of 119th Street. A few hours later a .45 automatic pistol was found near 117th and the Ottawa River. Both were later found to be the murder weapons. Yonnie, Wop English, Ralph Carsello and John Mirabella were arrested but released on July 22. Upon their release their pictures were printed in the paper. Then carrying with a copy of the paper, Bob Schwaite appeared at the prosecutor's office and pointed out the killers. Harry Craig later confimed the identities. Toledo Prosecutor Frazer Reams and his team of assistants lead the case against Yonnie who thought he could beat it with his expensive lawyers. Wop passed out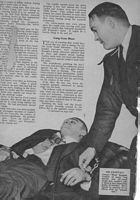 (see picture to left) upon his conviction. Licavoli was sentenced to life in prison but was paroled in 1972, the year after Reams died, after 37 years in prison. Licavoli died of cancer in 1973."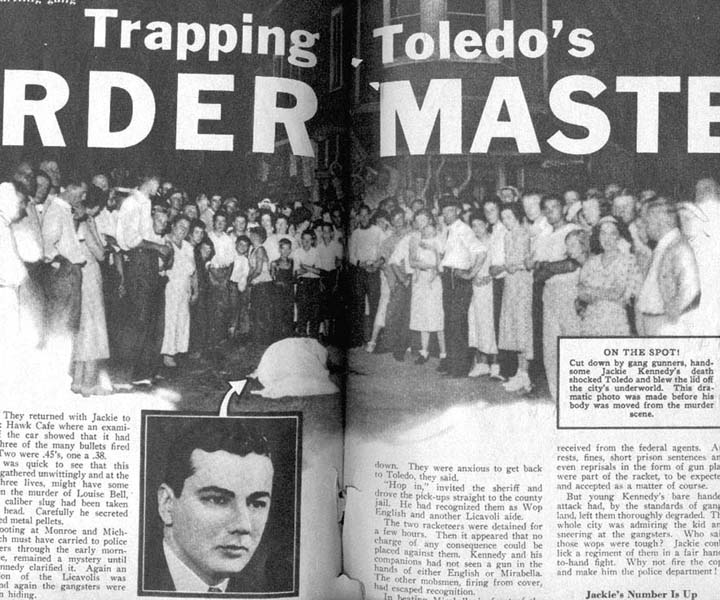 This photo was taken before the body was removed from the scene. Information partly taken from a May 1934 Startling Detective Adventures Magazine loaned by Sharon Hogan, a long time Point Place resident.